Seven Little Helpers for dialogue and action: Part 5 – Make a wise decision
August 21, 2019 By Chris Corrigan Art of Hosting, Being, Collaboration, Complexity, Conversation, Design, Emergence, Facilitation, Featured, Leadership, Power, Practice One Comment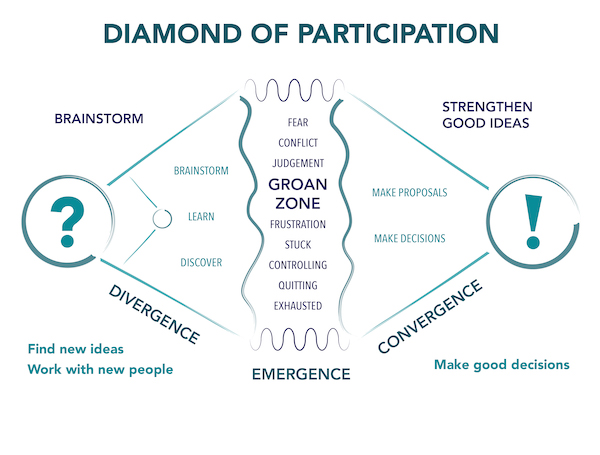 Part five of a seven part series on the Seven little helpers for dialogue and action
5. Make a wise decision
I've always thought that the essence of good leadership is the ability to make a decision. It requires a certain kind of courage, especially when it seems that there is a zero sum game at stake. It also requires a high degree of emotional intelligence and compassion and empathy, especially when the decision you have to make could result in harm for others. Discernment, care, ethics, courage, and detachment all wrestle for attention in the mind of a decision maker.
As much as possible, in the world of complexity, I try to help groups make decisions together. Participatory decision making gets a bad rap for being time consuming and mired in interminable and endless conversation as groups turn over every little pebble, looking for an answer. Many complex problems produce enough data to support multiple competing ways forward, but complex problems never present predictability. You can take an informed guess, but where groups and decision makers get bogged down is in the waiting for absolute clarity. Decision makers in complexity need to be able to act with incomplete information and carefully watch the results of their decisions as they unfold, being prepared to adjust as they go.
For facilitators, hosting decision making can sometimes be a trap, especially for people who are conflict averse. Important decisions often involve making choices that pit conflicting views against each other. Where you can explore these options with small experiments, that's a wise thing to do, like probing a couple of different paths in a dark forest to see which one looks more promising. But sometimes it comes down to one group's preference getting chosen over the objections of others. To stay in that process and work well, you need good practice.
A strong personal practice is important, so that you don't get triggered into making rash decisions as you are hosting a process. It is also important that the group you are working with has a clear process for making decisions. It's even better if they are familiar with the emotional territory that leads to good decisions.
For me, Sam Kaner, Lenny Lind et. al. set the standard for this clarity with their book The Facilitator's Guide to Participatory Decision Making. That book gives us the well known "diamond of participation" – pictured above -which to me is the single most useful diagram to explain decision making from a group and personal process perspective. It features three zones: the zone of divergence where ideas are presented and explored; the zone of convergence where options are whittled down and decisions are made, and the zone in the middle, which I call the zone of emergence and which the authors call "the groan zone."
The Groan Zone is the place where the group's engagement with the content of their work gets stressful. Individuals experience cognitive overload, and they are stressed by the need to let go of ideas to which they are attached and to incorporate ideas which they find irreconcilable. Groups who get stuck in the groan zone experience conflict, impatience, and a waning sense of purpose. Facilitators who know the groan zone understand it to be the place that is necessary if a group is to discover something new and make a decision that is bigger than the decision any one person can make.
Over the years, conflict averse as I am, I have garnered many lessons and principles for practice from applying Kaner's work and aligning it with complexity theory. Here are some key principles for hosting a group to a wise decision.
Don't converge too early. When we are working in complexity, there is a tendency for groups to throw out lots of ideas, pick one and move on. That is a good approach when we can be certain about the right answer, but cases where real complexity is at play, prematurely converging can create more problems than it resolves. While it prevents a group from going through the groan zone it can reinforce established patterns of power and control as the loudest voice get its way. Decisions made before really considering options are almost certainly rooted in patterns of entrainment, bias, and habit. This is a good way to prolong the underlying patterns that have created the complex problem in the first place. If the decision is easy, don't trust it.
There will be pain; build shared perspectives and relationships there. One of the best contributions of Kaner et. al. was to name the groan zone and provide a number of practices for facilitators to help the group navigate this territory. Working in the groan zone requires us to work with relationships. That can seem counter intuitive because groups get there largely because they are struggling to engage with the complexity of the content. Building shared perspectives makes sure that the infrastructure for emgernece – connection, attention, discernment, and a willingness to explore – is in place. Without this, toxic power and control patterns can have their way with the discussion and things can get "shut down." A group that struggles together will usually make a better decision together and will usually be closer together as a team at the end.
As much as possible, try to build consensus using clear proposals, testing agreement and refining. I love working with consensus processes – and my friend Tree Bressen is a master at these – for building shared ownership over decisions. Consensus building is not a matter of opening everything up and letting the conversation drift in a thousand different directions. On the contrary, it's about providing a high level of constraints to the process which lets the group focus on its work while holding a strong container for dissent. I've written elsewhere about large group processes for creating broad consensus, but it comes down to a few simple elements:
Create a clear proposal
Have a method for testing levels agreement and expressing specific concerns
Deal with specific concerns with an eye to developing a more robust proposal
Test again, refine again as necessary, and decide
If you have to vote be careful to understand what a yes and a no means. The worst decisions we can make are yes/no decisions on complex topics. This is why referenda are generally counter productive for setting large scale public policy direction. Brexit is the primary example. In Canada we have had referenda on electoral reform, transit funding and Constitutional amendments that produce results that are clear, but produce ongoing civic consternation about what they mean, because it was not possible to reduce the topic into a binary resolution. The advantage of using a gradients of agreement process in advance of a yes/no vote is that you at least know what people's concerns are. If you can't explore agreement before hand, conduct a yes/no vote but then have everyone write down why they voted the way they did. You'll get lots of information pertaining to implementing your decision.
Pay attention to dissent and to patterns of dissent and have a process for understanding these. That leads me to the last point which is to acknowledge and understand dissent in a decision making process. Good leaders and well functioning groups will make a space for dissent because it can provide important weak signals for the state of the system, Dissent can hep a group escape inattention unawareness by raising "I told you so" issues early in the process. It also helps to sustain relationships when people who are on the losing side of a decision nevertheless feel included In it. Fear of dissent creates nasty power plays and exclusion that immediately renders any tricky decision unwise.