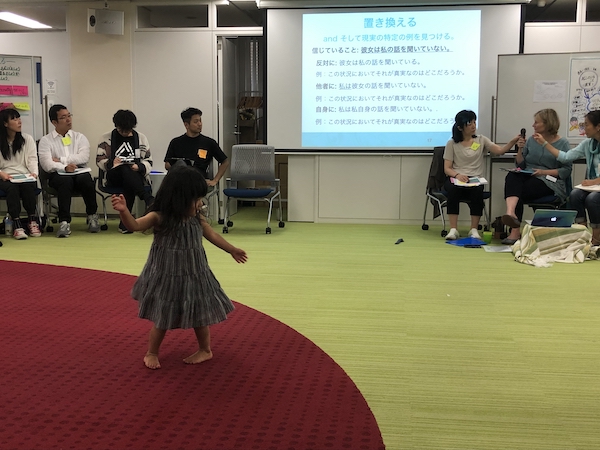 Part six of a seven part series on the Seven little helpers for dialogue and action
6. Act
The sixth of our seven little helpers is simple: Act. If you have taken the time to plan, talk, and harvest, you owe it to yourself and your group to honourably act on what you've learned.
Now it's easy to get consumed by the cult of action, and to assume that every encounter needs to have a week defined action plan at the end of it. While that is simply not true – not every water cooler conversation results in action, but many are critically important in organizational life – when action is called for, be sure to act well. For whatever reason I find that many people have trouble with action. Perhaps it relates to the aversion and anxiety associated with decision making, but to act with clarity and commitment is kind. Here are some principles to guide your action. But be warned, these principles can take you down the road of planning to act, so be sure to keep it as simple as possible and get on with it.
Don't confuse action planning with action. You would be surprised how many people confuse action planning with action. Often when I am contracting with a client and I ask for outputs, they will specify a document or an artifact, all the while emphasizing that they want to see action. Artifacts are pretty straightforward, and that is certainly something your consulting team can produce for you. But if you're my client, I need you to understand that action is on you. That means thinking through how you are going to support action coming out of the work we do together. Recently I had a client place huge expectations on an off-site retreat. It needed to produce change in the organization's culture designed over a three day gathering. I asked how the leadership was supporting people to make change (and to fail at it) and the client said "we have a really fear based culture here." I warned her that without support from those in power to accept and even incentivize failure while people tried to change behaviours, meaningful action would be highly unlikely. She promised to go back to her Vice President for clarity and I never heard back from them. "We're going in a different direction" is often the response I get from organizations not ready to put their money where their mouths are. That's fine by me; I never want to be in a place of creating the conditions for merely performative action, when the people or the situations are calling for real change.
Action requires resources of time, money and attention. Don't over promise commitments to resource action. In chaordic design, I call this work supporting the Architecture of Implementation. It seems to me that anything arising out of a participatory strategic initiative will require specific commitments of time, money, and attention to sustain it. If there is new work coming then new resources need to be in place to support it. I always caution leaders not to promise to "support all good ideas" that come out of a meeting if they can't back that commitment with commensurate resources. How much time will your staff get to work on issues? What money do they have available to them? Who has the capacity for oversight and connection? If you fail to prepare a good architecture for implementation, you will burn out your people with added demands on their time and energy and no support. That's cruel, and its a waste of time and resources. If you are committed to change you need to support change.
Distribute action plan and responsibility as much as possible. Use power to support self-organization and agency. It should be obvious, but participatory change should include participatory leadership. Sustained efforts to address sticky problems in organizations will often benefit from having many agents working on the project together. Use good organizational practices like the ones my friend Samantha Slate has shared in her book Going Horizontal to support leadership and action throughout the organization: share accountability, support personal leadership, give people space to work, ensure people have good conditions for collaboration, and practice good principles of equity and care
Be be mindful of PRICE.  Because we love our five letter acronyms, use PRICE to design and check in with your architecture of implementation. Ask:
How is POWER operating in this situation? Do we need more? Does is need to be more centralized or more distributed? Where is informal power and influence at work and how can we use it or mitigate it?
What are the RESOURCES we need in order to act well? Who is in charge of these resources, and how to we get them onside to support our work early? What do they need to continue sending resources our way?
How will we ITERATE our action? AS we try new things, what is the process for failing and trying again and improving as we go? How can we maximize support from those with power to allow for experimentation? Without thinking this through beforehand, people with power in a system are very likely to pull the plug on new initiatives the moment something goes wrong. Iteration is a crucial aspect to make things resilient.
What CAPACITY do we need to develop? Where do people in the system need to undertake learning to work with the changes they are facing? What new skills and perspectives do we need to change the way we are working? Building organizational and community capacity is critical to sustaining creative and engaged work.
How will we EVALUATE our work? Is our evaluation strategy in line with the kind of work we are doing? If we are working in complexity do we have good developmental evaluation and learning frameworks? If we are working with more predictable systems, do we have the right experts evaluating our work? How will we tell the story of what we are up to and communicate it well to those who need to hear about it? Evaluation is not something done in isolation at the end of a project but something done throughout. It's how you document and share the story of what's happening.
Taken together, these five things can support ongoing and sustained action beyond the report from the meeting or the project planning grant charts or the budget. True action needs support.
And then, when you are ready. Act.