Seven Little Helpers for dialogue and action: Part 3 – Use a talking piece
August 13, 2019 By Chris Corrigan Art of Hosting, Being, Culture, Design, Facilitation, Featured, First Nations, Leadership, Organization, Power, Practice One Comment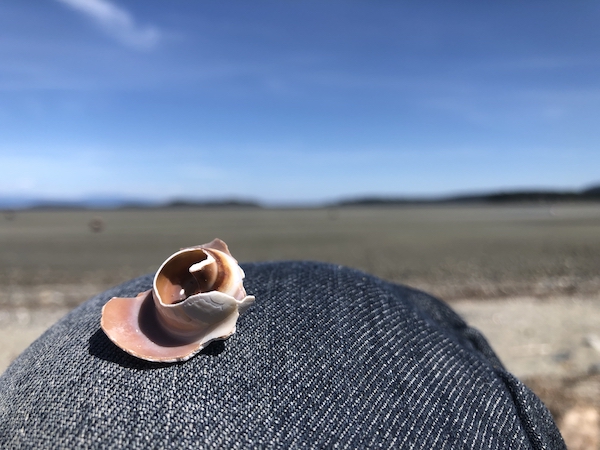 Part three of a seven part series on the Seven little helpers for dialogue and action.
3. Use a talking piece
Think about any conversation you have ever had. If it ws a good conversation, there was a purpose or a question or a topic that was compelling and interesting to the people taking part. You may have found yourself "leaning in" and listening with curiosity, offering your own stories and perspectives, finding commonalities and exploring difference. In our natural setting as human beings, conversation sis easy and a wholly natural way of exploring ideas and making sense of the world. If so you have found yourself in a dialogic container, a social structure with a centre and a boundary and all kinds of things happening inside.
So much of organizational life though runs counter to our instincts, and even when there is an important need for a conversation we can find ourselves resistant to it. The timing doesn't work naturally, or the conditions aren't conducive to the natural flow and participation of a good conversation. There are many times when we need to stop what we are doing and enter into a space where we can pay attention to each other. Good dialogue practice helps us to do that by creating a container which encourages speaking, listening, sense making and decision. in times of conflict or stress, a thoughtful method that allows everyone to speak and be heard is essential.
A simple method for every facilitator is using a talking piece: some item that can be passed around a room and allow the person holding it to speak while others listen. The talking piece, and its rules and rituals, structures the process and creates the container. Every facilitation tool, agenda, or set of guidelines and principles functions to structure process. Every facilitator decision functions like a talking piece. When Toke added this one to his list of "little helpers" it was with the caveat that such a tool needed to be chosen and used with great care and consciousness about how it would affect the group. As a facilitator you wield a lot of power and it's quite difficult to strike the right balance between too much freedom, which doesn't provide creative constraints, and too much control, that throws people into apathy. Learning how to strike the balance is a practice, which means that you get better at it the more you do it and reflect on it. There is no answer for how to strike the right balance, but here are a few principles that might be helpful.
Host the process in a way that allows the group to do the work themselves. As much as possible, stick to creating the conditions for people to do their own work. Don't tell people what to do or what they will feel. Try not to be the person interpreting the words of participants or the overall insights of a group. Instead create good process that allows people to make contributions, listen and learn and mitigate their personal impact on a collective conversation.
When things go awry, pause and go back to the simple question: "what's happening?" Conflict is inevitable. Things go off the rails. People get angry and hurt. The facilitator makes mistakes. Remember that when these things happen, you are not alone. You are allowed to reset, to take a breath and move to a higher level conversation about what's happening. Early in my facilitation career I hosted a meeting which felt like pulling teeth. No one was participating, there was very little creativity and it was stifling. I made the mistake of believing that it was my job alone to fix the situation and the more I tried, the more desperate the situation became. Finally, I realized that I was not alone in the room. There were thirty other people there I could ask for help. I stopped and asked the question "what is going on?"
To my relief one of the participants said "This is not the conversation we want to have right now. You keep asking us to do work that no one is interested in."
"What should we be working on, then?" I asked. The participants all shouted out the topic they were expecting to be discussing. And so I pivoted the conversation there and said "okay, let's talk about that then!" and away we went. As a facilitator, you don't have to have all the answers. If the process you have designed isn't right, ask folks to help you get it right.
If you want to hear a really good story about shifting things around, have a read of that time I got called out by 40 polar bear hunters and research scientists for a design that was failing to help them learn together.
Create a container for conversation using ABIDE. A few years ago I published a paper on using Dave Snowden's ABIDE framework to design and host dialogic containers. I have since grown to really appreciate this framework and have altered it a little to blend in some of the work from Glenda Eoyang's CDE model from Human Systems Dynamics. I now have an acronym that neither of them created, but which is insanely useful.
ABIDE points to five things you can change in the structure of a container that will change the interactions of the participants. I would say that every good facilitator and leader working in complexity knows this. Learning this helps you to be able to shift patterns without dictating the outcomes and is an essential step for facilitator development to move beyond simply using tools. I'll write a longer piece about this later, but here is my current version of these five important characteristics that constrain group behaviour.
ATTRACTORS. These are things around which patterns are organized in a system: a story, a question, a powerful person, even the physical focus of attention in the room.
BOUNDARIES: These are things that constrain a system, including physical space, time, money, and mandate Basically these are lines within which a meeting operates.
IDENTITY: Identities are deep patterns that shape behaviour, and we often wear them unconsciously. They can be formal roles (leader, manager, administrator), archetypes (bully, victim, hero, elder, child), or social constructions rooted in norms around race, gender, class, and other distinctions.
DIFFERENCES: Difference and sameness can flavour a conversation radically. Too much of one or the other can sap the energy from a container. Homogeniety can create massive spots of unawareness, and complete diversity can become a Tower of Babel.
EXCHANGES: These are things that flow in a system, be it money, power, ideas, information, or knowledge.
When conversations are stuck it's often because one of these things is creating a pattern that is unhelpful. Shifting one of these things can shift the whole process.

Be mindful of how you use constraints. Decolonize constraints as much as possible. A container in one context is an enclosure in another. This is an important consideration. In the literature on dialogue, much has been written about "containers" and it has become a technical term in the field. All human process happens within constraints, but different peoples have different experiences of what it is like to be constrained, especially by others. It is very easy to use the term "container" and have it become a colonizing concept. In Indigenous communities, containers can be conflated with the reservation system. In Ireland, the word can evoke the pain of enclosure, the legal process whereby the land was privatized and colonized by the British Crown. And yet in both these contexts, containers for life giving conversation are well understood using terms like "nest" and "hearth." As with all tools, be mindful of where you are and how you are using it, and how your words will land.