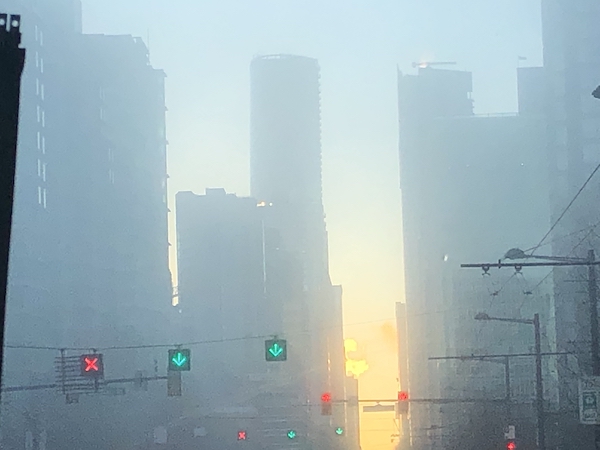 Part Two of a seven part series on the Seven little helpers for dialogue and action
2. Have a good question
One of the most common questions I get asked is "how do I come up with a powerful question?" My answer is "it depends." There are some great guides to there to making great questions, (like ORID, Strategic Questioning or The Art of Powerful Questions) but when it comes down to it, my own practice is fairly intuitive. Here are a few guiding principles I use when creating good questions.

Know where you are in the process. Good dialogue proceeds from a good question, and a good question is dependant on the context of the work. When we are working in complex situations we can derive questions from the three phases of adaptive action: "What?" "So What?" and "Now What?"
Questions that get at "What?" are questions that help us to see what is happening. They orient us to the context of work. "What is going on here?" can be a perfect question to elicit stories and perspectives on a situation. Such stories and perspectives – especially when gathered from a diversity of voices and experiences – give us a rich set of data from which to ask more questions.
"So What?" questions are all about sensemaking. They ask us to look at data and discover together what it means. Given an understanding of one's context – even an inevitably incomplete understanding – it's possible to ask questions about where we want to go, what we want to do, or what needs to be changed. It's often tempting to start with these questions but in the absence of at least some data, conversations around sensemaking questions devolve into aspirational wish lists or ungrounded conflicts of opinion.
"Now What?" questions are the ones of strategic intent. These are ones that require us to make decisions and to act to respond to the sense we made of our current context and do something about it. Sometimes we need to choose one direction to go in. Sometimes we need to send out exploration parties to discover promising pathways forward. Either way asking "now what do we do?" is a move that can only come after we have made sense of a situation.
Ask a question that no one can answer alone. Perhaps it goes without saying, but a good conversation is not a cross-examination, where one person has an answer and they try to elicit that answer from another. It constantly surprises me how frequently people in power "engagement wash" projects by giving the illusion of curiosity or openness while they hide the fact that their mind has already been made up. In Canada such action is technically illegal when it comes to consultation with First Nations with respect to infringing Aboriginal rights. Resource companies and governments regularly get called to account by the courts for pulling this trick.
At the very least I find this practice unethical and it leads to distrust, anger and apathy. As a professional facilitator I sometimes get asked to lead these kinds of processes and my response is to work with the client to be clear and honest about what is one the table for discussion. In a surprising number of cases I have had clients refuse to shift their stance, and in a couple of cases I have actually had people ask me to lead engagement processes that would lead the participants to a pre-determined conclusion. Those are immensely satisfying clients to fire. I only despair to know that there is often someone out there that will do the work regardless.
Just be honest about what you don't know and go and find people to talk to that are smarter or more experienced that you are. I guarantee when you approach people with questions like that the honour and respect you afford them will create a great conversation.
Keep it simple and let the group add the depth. There is a romance about the beautiful and powerful question. Think of Mary Oliver's question "What is it you plan to do with your one wild and precious life?" That is a beautiful question, aesthetically gorgeous, a small poem in itself. But for me such a question inspires awe and appreciation but not an answer. That may well be the kind of question that you can live into, but it is not necessarily a practical question for strategic work. Don't get me wrong, as a person with a contemplative practice I love these kinds of questions. They give me a chance to reflect on my life; I can live them in the way that Rilke invites us to live a question.
But for a conversation in a meeting, keep your questions simple and let the group bring the depth. One of the best World Cafes I ever ran was a three round affair in which we asked the question "we are halfway through this retreat. What do we need to talk about now?" Another time, in a deeply conflicted community I asked "What the hell is going on?" These questions had the effect of opening a little space for the real conversations that were already happening to come into our process. The questions were simple, the conversations were powerful.
What are your own reflections and principles on creating good questions?