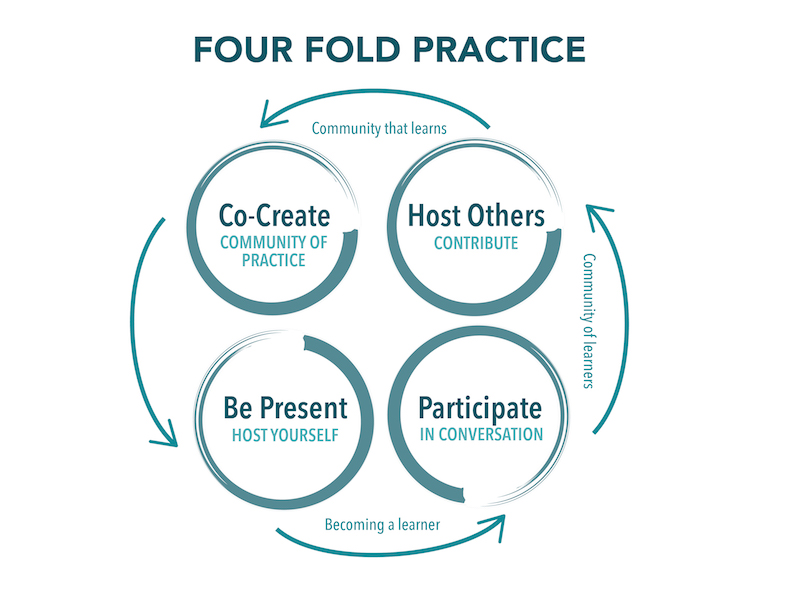 Part three in a series:
Part three: a collection of patterns for design and facilitation.
As I heard the story, the four fold practice was something of a flash of insight tied in with the original Art of Hosting offering made by Toke, Jan, and Monica. Somewhere in the forests of Northern California as the team was preparing to offer its first Art of Hosting training, somebody woke up one morning, after a few days of discussion and design with the strong sense that meaningful conversations had four things in common: people were present to the work, everyone was participating, the conversation was hosted in some way, and people co-created together. That's it. It was, as the legend goes, drawn on the back of a napkin, which is the test of all useful frameworks, and it became the subject of an inquiry: so if these are the patterns that make up a meaningful conversation, what would the Art of Hosting Meaningful Conversations look like? Could we anchor our hosting practice on that? Could we teach that?
This simple observation and the subsequent inquiry has become a generative framework that holds together a global community of practitioners and theorists. We have seen that what constitutes a "meaningful conversation" in a huge variety of cultural and linguistic settings on every continent is a process that more or less exhibits these four characteristics. When brought together in the service of meaningful work these four patterns bring life and effectiveness to collective sense-making, problem-solving, and action. When attended to with good design and facilitation, these patterns become basic elements of the best kind of dialogue.
The ART of using these practices is being able to use them fluidly and fluently in many different contexts. Each of these four patterns looks different depending on the group you are working with and the work you are doing with them. It is very important that each group experience these patterns in ways that make sense to them. As skillful hosts we are trying to build containers for important and meaningful work. These containers are not the product of our role, rather they are themselves instruments that help good work to be done. The Art of Hosting is purely instrumentalist, in the sense that if the hosting is not practical and pragmatic and not in the service of something else, then it is not appropriate. Our goal as practitioners is not to simply create good dialogues for their own sake but to do so to have an effect, so we can be of service to a group.
Over the past 15 or so years of teaching and working with this art I have thought a lot about the connection between these patterns of experience and the practice of hosting. For me now, these four patterns have become the enabling constraints of my work with groups, in that I try to ensure that my designs meet the group's purpose using this practice. The practices are broad enough that they allow for a vast array of approaches to be used so that designs can be tailored to context, but at the end of the day, it's important to ask myself these questions:
Are participants present?
Is everyone participating?
Is the space being held and hosted?
Is the group itself co-creating its work?
In my experience, the extent to which these four conditions are true is directly related to the extent to which the group is doing good dialogic work. When I see goops faltering in their work, it is usually because one of these four patterns is crumbling. A group may lose its focus, some participants might be dominating in a way that causes others to become redundant to the process, the facilitation may be too tight or too loose, or the group may be having its work done by someone else. All of these conditions have the effect of undermining ownership, capacity, engagement, and participation. In general, when we are working with uncertainty or unknown futures, the four-fold practice is a useful checklist to enable groups to work together in complexity to understand what's happening, make sense of their situation and make some decisions about what to do next, all the while staying connected and in relationship.
That's a pretty big return on investment for such a small and portable practice.
Being Present
When I think back to the original learning I did around hosting and facilitation with the Elders of the National Association of Friendship Centres, and indeed before that in the governance processes of the United Church of Canada in which I was involved as a young man, I notice that important conversations were always preceded with a prayer or an invocation, or even a moment of silence before we got to work. For a conversation to be meaningful, every participant must be present to the task at hand. That means each one needs to have the time and resources to be able to participate. The work of the moment must be the only thing that holds people's attention and so focus is important.
In later years, through the playing of Irish traditional music, which itself is a kind of social ritual and through spiritual practice influenced by both my indigenous teachers and the stream of practice that comes from Celtic monasticism, I observed and thought deeply about the nature of thresholds, which are those edges we cross that help us understand that we are in a different space, set aside for particular collective work that requires a little more depth of attention than our day to day activities. Practices to cross the threshold are very important in these kinds of spaces because they help us understand that we are in a different place and we are asked to bring a different awareness to what we are doing.
This is true of dialogue.
So whatever helps people come present to the work is a useful way to build the container for dialogue. It becomes almost ceremonial, and indeed the importance of ritual of some kind cannot be overstated. Even something as simple as taking a moment of silence before beginning, or having people silently read the relevant document together is a useful way to begin. Of course, more elaborate processes can involve more elaborate ways of bringing people to presence, but I have never been let down by a moment of silence. Even in the middle of meetings, when things are going sideways and conflict has become unproductive, a moment of silence can have a powerful effect in bringing people back to the problem or the purpose.
Whatever helps the group cross the threshold – be it physical or immaterial – will help participants come to the presence necessary to do deeper work.
Participating
In my own journey to develop the art of hosting in myself, one of the biggest mountains to climb was the idea that the facilitator is the one in charge of the room. For years I stood at the front of rooms full of people struggling with problems, asking questions, guiding discussions, commenting on ideas and writing them on flip charts. I was an influential part of the discussion, mostly unconsciously influencing decisions and discussions towards ideas and actions that grabbed my attention and excited me. It was all about me. Even though I was schooled on participatory research and Friere's Pedagogy of the Oppressed, I was also raised and mentored by people who were training me to be a preacher in the United Church of Canada and the promise to the ego of commanding an audience was the hardest thing that I had to overcome. Indeed it is still the hardest place of my own facilitation practice.
Discovering Open Space Technology was an absolute revelation to me. It allowed me to see what was possible when the facilitator radically trusted the group and let them take full responsibility for the conversations and the outcomes of their work. Radical participation is at the heart of the Art of Hosting, and the practice itself is intended to constrain leaders and hosts in such a way that the groups do theor work within constraints but with a minimum of influence from the facilitator. This is often the hardest practice for facilitators to learn when they shift their style to hosting: we are generally imprinted its the idea that facilitation means the facilitator is taking control of the space, ensuring safety, managing the agenda, keeping things moving along and dealing with conflict. Many times clients have asked me to solve interpersonal problems for them, because we have an idea that we can outsource these kinds of things to a facilitator.
But we know that when a group takes responsibility for its own work when everyone is actively participating and making sense of their own situation, we get a much more sustainable and resilient outcome from dialogic processes. The job of the host is to enable participation through careful attention to the constraints and methods that make it possible. This means first of all that hosts themselves must have a practice of participation, meaning that they must be good at engaging in dialogue themselves: sharing Ideas, listening to others, being aware of their impact in systems. It means that hosts must understand that they are never neutral in a system, that the privilege, power, and influence they bring is significant and important. Learning more about complexity, power, and privilege has made me a better host and has deepened my practice of participation in the world.
There is a reason that methods like Circle, Open Space Technology, World Cafe, and Appreciative Inquiry have been fundamental to the practice of the Art of Hosting in strategic settings. These methods have full participation built into them, and participants actively share the responsibility for the quality of the conversation and the harvest of the outcomes. Furthermore, when practitioners in the Art of Hosting global community have created methods, they also ensure full participation from all, including methods like Pro-Action Cafe, Collective Story Harvesting, and Design for Wiser Action.
Participation is at the heart of the four fold practice.
Being Hosted
In the practice of Dialogic Organization Development, of which the Art of Hosting is one expression, there is a great deal of attention given to the "container." Participatory conversations take place within a described time and place and a set degree of freedom. The container is formed from attractors like a core purpose, a calling question, or a felt need. It is constrained by boundaries like time, space, resources, and degrees of influence. The role of the host is to pay attention to the container so that participants can operate within this space. Sometimes this involves tightening constraints or destroying them altogether. It might mean inviting attention on a shared purpose again or moving with the energy of the group and changing course. It is a dynamic and ever evolving practice.
And yes, it is different from what most people understand as "facilitation," which is that person standing at the front of the room managing the conversation ad scrawling away on flip charts. Years ago I wrote a blog post that sought to make a clear distinction between the two terms but it was really too stark a distinction. These days I'm not so precious about this and I use the terms interchangeably. The essence of the art of hosting for me though is attending to the properties of the container so that the group itself can do the work. I see the host as a part o the system but a part with a very specific role of managing constraints. Most often in my work, this is done as a consultant, with the power and responsibility to do this, but there are times when I am a part of a group that needs hosting and I turn my attention from the work at hand and focus on the quality of the container instead. It is, as my friend Tenneson Woolf often says, a gift to host and a gift to be hosted.
Being hosted well is indeed a gift, and is not that common. Think of how many meetings you have been to where your irritation with the facilitator has gotten in the way of the work you came to do. Some of those times may even have been with me as your host! Alos, think of the times when you were acutely aware that the LACK of hosting was a real problem, impeding the ability of the work to get done. Reflect on these experiences and contrast them with the experiences you had of the most meaningful work in your life. It is an almost certainty that these experiences were hosted – that is they happened inside a container that was built around mutual purpose,a common challenge, a relationship, or an opportunity to do something relevant. The hosting may have been extremely light, or it may have involved a tightly scripted flow. It may have been held by another person, or the group itself may have played the role of the host. Regardless, I am willing to be that the most meaningful conversations humans are involved in – and the most meaningful work – comes inside just the right enabling constraints. It is hosted.
Sometimes when I am talking about the four-fold practice I will say that this pattern is about enabling contribution, and I truly think that a well-hosted meeting sets up a kind of gift economy, where participants are offering and receiving in the best way. This doesn't mean that folks are always getting along well, but it does mean that difference, dissent and conflict can be offered and received in the service of something bigger and not as a back and forth tennis match of accusation and closing down. Hosting is not something that happens without intention and a commitment to the role and so in spaces where hosting will benefit, to step up and do the work is to contribute to the emergence of this pattern.
Co-creating
The fourth pattern of meaningful conversation acknowledges that the best dialogues leave the participants with the knowledge and evidence that they have been creating something together. When things are truly participatory, participants can point concretely to the way that they contributed to the outcome. This is a rare feeling these days where both organization and community life is dominated by accountabilities that are more often than not pointed towards people in power or responsibility and not towards oneself or to the group of folks to which one belongs. There is of course some truth to this, but complex challenges require the participation and ongoing ownership of all in order to be sustainable. The feeling of having co-created something brings tremendous meaningfulness to a task and ongoing commitment to the relationship that will extend and sustain the effort.
Co-creation for me is a key piece of design in every way. I recently hosted a meeting with drug users, community members, service providers and non-profit leaders where we were looking at the stories collected about opioid use in a sensemaker project. It was obvious to me that the meeting needed to be co-created with people from all of these groups in order for it to be something that had some real efficacy. In the end, a network of peers offered the four main tasks for the day (review the stories to find patterns, discuss them with others, come up with bigger solutions, and leave with something concrete) and they also took responsibility for setting up safe space where people could use drugs or be supported if the stories triggered trauma. This was something I couldn't do at all, and so I stuck to hosting the process and the peer network hosted the space. That is co-creation.
Likewise, when I am hosting, the group itself will be largely responsible for its own harvest of the gathering. That means data written or recorded in their own hands and voices, and it means that they make sense of the conversations they have had and even create the substance of the report of the proceedings. My basic principle is "never touch the data" and if there is ever a time I have to move post-it notes or write words about the event, I think very carefully about whether or not it is my place to do so. It is tempting for facilitators to show their prowess by synthesizing data, writing reflections and telling the group what happened in their reports. All of that, useful as it may appear to be, has a cost. It is your job to find that cost and determine whether it is a price you are willing you to pay!
So these patterns translate into a useful set of design and planning guidelines. They help us practice the art of hosting and keep meetings as participatory as possible. They also often guideposts for the development of practice of both facilitation and, at bigger scales, leadership.