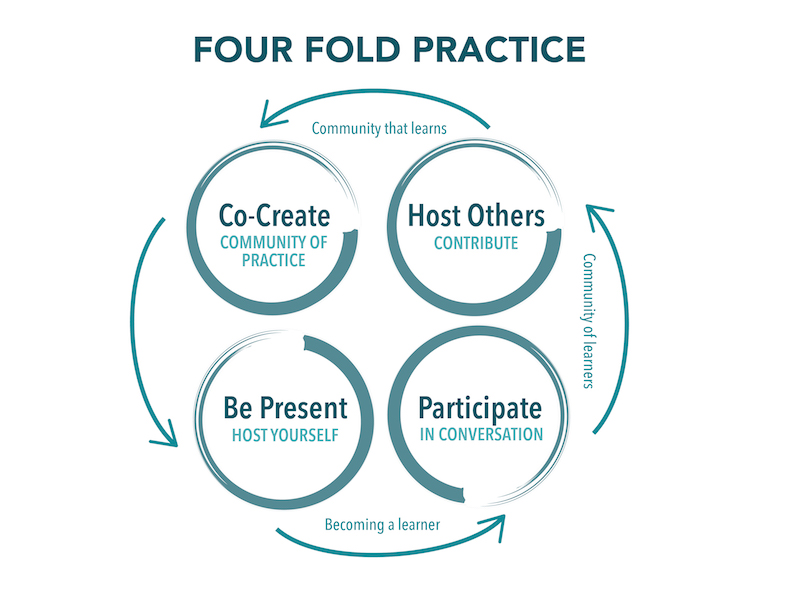 To begin the new year, I'm offering here a series of posts on the core practice of the Art of Hosting, the Four-Fold Practice. Since 2003, the Art of Hosting community has been my primary learning and practice community as I have learned and grown my facilitation and leadership practice. Central to that community is the four-fold practice, a simple framework that describes both what the actual Art of Hosting is and what it does.
Part one today describes a bit of my own journey that brought me into contact with this community. Over the next few days, I'll share a bit more about the practice as well including its origins and my current thinking on its application in both facilitation and leadership.
Part one: just what I needed
I began my journey as a facilitator back in the early 1990s as I ran meetings for the non-profit I worked for, the National Association of Friendship Centres. Across Canada, more than 100 Friendship Centres provide services, cultural programming, and care for urban indigenous communities. Beginning in 1948, it is one of the oldest indigenous community development movements in Canada and has become a powerful force for change and social development.
Facilitation is a very important skill in the Friendship Centre movement because, as an organization that is devoted to community development and the elevation of urban indigenous voices in policymaking and social change, well-hosted meeting are an active part of the work of Friendship Centres. Friendship Centre staff, especially younger staff members, often find themselves in front of a flip chart, armed with markers, writing down ideas and helping groups make sense of the world. The Friendship Centre movement is an excellent training ground for participatory work. SO tat is where I began, in the national office, as a policy analyst, armed with a culture and community development-heavy degree in Native Studies from Trent University and a deep desire to help.
My first facilitation training came from Bruce Elijah, an Oneida Elder who was our Board Elder and spent many days at our office advising us, guiding us with prayer and good advice and making sure we were doing things "right." One day in 1993, when I was about to go an host a very important meeting on family violence policy development, I asked him for some advice and he gave me an eagle feather to use as a talking piece and said "The Creator gave us two important gifts: circle and story. Use them."
That was the full extent of my first facilitation training and I put it into practice right away, convening a meeting of Friendship Centre staff and Health Canada officials and researchers that resulted in the establishment of the national Aboriginal Family Violence Initiative. It was clear to me that these two gifts – circle and story – were the secrets to meetings in which participants themselves were in control and the content was uninfluenced by the facilitator. It reminded me that my only role was to be quiet, hold space and keep careful notes.
I think I had an inkling very early on that quality participatory work required something like meditation for personal preparation. It also always required a prayer or some way of deliberately entering the work, with a good heart and an aspiration towards kindness, listening and contributing one's best thinking. I could see too that people were more engaged when everyone was given a chance to speak, when there was a good process held in place to enable the work and what, at the end of the day, what was created was created by all. I watched the Elders in our movement open meetings with prayers and hold us in ceremony for the duration. Bruce himself would begin Board meetings with a long Haudenosaunee Thanksgiving prayer, which sometimes lasted 20 minutes or more and acknowledged our dependence on things far greater than those on the agenda. We would sometimes smudge the room, to bring kindness and calm to the space. Sometimes we would sing together or someone would sing for us and after this extended beginning, we would start our meetings. The Elders would sit quietly with us, and intervene only if saw something that threatened the quality of the space in a negative way. They didn't suppress dissent or disagreement, but they called people to account for their behaviours and invited a pause for everyone to remember the bigger teachings and get back to work.
Those were my first teachers in facilitation work: Bruce Elijah, Sylvia Maracle, Marge White, George Cook, William Commanda, Gisda'wa and many other Elders in communities across Canada who opened our meetings with prayers and guidance and who stayed present during the whole time. These names are well known across indigenous communities in Canada. When you are in a meeting hosted by them, you are in ceremony, plain and simple. They make no distinction between the two. When people are gathered to do work, it is a sacred moment with the potential for healing and significant change. One never knows the long term outcomes of an important meeting, so attention to the quality of the space is critical. In retrospect, I can remember the exact birth moments of significant things like the Aboriginal Head Start Program, the devolution of the Friendship Centre Program, the Aboriginal Family Violence Program, the Tsawassen Accord, and the BC First Nations Leadership Council among others. All were meetings that began in prayer, with that deep level of intention.
Mostly my job in these meetings was to design and run the process by which work got done, but it was always critical to do that in line with the quality of the space that Elders had created. I made many mistakes when my own ego or sense of self-importance trampled on what the elders had given us, and I paid for those moments with some embarrassing public scolding from Elders! These moments were some of the most important parts of my facilitation education – being called on the floor and corrected in front of groups of people, always directly, always with kindness, always with the intention of restoring and remaining in relationship.
In 1995 Caitlin and I decided on a whim to travel to Whistler, BC, for the International Association of Public Participation Practitioners conference (it was known as IAP3 back in those days). One of the sponsors of that gathering was BC Hydro, who had been using a large group facilitation method called "Open Space Technology" in their work. Chris Carter, who was working in change management with BC Hydro at the time, hosted the open space day alongside Anne Stadler and Angeles Arrien. In retrospect, that is quite a team, and it was a brilliant opening, which included some aspects of ceremony such as lighting a candle in the centre of the rings of concentric circles holding 400 of us in the Whistler Convention Centre. We were all offered a chance to call sessions and record the results of the sessions in a newsroom filled with a bank of 20 386 PCs running WordPerfect. After their opening, the conference exploded. Into dozens of topics and sessions – I led one on the role of storytelling in facilitation – and after I had witnessed a whole day of this I knew that there was a way to host large group meetings that ensured that the responsibility for the experience was owned by the participants.
For many years afterwards in my work with the BC Association of Friendship Centres and later, the Federal Treaty Negotiations Office and the BC Assembly of First Nations and Vancouver Aboriginal Child and Family Services, I used Open Space whenever I could. We ran meetings on economic development, firearms legislation, the implementation of Aboriginal title, family rights in the child welfare system, policy research conferences, youth network development, organizational change, governance, stakeholder consultations…you name it. If you were in a meeting with me in the early 2000s, you were probably in an Open Space.
Through my work with Open Space Technology, I met Harrison Owen, initially in 1997 at a one day course on self-organization and then later at a gathering in 2003 on Whidbey Island, where he was the key feature in a four-day conference called "The Practice of Peace" based on his little book of the same name. This gathering brought together folks from around the world working on peace and reconciliation as well as those of us who were working with Open Space and other large group methodologies. It was there that I met Toke Møller as well as Juanita Brown. At the conclusion of that conference, Toke and I found ourselves in a circle with a dozen or so other people, already tightly connected through relationships. We passed a talking piece amongst us discussing the question of what comes next following this conference. When it came to Toke who was sitting next to me, he spoke of the trainings he was starting to do around the Art of Hosting, and he said something like this, which I later asked him to rewrite as a poem:
It is Time
the training time is over
for those of us who can hear the call
of the heart and the times
my real soul work
has begun on the next level
for me at least

courage is
to do what calls me
but I may be afraid of

we need to work together
in a very deep sense
to open and hold spaces
fields


spheres of energy
in which our imagination
and other people's
transformation can occur

none of us can do it alone

the warriors of joy are gathering
to find each other
to train together
to do some good work
from the heart with no attachment
and throw it
in the river

no religion, no cult, no politics
just flow with life itself as it
unfolds in the now…

what is my Work?
what is our Work?
And I said yes to that invitation.