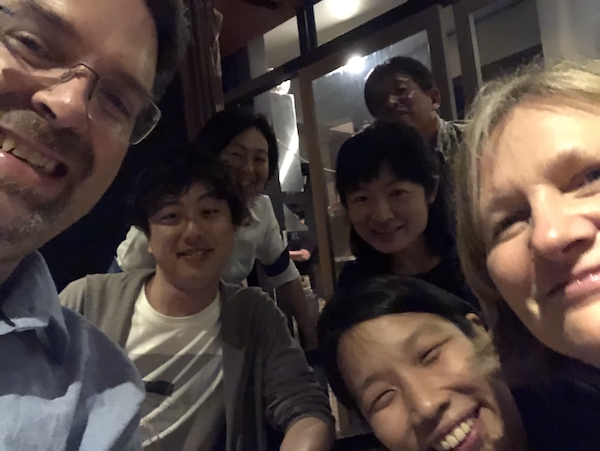 One of the core practices in the world of participatory leadership is working closely with others, and staying in relationship. I've sometimes said that my business model is friendship, and that feels truer than ever as I move into my fifties and find myself practicing more and more accompaniment and mentorship in my life and work. It has been an important metric for me to have more collaborators than clients in a given year. It is a further metric that I count many of my clients as collaborators and friends.
And so here is a list of the amazing people I have had a chance to work with in 2019. Read this like the acknowledgement pages in a book, full of gratitude and celebration.
First Caitlin Frost, my partner in life, love, and business. We are working more and more together as our children move into their adult years and we're discovering lots of gifts in how our joint practice is growing. More to come next year, including a deep offering on complexity, sharing basically everything we know.
A year ago I declared 2019 my personal year of learning about evaluation and I got to do that alongside many close colleagues from the evaluation world. Thanks to Ciaran Camman, Trilby Smith, Jara Dean Coffey, Meaghan Sutton, Rita Fierro and Dominica McBride for guiding me on this journey.
The Art of Hosting is core to my practice and I spend a lot of time teaching the practice and stewarding the community. This year I was on teams in New Brunswick, Manitoulin Island, Chiba, Japan, Whitehorse, Yukon, Washington State, Texas, Bowen Island, BC and Tseshaat, BC. I worked with amazing folks on those teams: Samantha Slade, Amanda Hache, Lewis Muirhead, Jason Doiron, Julie Feltham, Joanna Brown, Shawni Beaulieu, Rose Moss, Kim Haxton, Kelly Poirier, Dawn Foxcroft, Teresa Posakony, Kris Archie, Amanda Fenton, and Tenneson Woolf.
The Japan crew gets a special call out, for hosting us for a month in Japan over five workshops, including two Art of Hostings, a complexity workshop, a dialogic OD workshop and a limiting beliefs workshop. We had an amazing time in Japan and were hosted by the hardest working group of people I've ever met. Thanks to Yurie Makihara, Aiko Kakehashi, Kumiko Kigawa, Kiyoichiro Sorimachi, Cheiko Azuma, Maiko Iseda, Kayo Fujiwara, So Yoshida, Kazu Nakamura and Mokoto Nagaishi. That's "the band" who rocked and rolled across Chiba, Tokyo, Nagoya and Hokkaido and I know there were many more in support of our work together.
There were others that made it possible for me to offer workshops in Europe and online. My partners here are the women at Bring on the Zoo in the Netherlands: Lily Martens, Helen Kuyper, and Caroline Rennie and my dear friends at Beehive Productions, Amy Lenzo and Rowen Simonsen.
There are folks in my life who make things easier by drawing and laying out materials in sessions or in preparation. Graphic recorders Sam Bradd, Avril Orloff, Tiare Jung, Lisa Arora and Corinna Keeling are indispensable to our work, Marshall Watson and Anna Namshirin did some top rate design work for us this year, and Peter Czimmerman made a beautiful text to cloud conference tool.
This year we redesigned the Leadership 2020 program for the Federation of Community and Social Services of BC which meant getting another chance to work with our team of Caitlin, Kelly Poirier, and Annemarie Travers with guests like Wedlidi Speck, Bradley Dick, Ecko Aleck and Jennifer Charlesworth.
I want to extend some deep acknowledgements out to my learning partners, folks that I continue to have important conversations with over the years even though we aren't necessarily working on things together. Shout outs to Bronagh Gallagher, Bhav Patel, Jenn Meilleur, Olive Dempsey, Lieven Calwaert, Sonja Blignault, Mark O'Sullivan, Ray McNeil and the Art of Hosting community of practice who continue to push my practice and help me grow. They join my own mentors Harrison Owen, Toke Møller, Monica Nissen, Dave Snowden and Glenda Eoyang in guiding my work
And finally, I'd like to acknowledge some of my clients, who have become or continue to be good friends over this year because we have been in some big work together. Khelsílem, Kris Archie, Rebecca Ataya, Phil Cass, Daniella Gunn-Deorge, Claudine Matlo, Mike Mearns, Siân Lewis, Jennifer Charlesworth, Trilby Smith, Kazu Nakamura, Lidia Kemeny, Meseret Taye, Barry Seymour, Ella Barrett, and Mary Letson are the best clients I could ever hope to work with. It is always an honour to serve the work they are doing – some of it super hard, and all of it deeply impactful for the people in their lives.
I'm humbled by this group of folks from all over. They represent an immense capacity for bringing good things to fruition in the world. They are brilliant, kind, funny, and generous and I count myself blessed to have them all in my life.
I'm Heading into a reflective few weeks now, and I may possibly spin out some blog posts as we go. Thank you for being along with me on the journey this year, commenting on what you read here and pointing me in interesting directions. I look forward to what emerges in 2020 and where our paths may intersect along the way.