End of year reflections
December 24, 2022 By Chris Corrigan Art of Hosting, Being, Bowen, Collaboration, Community, Complexity, Design, Facilitation, Featured, Football, Leadership, Learning, Music, Practice, Stories, Travel 10 Comments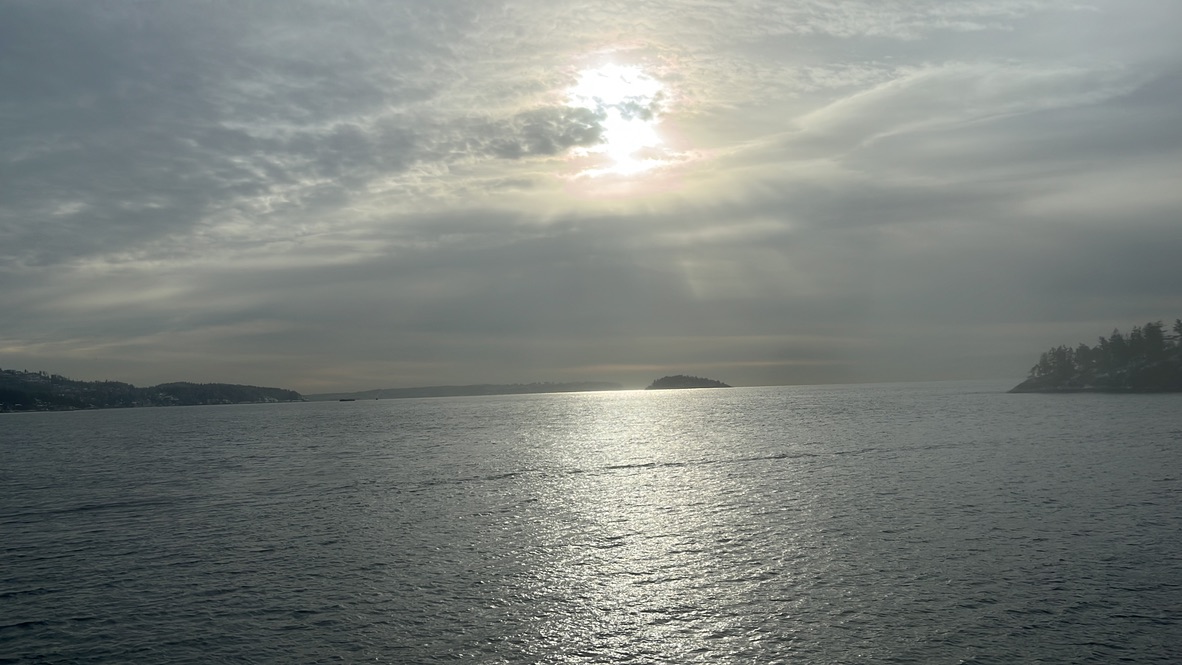 Smelhmelhélch (Passage Island) at the mouth of Átl'ka7tsem (Howe Sound) before the snows came earlier this week.
Some notes on 2023 while I have a moment to review them.
The year began with the death of my father and is ending with worries about the serious and lingering health issues of other senior family members and so in a lot of ways this year has been split between personal grief during the first part of the year, and the waiting, supporting and attending in the second part of the year. Several times during the year, I haven't found myself at my best. And that's added on top of the persistent and low level background radiation that comes from the feeling that the world is slowly coming apart on this part of the planet and we are collectively ill-equipped to deal with it.
It hasn't left me pessimistic, but I have noticed that I'm sad at what we have lost, which most of all appears to be the collective capacity to DO SOMETHING about the long term prospects for our planet and the community of living things that occupy it. as irrational as that thought is, because truthfully, it has been that way for my whole life, nevertheless, there is a feeling of loss. I've always described myself as an optimist because I believe that there is always something better we can do or embody, but the general prognosis needs power and wealth to radically change directions, and increasingly, I'm not confident that will happen. And so we push on.
Work
My work is changing, and has done throughout the pandemic. In the past I did much more face to face and one off facilitation work and delivered teaching through Art of Hosting workshops, for which I travelled the world. As I get older, I am more interested in teaching and supporting younger facilitators and so there is much more teaching now and one-to-one coaching and we are also taking work that is larger in scope than facilitating single meetings, in which we are focused on longer term support for leaders and organizations who want to be more participatory and more engaged with meaningful work. I like this as it means we develop longer term relationships with a few clients and are able to see the results of our work together over time. Additionally most of this work continues to be online, which suits me well as I have become more of a homebody and more introverted in the last three years. I do love face to face work, but as I get older I find it much more tiring, and I appreciate the ability to deliver quality content to folks and then turn off my computer and go to the garden or play guitar for an hour.
In 2023 I will turn 55 and I have a strong commitment that on my 55 birthday we will begin the process to scaling back and only working four days a week. We have been planning on this for a while, and I'm really looking forward to this shift. I feel like I need it for all kinds of reasons. In my calendar starting June 13, every Friday for the rest of my life has a recurring event that says "Fridays off for the rest of my life."
This year Harvest Moon which consists of Caitlin Frost and myself along with our stellar assistant Laura O'Neil, had 27 clients. Many of these were larger projects working within large organizations and involving a lot of teaching and capacity building to support leadership and organizational change. We do this with a set of tools and practices that include participatory facilitation methods from Art of Hosting, Dialogic Organizational Development approaches, Participatory Narrative Inquiry, complexity work and personal practices for rigorous inquiry on limiting beliefs. This year we packaged these into bespoke programs in complexity focused participatory leadership for the Executive levels and senior leadership of a major university, a Crown corporation, an Indigenous government, a national labour union and one or two smaller organizations. We embedded several three day Art of Hosting/Art of Participatory Leadership workshops in these settings, and also used our course material we have been developing around complexity and personal leadership practices to complement the strategic conversations that we hosted. We have written four extensive workbooks for these programs and this might well turn into something more formal in the years ahead.
We amplified all of this work with story collections primarily using NarraFirma to gather stories and PNI to design sense-making and strategic interventions. This last capacity has become key to our work now and I have now run upwards of 30 story collection and sense-making projects through NarraFirma since the pandemic began. Although we have become really good at working with this material online, this work is most powerful in person, and it is one of the things I am looking forward to doing more face to face.
Partners
Over the past year we have worked with many partners and it is my usual practice to name them. They live in five different countries (Canada, USA, Netherlands, Moldova and Australia) and working with them makes it possible for all of us to do amazing work together. My gratitude to them all.
Harvest Moon partners Caitlin Frost and Laura O'Neil
Tatiana Glad
Meribeth Deen
Bhav Patel
Kris Archie
Kelly Foxcroft Poirier
Tiaré Jung
Amy Lenzo and Rowen Simonsen at Beehive Productions
Phill Cass
Ciaran Camman
Amanda Fenton
Quin Buck
Corrina Keeling
Jodi Sanford
Kinwa Bluesky
Chad Foulks
Geoff Brown
Teresa Posakony.
Teaching
This year I offered several open enrolment courses with colleagues.
Learning
In addition to everything I learned from teaching these courses I also enrolled in two important programs myself to deepen my own practice.
Weaving It In: Making evaluation part of your work. This was an inaugural offering from my close colleague Ciaran Camman and combined their decades of evaluation experience with solid complexity and participatory practice. A nice combination of theory and practice and experiential learning.
Co-Resolve introduction to Deep Democracy with Camille Dumond and Sera Thompson. After about 20 years of Sera challenging me to become friends with conflict, I finally came to study with her and this was a great course. The biggest shift in me is seeing how my conflict-averse tendencies have shifted from conflict resolution to what I'm calling "conflict preservation."
This next year I have signed up for Cynthia Kurtz's deep dive into Participatory Narrative Inquiry which is a 20 week long practicum during which my colleague Augusto Cuginotti and I will be running a PNI project with a client. I haven't done any learning like this at this sort of scale since University. I'm looking forward to it.
Living on the web
My first website was a collaborative writing project with my old friend Chris Heald called Stereotype back in 1995. It was a proto-blog in the style of suck.com, which even 25 years later is a remarkable documentation of the shift of life from physical to online. So I've lived through a lot of iterations of web life. This past year I started a long wean away from the walled gardens of Facebook and Twitter and began writing again on my blog with more frequency. I started a Mastodon account and have used that as an opportunity to rethink how I have compartmentalized my life online to suit various audiences. For the most part I have maintained a professional kind of look here and on my @chriscorrigan twitter account and I have devoted hours and hours of time to soccer life through my @salishsea86 twitter account. That is all changing slowly. I maintain some twitter accounts for the supporters group of the soccer team I co-own, but otherwise, I think everything will eventually be centralized back here with micro-posts on Mastodon. I will republish links to these posts through Facebook, LinkedIn and twitter as usual.
I'm slightly looking at LinkedIn again as there is some interesting professional content there that used to be published on blogs, but as much as possible I am integrating interesting content into my feeds at NetNewsWire. That is where I will be doing most of my reading, as the endless scroll of twitter and facebook are no long giving much value and Instagram is useless for my life, other than keeping up with our footballers who are half my age who only post there!
Avocations
This year has had three big commitments outside of family and work. As a founding member of the TSS Rovers Supporters' Trust, I have spent the year selling shares to 351 co-owners of Canada's first community-owned semi-pro soccer team. We have done some remarkable things this year including winning a League Cup on the men's side and qualifying us for Canada's national championship, the Voyageurs Cup, which is, mindbogglingly, the pathway to the FIFA Club World Cup. We will play a meaningful match in the first round of that competition in April against a Canadian Premier League professional team and the only thing better than actually getting this far would be effecting a giant killing in April. It has bee a remarkable journey all it's own.
Another responsibility that I have devoted myself too is chairing the Board of the Rivendell retreat centre, a contemplative centre on Bowen Island. We have come through a pandemic and stayed afloat and are now beginning to engage in active fundraising for our longer term sustainability. This role is part of the way I live out my contemplative spiritual practice alongside a commitment to leading worship once a month at our little United Church on Bowen Island. I love that job. It helps us to afford our part time Minister and I get to dive deep into topics and scripture readings that are close to my heart. Perhaps I'll post my sermon notes here in the new year if that's of interest to you.
Music is my love and my third commitment. I have been singing with a renaissance choir doing medieval liturgical music and madrigals and studying jazz guitar on my own. My guitar teacher sadly died in April, and I miss him dearly. We had only a few lessons this year as he grew sicker. Learning jazz alone with only you tube videos and fake books is incredibly hard but incredibly rewarding and I'm hoping this year I might be able to study with another teacher and finally get a chance to play with folks.
Life on an island
I have lived on Nexwlelexwm (Bowen Island) now for 21 years and seen many changes over that time. I have blogged about living here for most of that time. These days we are facing a huge population turnover and some rapid growth which has introduced lots of new folks to the place and radically changed the culture. Community events are returning which is essential if we are to repair the cohesion as a community that has been lost through the pandemic. I feel that we are fragmented in many ways, and we are being confronted with some very challenging situations including a ferry system that is crumbling under global staffing shortages, strains on our little island infrastructure, economic pressures from living in one of the most expensive places on earth with no level of government committed to radical change, tourism pressures and mindset that sees the places increasingly as an under served and under resourced suburb rather than a rural community. These changes have been steadily occurring over the past number of decades but social media and a lack of face to face contact has made them more pressing.
In the natural world, the big news is the tremendous numbers of humpback whales and orcas that have returned to our seas, and there are almost daily sightings of these mega-fauna. Ten years ago that was unimaginable. While that is happening, we have also witnessed some extreme weather, including long hot droughts in the summer which are the biggest threats to the place. Things change here and being grounded in place means that one can be a long-eyed witness of it all.
So that is the state of play on Christmas Eve 2023. At the end of a year in which I was not at my best, after three years of living in a strange new world, entering the half way point of my 50s. Thank you for sharing this year with me. Say hi. I hope we can cross paths next year.