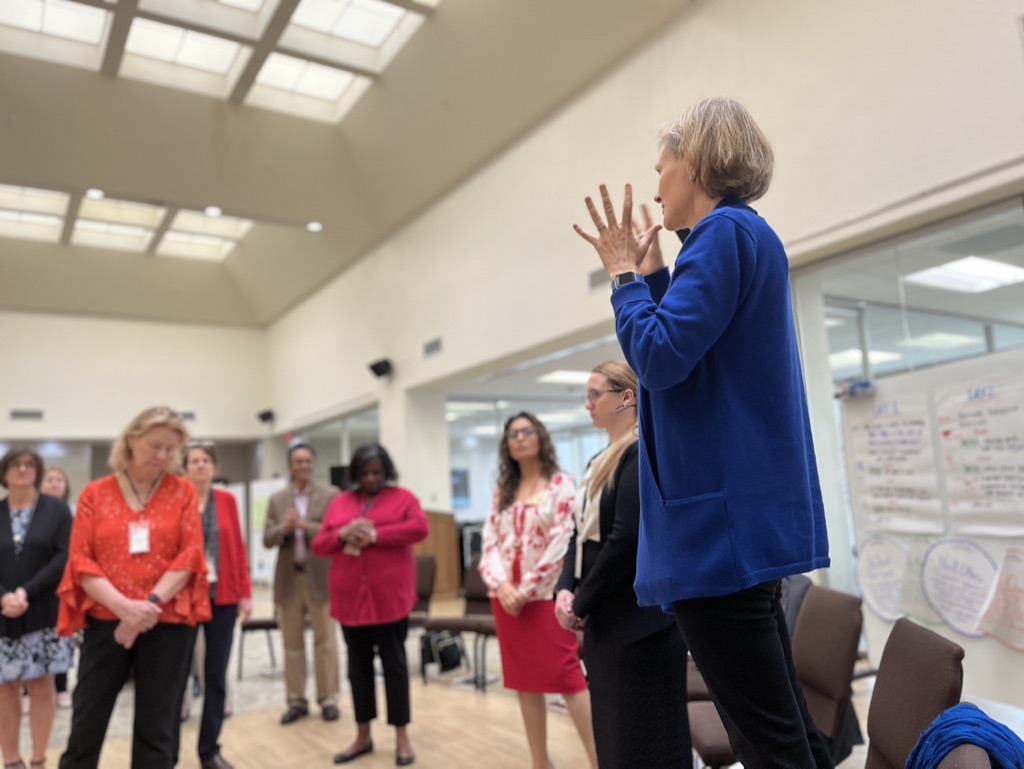 Someone asked me the other day about how to use constraints in facilitation and I thought I'd jot some quick thoughts down here.
Let's start using terms from Cynefin. Group work falls on a scale between ordered tasks and unordered tasks (or complicated and complex). The first question I ask myself in designing a container for facilitation is, "how much emergence is desired in this field?" In most of my work, I'm working in highly emergent situations, but for folks working around issues like safety or legal issues, there may be a prescribed outcome that the group needs to work towards. And of course, there is a mix along the way, and a lot of work happens in the liminal spaces between these two kinds of work.
If the purpose of the gathering is emergence, then you use enabling constraints to create the conditions for emergent outcomes. If the purpose of the gathering is a fixed goal or target, then you use governing constraints to discourage emergence.
All group work is constrained. In other words it is not possible for "anything" to happen in a group, and every choice we make with the power we have has hosts/facilitatiors or leaders in a situation constrains the work. It behooves us to make ethical decisions about the constraints we use to structure group work. NOT thinking about these constraints, or not thinking enough about them, can result in a fatal lack of awareness. We can end up over-or under-structuring a meeting such that unintended consequences become quickly catastrophic to the purpose of the gathering.
What do constraints look like? Here's a short set of lists of the thing facilitators typically make choices about when they are setting the conditions for a container.
Connections
Who are the people in the room and how do we connect them together? How do we break or lessen connections? How can we diversify connections?
What information, resources or artifacts are important to connect to people and the purpose of the work? What do folks need to know to participate well?
How much should folks in the gathering be connected to the outside world? How deeply do they need to be connected inside the gathering?
Exchanges
What are the ways in which we will share information in the gathering? Stories, data, opinions, interests, facts, dreams, experiences?
How does power work in this space? Who has it and who does not? What do we need to do to work with it well?
What is the nature of exchanges in the system? Collaborative, learning, debate, confrontation and conflict, appreciative, critical, supportive, dismissive?
Which media will enable exchanges in the space? Writing, drawing, body movement, song, play, reflection…
Attractors
What purpose is at the centre of the work?
What questions will we use to guide conversations? How open or close are those questions?
Do we need a single focus for the meeting or the conversation, or is this a space for multiple foci? How will we enable those conversations to happen?
What hidden attractors are in the room that may cause the group to self-organize in unhelpful ways? These are things like status, privilege, history and so on that form powerful centres around which people will make choices about their participation. Left unspoken, these attractors are powerful dark constraints in the system that can produce surprising results.
Boundaries
What are the time and space requirements that limit our work, for the meeting as a whole and for specific parts of it?
Who is in and who is out, and how do we make that determination?
What are the barriers to participation, and how are they helpful or hindering?
What topics are allowed or not allowed to be raised?
What personal and social boundaries need to be created or maintained or dissolved?
What safety needs have to be met for physical, emotional and psychological safety? How do we create the conditions for resilience in the container if people are required to stretch themselves away from their comfort zone or into a space that starts to feel challenging to them?
Where there are degrees of complexity or emergence in the container in which you are working (which is a lot of the time for most of us), your initial design choices will inevitably adopt and evolve over the course of the meeting. Each of these constraints is emergent and while we can start with choices, changes to those choices come fast and think. Sometimes you need to tighten a constraint by, for example, shortening the amount of time needed for an activity. Other times you need to break up groups that are falling into premature convergence together and perhaps getting "too cliquey" for the work at hand. In other cases, what looks like a "clique" is actually a group taking responsibility for its own safety, and in fact, you shouldn't break it up.
There is so much more to say on all of this, but by way of tying the notion of my four kinds of constraints to facilitation, does that provide some clarity?
About HOW to do that? Consult my post on some of the basic competencies one needs to develop to work with complex facilitation. It ain't easy.