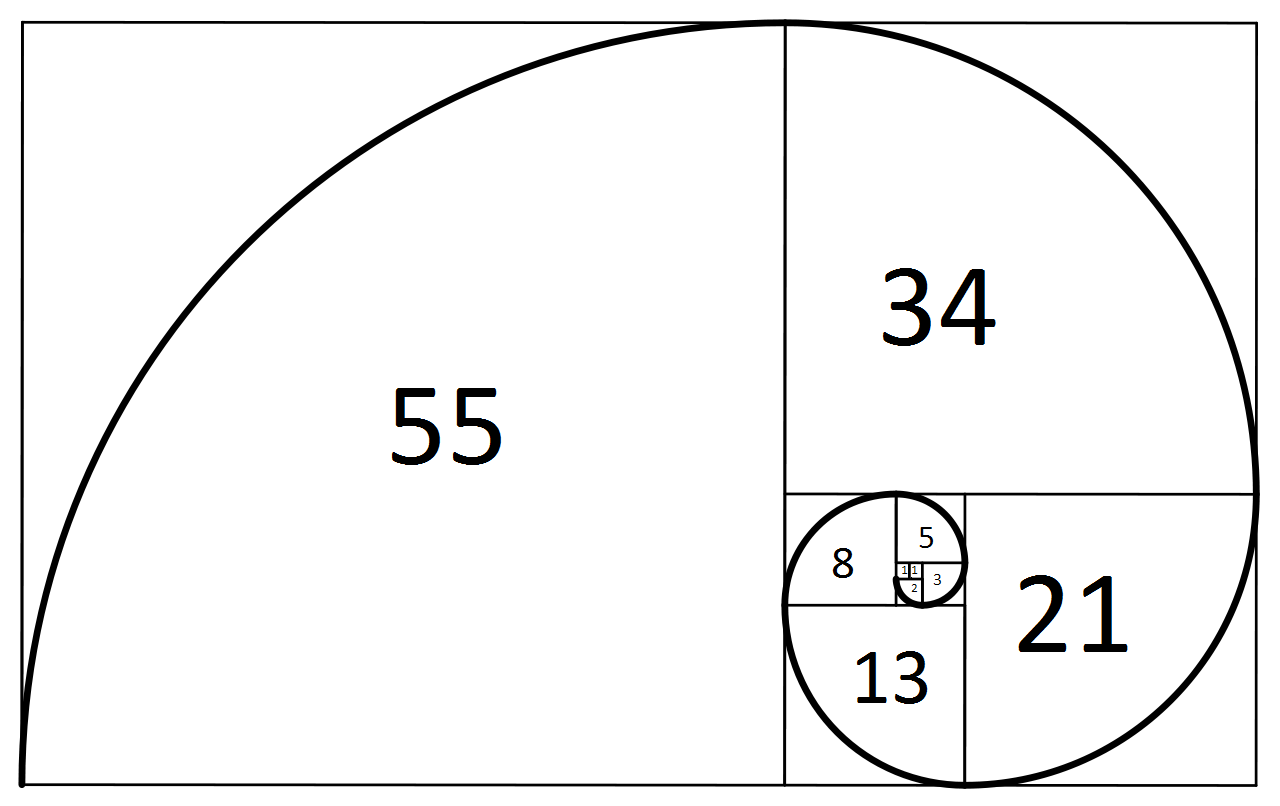 In my early thirties, a small group of us were studying education theory and self-directed learning as we built a supported homeschooling program. We worked with a guy for a while who was an NLP practitioner, and I have mixed memories from our time with him, but one thing that stood out was a novel take on an NLP exercise called "Timeline."
Essentially this exercise has you walk on a large diagram on the floor, laid out in one-foot intervals, with each foot representing a year of your life. In this case, the novelty was that the timeline was laid out in a parking lot on a Fibonacci spiral. I think the reasoning here is that the Fibonacci sequence shows up in all forms of growth, and so representing it as a way of reflecting on one's life can be a powerful metaphor.
The spiral was laid out according to a series of squares made from 1 foot x1 foot, 2×2, 3×3, 5×5, 8×8…etc. grids. Where the line crossed from one box into another was a number corresponding to one's age.
I was 32, so I started just before 34 and worked my way backwards, and I remember how tight the spiral got. When I got to the centre, that was my beginning. I thought the first 1 was my gestation, and the second 1 was my first year, from birth to sitting up and crawling. Years 2-3 were walking and becoming a toddler and welcoming my brother into my life. Years 3-5 were my pre-school years when I began to talk and when my father taught me to start reading. Years 5-8 were a kind of early innocence, where my sensitivity was intact, the patterns of my life were not yet set, and my sister arrived. Years 8-13 encompassed a coming of age, as I moved to the UK at that time, experienced bullying and loneliness and also had a tight connection to my family. At that time, I lost my childhood friends, and when I got home to Canada at age 13, I had to start all over again at high school with new friends. From 13-21, I grew through my teenage years and went to university, and grew through a series of challenges that formed me as an adult. I met Caitlin when we were both 22, and so from 21-34 was my early adulthood and the birth of both of our children.
By the time I had walked the timeline out to 34, I could see that everything that had happened in my early years was compressed into a tight spiral a long way away, and the road to 55 was starting to straighten out. On a scale of one foot per year, I experienced that time period as moving more quickly away from the centre. Whereas the previous phases had all had the sensation of turning around and around the centre, this is where the long arc began. I remember walking quietly and slowly to the 32 point and then past it to gaze ahead at 55. That number seemed impossibly far away. The Timeline felt like a slow cruise over a distant horizon that was going to require me to be okay with leaving everything behind in that tight inner solar system of my early life.
I eventually reached 55 and looked down the line to 89. My enduring impression was that this last turn was going to be a different kind of journey. Whatever I had learned in the first 55 years of my life was only now the fuel that would carry me out towards the edges of the system into whatever "89" is. At the time, I couldn't relate. Still not sure I can. This next trip is a long arc toward mystery.
Today I turn 55, and I have been waiting for this day since I was 32 years old. One more turn and a long arc outwards. Pretty much at a place where I can be grateful for everything that has happened down the line and almost ready to meet this next long stretch with curiosity, knowing that it still holds a generative, life-filled journey that can be met with love and friendship and support and curiosity. From here, it looks pretty much as I experienced it back in that parking lot.
To celebrate this point in my life, this is also the day on which I will cut back my work to four days a week. Mostly that is going to look like taking Fridays off work or at least being super conscious about accepting paid work on that day and taking another day in its stead. I've been ready for this for a while. The past three years have been more tiring than I expected. My aging body needs attention, my brain needs to move slower than it used to, and my little soul has become more introverted, and it takes longer to be comfortable in the mad rush of working and socializing with large groups of people. Now is the time for harvest, for writing and supporting others doing this work in the world that moves me so much. It means time devoted to things I love doing, spending time with my beloved, making music (continuing to learn jazz guitar), writing, spiritual practice, putting energy into my football club and supporting and mentoring the many, many younger folks in my life who are developing fierce practices of hosting, complexity work, and positive world-building.
The next arc on the journey is going to be held within a world I feel increasingly ill-equipped for. One in which the bio-physical and socio-political climate is changing in ways that are alarming. I don't know what life holds – never did – but if I'm lucky, there are 34 more summers of sunshine and football and gardens, 34 more winters of rain and wind and hot chocolate, and 34 more chances to see the universe from just this particular angle. So I keep living with as much joy as possible and certainly soaked in the gratitude of getting to be alive in this place and time, in each moment.
I treasure my friends, my family and the people I get to support. I have a brain that never stops learning, and a group of humans around me who tolerate my quirks and rabbit hole dives and help me turn that scattered attention into, on the whole, a beneficial contribution to the world. Come back in 2057, and we'll see what the trip across the 55-square-foot box was all about.