Increasing trust in community meetings
October 2, 2019 By Chris Corrigan Art of Harvesting, Art of Hosting, Bowen, Collaboration, Community, Democracy, Design, Facilitation, Featured, Stories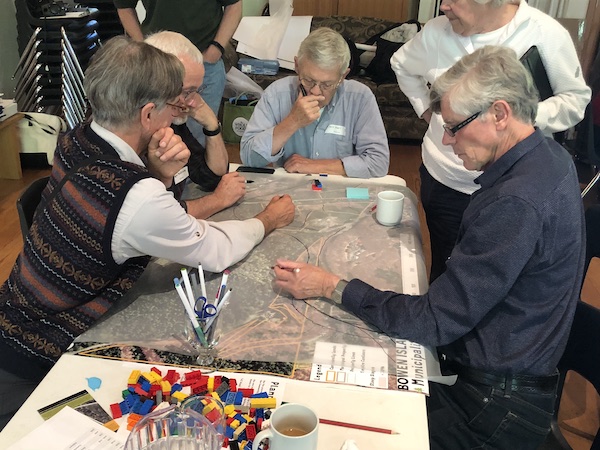 A couple of days I ago I shared a link on twitter from Rob Hopkins about a community meeting held in Totnes in the UK which brought together the community to discuss what to do now that the town had declared a climate emergency. The design of the meeting was highly participatory and I'm grateful that the organizers took time to document and share the results.
The design had all the hallmarks of an effective participatory gathering, including having a well thought through harvest strategy so that the gathering was in service of the work and that it left people engaged, enthusiastic about participating in community work and more importantly trusting one another.
These kinds of gatherings are not uncommon, but it's unlikely that you've ever been to one in your town or city. I've been lucky enough over the years to do a few really interesting gatherings in my home community of Bowen Island, including a nearly year long series of monthly Open Space events which ran parallel to our Official Community Plan update and a participatory design session for the future of some of our community lands.
This morning, when asked on twitter what I though contributed to building trust in community meeting I answered with a few thoughts. I've written a lot about this before, but it's always interesting to see what I would say differently at any given time.
So here's today's version. As design principles, I think these should be at the centre of design for participatory processes if you want to do things that increase trust:
Trust the people. Invite them because they care about the issues and they have something to say, and invite them to engage in questions you don't have answers to. Don't spend a lot of time lecturing at them. You invited them, treat them like honoured guests.
Let them host and harvest their own conversations. My core practice here is "never touch the people's data." If they are recording insights and clustering themes and writing session reports simply give them the tools or the process for that and let them get on with it. Provide a clear question for them to work on, and let them use their own words to rerecord the answers and insights. Be very careful if you find yourself synthesizing or sense making on behalf of a group. Those are your insights, not theirs.
Use small groups and mix them up. Put people in proximity to many different ideas and perspectives and let them struggle with difference and diversity. Mix them up. Not every conversation will be great. Let people move on and discover better things in different conversations.
Work from stories and not opinions. If you want to know about the future of a community ask people to tell stories that somehow capture the change they are seeing, rather than "what do you think is going to happen?" try not to have abstract or aspirational conversations without first grounding the participants in a process that helps them to also see what's happening in the system.
Ask people to act within the scope of their agency. Be careful asking for recommendations for other people to do things if you don't have the resources to undertake those recommendations. Be clear with participants about what you can support at the end of the meeting and what is theirs to do, and don't ask them for actions that they have no ability to undertake.
If you ask me again in a few months what I would say, it would probably be different, but this is a pretty reliable set of principles to guide design.