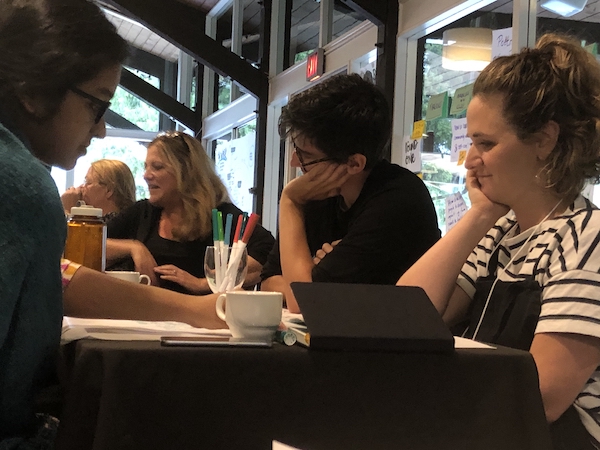 Recently I have had several jobs that have required large group complex facilitation. Sometimes this work involves using methods like Open Space Technology or World Cafe, and other times it requires new designs and processes customized for the work.
When I say "complex facilitation" I mean running group processes that are grounded in complexity theory and intended to move a group towards emergent outcomes. I first heard this term used by Sonja Blignault and Dave Snowden of Cognitive Edge, to describe this kind of facilitation. (Sonja has a great post on this stuff!) These are facilitation techniques and approaches that are required for large groups of people to engage in strategy, sensemaking, planning, and evaluation when the direction forward is unclear and the outcomes are unpredictable or unknown. It is a basic feature of all my facilitation practise, but when I'm doing new things with new designs, methods and processes, I'm most keenly aware of the nature of the work. So over the past few weeks, I've been able to reflect on both what complex facilitation is and what is required to do it well.
Here are a few thoughts.
Complex facilitation is highly participatory. Even in a large group setting, complex facilitation requires the active participation of everyone in the room. You will rarely find a meeting I'm running where you have the time to check your email, or just observe. I create exercises and use processes that require active and relatively equal participation. This begins with the invitation process, where we work hard to ensure that there is a diverse group of people, experiences, and perspectives involved in the project. It requires participants to be prepared to work in a participatory way, and it requires processes that ensure that everyone has a chance to meaningfully contribute to the outcomes. This means designing and using structures that move between large and small group sessions, and never leave people sitting and listening in plenary too long.  
Outcomes are emergent and therefore unknown at the beginning. There is no pre-determined destination in complex facilitation. We may have the purpose of making a decision, producing a report, or assembling a plan, but the basic content of those outputs is emergent. It arises from the interactions between the participants. As a facilitator, I have to be very careful not to influence the outcomes of the work, especially when the work is making meaning of patterns that are important to the group. I have to avoid using examples to illustrate the exercises drawn from the group's context. I spend a lot of preparation time thinking of examples to use that won't colour the group's sensemaking work. During the work, I have to be deeply conscious of the way I talk and interact with the group, so as not to impose my view of things on them. 
Use stories and base the work in reality. One thing I have learned from my work informed by complexity practitioners like Dave Snowden, Jennifer Garvey Berger, Cynthia Kurtz, and Glenda Eoyang is to base your strategic work in reality. This means prepping strategic work with a process to collect stories and narratives from the organization or community. Over the past couple of years, I have started using tools like Sensemaker and Cynthia Kurtz's NarraFirma to do this work. These tools have the advantage of collecting data from people in their context which means that when they come to a large group meeting, they are able to work with material that has been collected rather than generating stories in a workshop context that can sometimes be influenced by bias, habit, and other kinds of cognitive entrainment. I also work with methods that can generate narratives in the workshop itself, but if it's possible, undertaking a narrative capture beforehand makes the work more meaningful. 
Remember that all complexity work is about patterns. When working with complex facilitation techniques, I'm constantly designing processes and shifting them based on pattern intelligence. In designing and working with patterns, I rely on my version of the ABIDE heuristic: I pay attention to Attractors, Boundaries, Identities, Differences and Exchanges in a process. When the group needs shifting, these are the basic areas I get to influence. If unhealthy issues are arising in a group, my job is to try to shift the patterns to bring the group to emerging health and coherence (note: this does not mean suppressing dissent or conflict!). Work with patterns and you'll avoid the temptation to meddle in the content.  
Work with cognitive stress and overload. The word "facilitation" comes from the Latin word facilitare which means "to make things easy." That is not the goal of complex facilitation. Instead, the facilitator works with cognitive overload and stress, deliberately shifting the process between mentally heavy activities and things that are lighter and allow for cognitive recovery. The reason for doing this is to ensure that participants are constantly challenging their patterns and biases. Especially in sensemaking sessions, participants who simply go to the easy answers are not finding the novel. Innovation is very hard work and requires people to both think and act differently. I'm sure many folks who have worked with me will testify about how much they struggled in sessions when we were trying to do new things. That struggle is brains wrestling with habits and preferences. Facilitators need to be skillful in introducing good stress and overload that doesn't break a group but causes people to authentically find new things. Work hard and eat avocadoes and blueberries.
Not everyone will enjoy it. As a result of cognitive overload and the messiness of the room strewn with markers and posit it notes, you will find that not everyone will enjoy a complex facilitation session. I try to prepare people as much as possible for the work, and almost always warn them ahead of time that the day will be challenging, and they are invited to stay in it. But in a large group of folks, there will always be people who have a crappy time. Try not to create processes that have this result, but also learn and remember that not everyone is going to be thrilled to work in this way. I've been in this situation both as a participant and as a facilitator, and I'm okay with it.  
You don't have a safety net. The more experienced one gets at complex facilitation, the more frequently one operates without a safety net. It can feel risky facilitating in this way, even with a couple of decades of experience under one's belt. I still often get nervous and fearful in these kinds of workshops, and I'm on high alert. I have developed good self-awareness practices to know when my anxiousness is seeping into my facilitation. This is critical for facilitators of all kinds but especially those who engage in this kind of work. It is not uncommon to find oneself receiving criticism and mistrust, especially as a group is going through a groan zone together. Have a good practice and you can remain a resourceful facilitator. That is the only safety net you get!