The troublesome word "container"
February 9, 2020 By Chris Corrigan Art of Hosting, Chaordic design, Complexity, Conversation, Culture, Design, Emergence, Evaluation, Facilitation, Featured, First Nations, Leadership, Organization, Power 26 Comments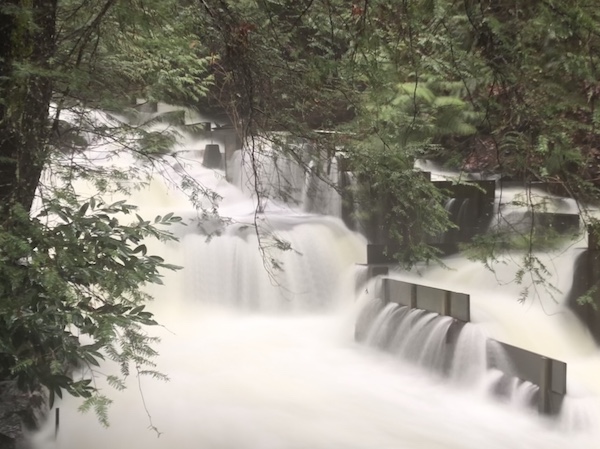 I'm in trouble. In the best way. So get ready for a long and rambling post about geeky dialogic philosophy and complexity practice.
I'm a little bit known in some communities as a person that is writing and working with the notion of "container" in dialogic organization development. The word and concept itself comes from a lineage of thinking about the spaces inside which dialogue takes place, and there is certainly lots written about that. I think I first learned the term from the work of William Isaacs whose classic work, "Dialogue," is a seminal reference in this field. He describes a dialogic container as the "sum of assumpitions, shared intentions, and beliefs of a group."
While that was the first place I learned of the concept of container in dialogue, my learning about it was also informed by reading about complexity science, and especially learning about dissipative structures and autopoiesis, two key concepts in self-organization in living systems. Furthermore, I learned of the notion of sacred space in both Christianity and indigenous ceremonies, especially the Midewiwin, to which I was exposed in my University years. Finally, my thinking about container with respect to complexity has been heavily influenced by both Dave Snowden and Glenda Eoyang's work, as they have explored how these concepts and dynamics from the natural sciences show up in human systems. In this context, Dave's work on enabling and governing constraints is incredibly useful and Glenda's broad palette of tools helps us to illuminate and work with containers.
So that is a brief survey of where my understanding has come from. I find the concept incredibly helpful in understanding the dynamics of self-organizing systems and it helps us to find places to intervene in a complex system with a rigorous approach to explore and change the patterns of self-organization and emergence.
So I use the word "container" with a very specific meaning, but it's not a meaning that is shared by everyone and it definitely not a meaning shared by folks who have a history of being contained. Occasionally I get scolded for using the word, and I own that. We must be VERY thoughtful about language in this work so this is a long post where I think about the implications of this troublesome word which is used to describe a useful concept badly.
The word and concept are useful in understanding and describing dialogic practice. But it has some SERIOUS baggage because in contexts of oppression and colonization the history of colonization, enclosure, and imprisonment is entirely the history of containing people; on reserves, in jails, in schools, in groups defined by race and marked by lines, in ghettoized neighbourhoods, in a million places in which people are contained, enclosed and deprived of their agency and freedom to create and maintain boundaries.
In these contexts, the word "container" is often heard as a reference to places that are created by people with the power to contain others, and very often they contain people who have a lesser amount of power to change or free themselves from that container.
It is true and important to note that any discussion about how to manage dialogic spaces – containers – is entirely dependant on the power one has to create and influence the boundaries, and manage the connections and exchanges. Creating a dialogic container is an act of privilege. Using the word "container" will almost always trigger a negative reaction in people that have been SUBJECTED to containment, against their wills, against the interests, and in the service of depriving them of power.
Liberation movements all over the world in all moments of history are about creating alternative spaces to the oppressive culture and conditions of the present. These are expressed in all kinds of ways. In land reform movements, for example, colonized lands are recovered and returned to their original owners. In movements to free people from enclosed and coercive spaces like exploitative labour, prisons, residential schools, oppressive child welfare practices, or human trafficking, alternative spaces are built for equality, justice, freedom, learning, self-actualization and growth. And the metaphor and reality extends to spaces where people change the language to talk about their conditions and create spaces where conversation, dialogue, and organizing can happen in a way that draws a line between the oppressive practices of the past and the liberating spaces of the future. Socially constructed narratives can provide alternative stories that begin to link, connect, and differentiate people in a way that helps them organize their conditions of freedom.
So one major problem with this troublesome word is how it works in English. The word "contain" can be brutal, because in English it is a transitive verb that is not continuous, meaning that it implies an action conducted upon a object and then arriving at a resting place, where the object is contained and the action is done. That is a troubling truth of the word "container" and partially explains why it rests so uncomfortably on a dialogic practice that is intended to create spaces of generatively, creativity and life. It objectifies the object of it's action and it acts upon that object to bring about a final conclusion. There is a lot buried in the particular grammatical function of the word. There is no room in the English definition of the word for self-organization and emergence.
Truthfully, the space required for dialogic practice needs a type of verb that doesn't come so easily to English: a collectively transitive verb that is generative, continuous, and describes something that changes in its use. I suspect, having been a poor student of Anishinaabemowin and a bit of Skwxwu7mesh snichim, that there are maybe such verb forms in these languages. In my long study of the Tao te Ching, I've come to understand the concept of "yin" to be this: the form that life takes, in which creative energy is contained so it can do it's work. It is created and changed in its interdependent relationship to what happens within it, like the way a river bed both holds the river and gives water its form of "river" instead of "lake" and is changed by the river being in it. It implies "receptivity" to creative energy. In Japanese where there is a sophisticated vocabulary for these kinds of spaces, "ma" (?) might be the word I'm looking for: a word that my friend Yurie Makihara defines this way: "Ma is the time concept expressing the time between something and other thing. We say how to create Ma is really important to encourage you to speak or "it's kind of nice to have this kind of Ma." For me Ma is the word to include some special sense to say, so we don't use it just to express the time and the place." Even though Yurie's English is quite good, it's clear that translating this into English is nearly impossible! But I think you get a sense that Ma is a collective sense about the shared time and space relationships that create a moment in which something is possible. Ma describes that moment, in a spatial way.
So. As is often the case, I'm left with the hidden poverty of English to give me a word that serves as both verb and noun and that is highly process-dependant. Over the years folks have suggested words like "nest" "hearth" and "field" to describe it. These are good, but in some ways they are also just softer rebranding of the word "container" to imply a more life-filled space. The terms still don't ask the question of who gets to create, own and maintain the container nor do they fully capture the beauty and generativity of a complex adaptive structure in which meaning-making, relationship, healing, planning, dreaming both occur and act to transform the place in which they occur.
If we cast our eyes about the culture a bit wider, they quickly land on the word "space." We use the word "space" a lot in social change circles, but it has its own troublesome incompleteness. The problem with "space" is that it often tends to turn attention towards what is between us and away from the boundary that separates us from others. This can be the way in which creating space for social change can fall victim to an unarticulated shadow: inclusion always implies a boundary between what is included and what is not included. Many social change initiatives falter on an unresourceful encounter with the exclusion that is implied by radical inclusion. A healthy social system can speak as clearly and lovingly about this boundary as it can about the relationship within the system. And for me this is the important part of talking about dialogic practice. So I can understand the helpful neutrality of the term "space" because it can be a result of a tight and impermeable boundary or it can simply be what we give our attention too as we come into relationship around attractors like identities, ideas, purposes, or needs. It can beautifully describe the nature of the "spaces in between." But it still doesn't do enough for me to describe the relationship between the spaces and the forces – or constraints – in the system that give rise to a space and enable self-organization and life. Still, it's a pretty good word.
So perhaps what is needed is a true artistic view of the problem, to look away from the problem and towards the negative space that defines it. That is indeed what I have started doing in my work, by focusing more on the factors that influence self-organization and emergence and less on naming the structure that is created as a result of those factors. This is a critical skill in working with complexity as a strategist, facilitator, manager, and evaluator. These constraints include the interdependent work of the attractors and the boundaries which help us create a "space" for sensemaking and action, whether dialogic action or something else. There is a place where you are either in or out, and there can be a transition zone that is quite fluid and interesting. There is also an attractor at play, which can be a shared purpose, a goal, a shared identity, a shared rhythm or something interesting and strange and emergent that brings us into relationship. Anywhere you find yourself, in any social space, you can probably identify the attractors, the boundaries and perhaps even the nature of the liminal space between completely in and completely out.
This brings us back to the power conversation, rather more helpfully I think. If we let go of the "container" and focus instead on the factors that shape it, we can talk about power right upfront. Attractors and boundaries are VERY POWERFUL. They are created by power and maintained and enforced by power and the negotiation about their nature – more or less stable, more or less influential, more or less permeable and mutable – is by definition a negotiation about power. As a facilitator one carries a tremendous amount of power into the design of dialogic spaces. The most energetic resistance I have ever received in my work is always around the choices I made and the nature of the attractors and boundaries I am working with. I have been told I am too controlling, or not controlling enough. I have been told that we aren't asking the right question ("who are you to say what we should be talking about?"). I have been removed from my role because what I was doing was far too disruptive to the group's culture and norms of how they work, and in enforcing the disruption, I was actually depriving people of accessing the power they needed in the work.
(See the stories from Hawaii here and here and this story from Nunavik. Being an outsider with this power is perilous work.)
So yes, the terms we use to describe dialogic spaces matter. Finding a word to describe these spaces is important, and this is an important piece of critical pedagogy for anyone teaching dialogue and facilitation.
But don't let your work rest on the definition of the space. Understand where these spaces come from. Actively work to invite more self-organization and emergence into these spaces that are in service of life, love and liberation. Become skillful at working with boundaries and attractors, limits and invitations, constraints that enable life rather than govern outcomes, and get good at knowing what kinds of relationships and constraints are the best fit for what is needed. That is what we need as we co-create spaces of radical participation and liberation and to transform the toxic use of power and control so we get more and more skillful at inviting us all into life-affirming moments and futures.
What do you think?