So it's on. Our lives have been instantly upended and five days after cancelling everything, I find myself at home mostly, with days spent in the forest walking and, as of today, avoiding visiting even the cafes and local gathering spots on our island. We live in a small place with many older people. We are connecting and looking out for each other on facebook and just waiting now. Waiting for what? To get sick? For it to be over? For something to happen?
As a person who spends nearly every waking hour thinking about how to act in times of complexity, I can say that at this moment, I am grateful to have those tools for making sense of my actions and plans. I have been keeping a little journal of decisions and moments, as this is a very strange time and documenting things in real-time is helping me to see the kinds of decisions I have been making.
Thinking this through with Cynefin and constraints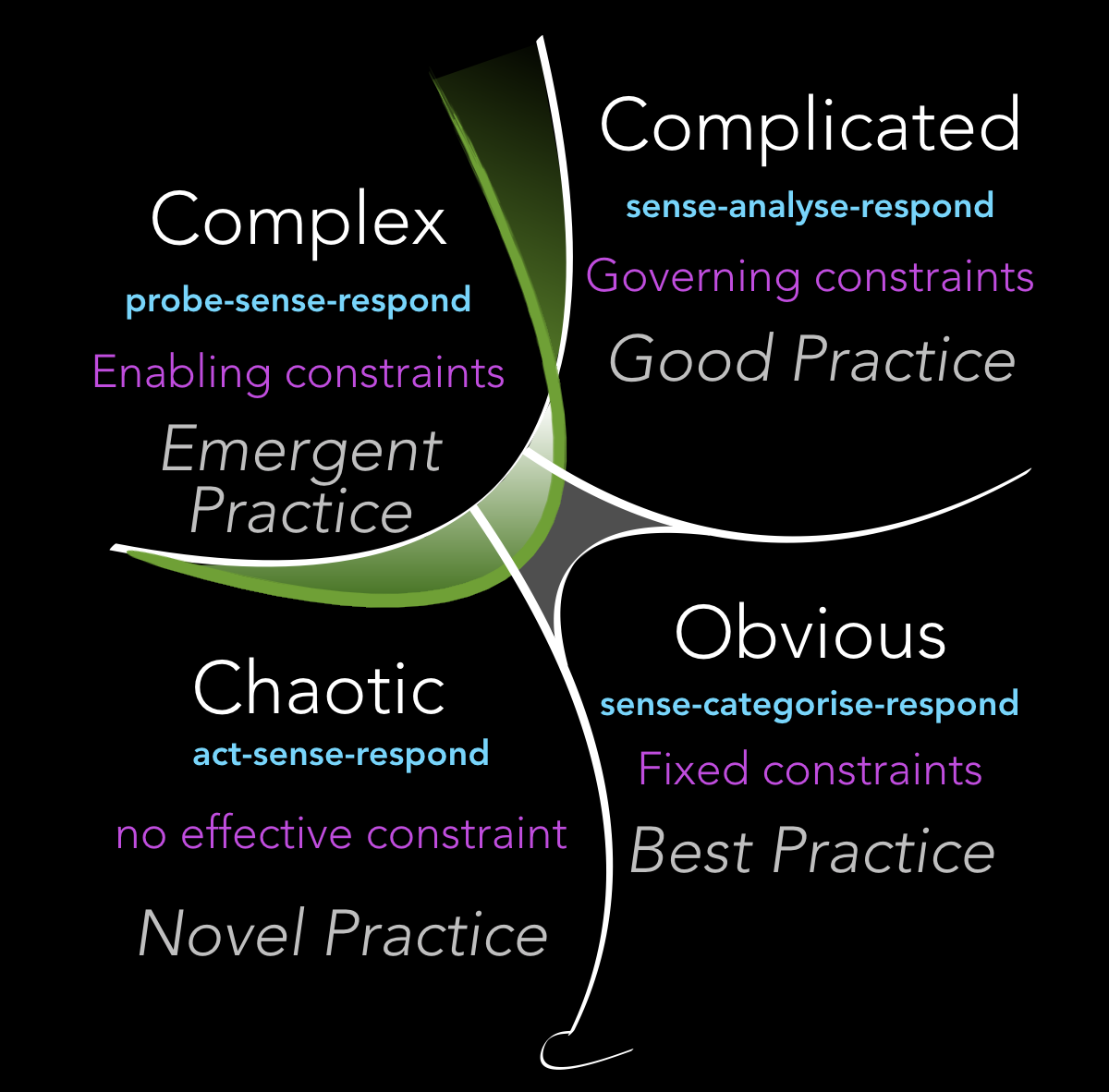 This is our old friend the Cynefin framework that helps us to understand and make decisions depending on the nature of the problems we are facing and the ways we are interpreting those problems. This diagram, plus my little collection of constraints has become the way I'm thinking about actions.
One of the most useful ways to use Cynefin is to look at problems through the lens of constraints. Moving counterclockwise from Obvious through Complicated and Complex to Chaos, we find that problems and systems move from tightly constrained and connected to more open to completely unconstrained. Going the other way, from Chaos clockwise to Obvious, constraints are increasingly tightened.
Acting is really about noticing the constraints that are keeping patterns in place and doing what you can to either loosen or tighten those constraints to move in an optimal direction. Constraints for me consist of:
Attractors: Things that draw our attention together, like good public health information, or that cause us to do things on a regular rhythm like washing your hands whenever you enter or leave a place), like daily cycles, or "strange attractors" which are things that emerge and get our attention and change the way we orient our action. Panic buying is a kind of strange attractor, where fear induces people to buy more toilet paper than they need.
Boundaries: Things that hold, contain or constrain a system. Boundaries can be tightened or loosened, or made more or less permeable. Boundaries are a key feature of COVID-19 response.
Connections: the ways in which parts of a system are connected. Viruses challenge this because they can linger on surfaces after we have left, drawing us into connection with one another, even though we aren't actually touching. Social distancing is a way we are altering connections.
Exchanges: what flows between us. This week, of course, that is a virus, but it is also information and encouragement. Watching Italians signing together is a form of exchange across an impermeable boundary. Flattening the curve is about slowing exchanges. Being aware of the quality and source of information is a way that we work with exchanges, paying more attention to public health officials and less attention to facebook speculation for example.
Identities: These are important in complex systems. In British Columbia, our public health officer Bonnie Henry has become a powerful person because she shares quality information on a regular basis (becoming an important attractor in a quality exchange every day at noon). Identity is at play in many ways in the response to this pandemic too, and everything we know or think about ourselves is changing.
In this time I find myself watching the constraints in the system and trying to stay ahead of the ever-tightening boundaries. I'm mostly at home now or walking in the local forest far from others. I have found that adopting a set of heuristics is helping to guide my action. In complexity, heuristics help you to make decisions when you don't have a plan. Some of the heuristics that I am using include:
Act as if I am contagious and I have a responsibility not to infect others. Early last week this one was the one that shifted my behaviour from it being al about me to taking a public-minded approach. If I act as if I have it, it helps me to flatten the curve by taking measures that will protect me if I don't have it. The goal is for all of us to delay getting this virus for as long as possible, and to avoid passing it on.
Law of Mobility reimagined to stay away from groups. In Open Space, the law of mobility is "if you find yourself in a place where you are not learning or contributing, find somewhere where you can." Now if I find myself in a place where there are more than two people, the heuristic is "If you find yourself in a group of two or more people, go somewhere where you aren't."
Exercise and find some joy. I am at home with my beloved partner and our university student son. We are doing well and at this point preparing for longer isolation given the trajectory of the virus elsewhere. But that doesn't mean we can't go about our lives and be relatively normal. I use DAREBEE as the source of exercise programs and bodyweight workouts. The weather is beautiful and going outside is fine.
Heuristics are helpful. Listen to the way public health authorities are using them. They are offering heuristics for social distancing and self-isolation and when people do not follow those heuristics, the authorities properly treat it as a crisis, firmly in the chaotic domain, and apply tight constraints, banning openings, closing borders, forcing quarantines.
In complexity the role of the agents is paramount. IN an interconnected and interrelated system each of us has a responsibility. If you have ever played the systems game with me when learning Cynefin, you will know this. The Washington Post recently published an excellent simulation that shows the way in which constraints and boundaries affect the spread of the virus, and it also shows what happens when agents in the system practice good heuristics.
In a video shared on twitter, you get a sense of what to do when things become chaotic. You must act, and act quickly.
Right now we are mostly in the liminal space between chaos and complexity, and with specific deep dives into chaos. While things are deeply complex and you don't have a plan, apply heuristics, sense what is happening and adapt. If you learn things you can do – like setting up community support groups and processes for delivering food through your community – do so. Make them complicated – in other words, more ordered – learn from others, replicate good practices tailored to your context, create documented processes, and implement them. When things become chaotic, apply tight constraints or follow the directions of those who are doing so.
Now more than ever, I'm glad for complexity thinking and sense-making. How are you seeing it where you are?