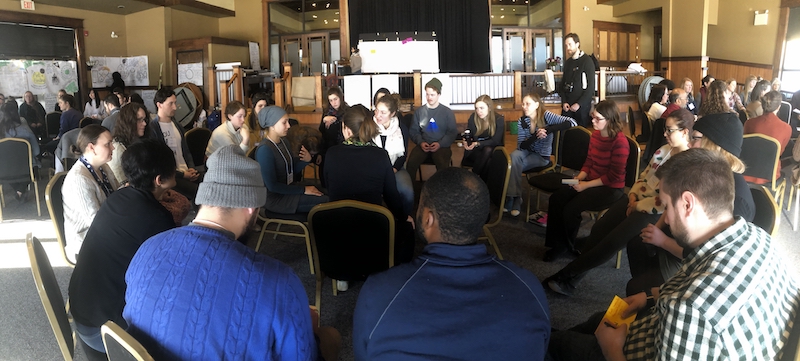 Perhaps I need to curate a series of posts called "The Whatabout Chronicles." When I'm teaching participatory leadership or sharing complexity tools, folks who are wedded to traditional linear mind and tool sets often raise objections.
"Complexity would be nice, but we haven't got the time. We have to get this problem solved now, and we need a plan to do it."
It's a hard one because often it's obvious that the problem is complex and the desire for a linear solution, while urgent-feeling, is just not possible. But if you can't see it that way, objections get raised.
In my courses and workshops, often people who are discovering these tools for the first time have their first moment of dread when they imagine themselves trying to "sell" a participatory or complexity-informed approach to their organization, team or, worse still, their boss.
"How do you handle the naysayers?" Yup.
Recently I was asked this question and I used the Cynefin framework to answer it. Disagreement with an approach depends on the context of the problem. Broadly speaking if we look at the five domains of Cynefin, you handle naysayers this way:
Obvious problems (knowable problems, predictable, simple solutions). If a problem is obvious then you should have no trouble convincing a naysayer that you are right. Does the door open in or out? Push it and see. Anyone who disagrees with you will have the problem of never getting into the room unless they adopt to the reality of the situation.
Complicated problems (knowable problems and predictable solutions, but only with expert help and analysis). Complicated problems have multiple competing approaches that may all be right, but will all be different. Plumbing a house is not an Obvious problem, but there are only a few ways to do it. There maybe different ways to do and experts may not agree, but they can give you a plan and show you in advance how their solution is a good one. To hire an expert, give them constraints to work with (money, time, and materials) and ask for a proposal. Disagreement between experts can help you solve the problem better, but don't pretend you know enough to challenge an expert. Ask for a few quotes and choose the person that will do the job to your specs. Make a contract that makes them accountable for the outcome, and have someone else you trust evaluate their work.
Complex problems (unknowable and ever changing problems and unpredictable but multiple emergent ways of addressing them). Here we can't know the whole system, but we can bring in multiple perspectives and look for patterns that will helps us figure out what to do. Naysayers in complex situations are a gift. You WANT naysayers in complexity. In complex problems like addressing social, cultural and economic systemic problems, no one has the right answer. In order to act you need people who will come into the space and offering competing approaches. You have to try them out – even contradictory ones – to see what works in your context of time and place. You might even discover new ways of doing things. For sure, the worst thing you can do in addressing complexity is create an agreeable environment that stifles conflicting views and difference. Diversity is required for a resilient and collectively intelligent approach. You have to make sure that the container you are working in can hold difference without becoming a fight or a power game of domination. The system should always move towards diversity of opinion, not consensus.
Chaotic problems (unknowable and unpredictable problems and there is not enough time to think about a solution). Everything is massively dependant in this scenario, and high chaos is a high energy environment where you might only get one chance to act. You might have seen situations where someone is injured and a paramedic arrives and the patient says "I'm okay, get away from me." The paramedic may be able to see that the patient is not in fact okay. In these situations, imposing tight constraints is how you handle naysayers: "Sir, you are wrong! Sit down now before you risk further injury!" This can be very helpful, but you have to loosen the constraint once the situation has stabilized.
Disordered problems (where you don't know what kind of problem you have). Sometimes you just have to start by saying "What's happening here? is this a linear system or a complex one?" Using Cynefin can help you agree upon the characteristics of the system you are working with that allows you to then make a decision about the intervention. Naysayers here can be very influential, but you really don't get to argue with reality. No matter what you say, racism is a complex issue. Get a group of people to help you address it. However, getting sued for a racist hiring practice is complicated. Get a lawyer. You'll need one.