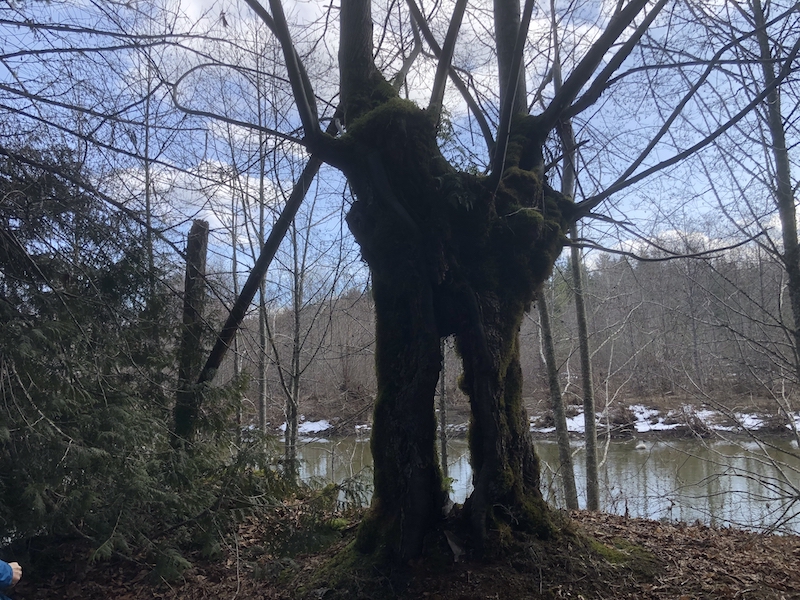 On the Art of Hosting list today there has been a very interesting conversation about some of the Japanese words that are used to describe space and container. As I will be working this spring in Japan with these very concepts, I thought it would be interesting to hear from my colleagues Yurie Makihara and Kazuhiko Nakamura about these ideas of "wa," "ma," "ba," and "tokoro." Yurie shared her thoughts, on some of these words, including noting that the word "ba" is often cited by foreigners as an example of a word describing the quality of dialogic container that exists in Japanese and not English. I learned today that all of these words are similar, and include not just ideas about the quality of space but time as well. Anyone who engages in dialogue will know that there is a time and a place for everything.
Over my career I've had the gift of working extensively in indigenous communities in North America and one of the features of many (but not all) indigenous languages is the fact that they are verb-based as opposed to English which is very noun-based. Indigenous languages here contain many words and ideas that are similar to the ones Yurie described, and I have experienced language speaking Elders and others cautioning me that "this time isn't right" or "the space is wrong" in a way that is hard to put into English. When they say those things, the English ear hears the word "time" or "space" (the nouns in the sentence), but the words the Elders use are pointing to the qualities of the relationships between things in the container of time or space.
In English we lack relational language. We have to use metaphors like "safe space" or "brave space" or "juicy" or "a ripe time" that point a bit at the feel, but use words as metaphors and not direct. Over the years, teaching about containers to people who speak these languages I have begun to learn a few concepts. In Diné there is a word – "k'e" – which describes the quality of connection between an individual and their clan and family that is critical for survival and sustainability. In Nuu-Chah-Nulth, the word "tsawalk" meaning "oneness" really is a word that points to the presence of a texture in a container that helps us see the connection between things (people, animals, land…) and the relationship between the spiritual and physical world. Without tsawalk we are not doing good work, because we are not doing work that attends to the many relational fields that are necessary to create space that is fully alive. More of my reflections here.
Ove the years I've learned of similar words and ideas in other languages an cultures: in fact this seems to be a feature of human language in a way that isn't quite available to unilingual English speakers like myself. Its the reason we find these other languages and concepts attractive. They fill a need we have.
In some ways it's too bad that we use English in the Art of Hosting community as our global language! The most important thing for us as a community – the quality of a container – is the one thing that is difficult to explain properly in English. The word itself is actually a metaphor and used in indigenous-settler contexts, as my friend Jerry Nagel pointed out in an email this morning, it can be taken to mean the very core act of colonization: to contain a group of people. So be careful!
Perhaps this is why for the most part, people I work with in English are interested in tools and processes, and why we have a hard time explaining the "art" of the Art of Hosting. It's easier to talk about the nouns we use because we have language for them. It's hard to talk about what happens when we approach space and container as artists, with an eye to hosting the quality of relationships and interactions that create generative action. In English there is no satisfying way to talk about this, at least not that I've found. We have to default to poetry, which isn't necessarily a bad thing.
Or, we default to using words from other languages, but we use these too as metaphors: "we don't have a word in English, but the Nuu-Cha-Nulth word is…" as if these give the ideas some weight. My learning over the years is to be very careful when using words and concepts from other languages, because as an English speaker I can only use them as metaphors and not with the realness with which a fluent speaker of a language uses their own words. Helpful, but never the whole story…