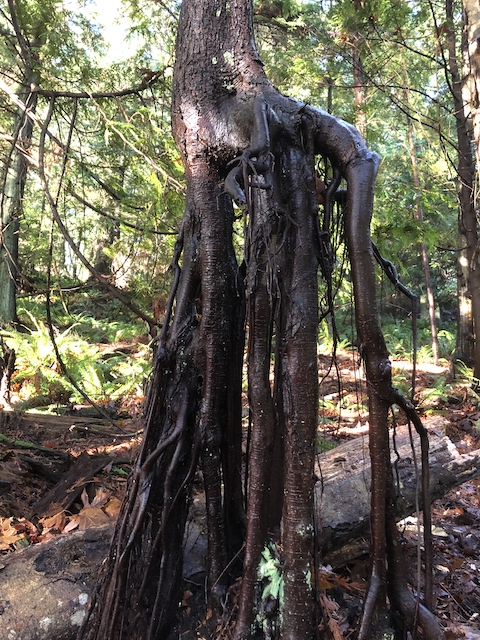 In the world of non-profits, social change, and philanthropy it seems essential that change agents provide funders with a theory of change. This is nominally a way for funders to see how an organization intends to make change in their work. Often on application forms, funders provide guidance, asking that a grantee provide an articulation of their theory of change and a logic model to show how, step by step, their program will help transform something, address an issue or solve a problem.
In my experience, most of the time "theory of change" is really just another word for "strategic plan" in which an end point is specified, and steps are articulated backwards from that end point, with outcomes identified along the way. Here's an example. While that is helpful for situations in which you have a high degree of control and influence, and in which the nature of the problem is well ordered and predictable, these are not useful with complex emergent problems. Most importantly they are not theories of change, but descriptors of activities.
For me a theory of change is critical. Looking at the problem you are facing, ask yourself how do these kinds of problems change? If, for example, we are trying to work on a specific change to an education policy, the theory of change needs to be based on the reality of how policy change actually happens. For example, to change policy you need to be influential enough with the government in power to be able to design and enact your desired changes with politicians and policy makers. How does policy change? Through lobbying, a groundswell of support, pressure during elections, participation in consultation processes and so on. From there you can design a campaign – a strategic plan – to see if you can get the policy changed.
Complex problems are a different beast altogether. They are non-linear, unpredictable and emergent. Traffic safety is an example. A theory of change for these kind of problems looks much more like the dynamics of flocking behaviour. The problem changes through many many small interactions and butterfly effects. A road safety program might work for a while until new factors come into play, such as distractions or raised speed limits, or increased use of particular sections of road. Suddenly the problem changes in a complex and adaptive way. It is not logical or rational and one certainly can't predict the outcome of actions.
In my perfect world I wish it would be perfectly acceptable for grantees to say that "Our theory of change is complexity." Complexity, to quote Michael Quinn Patton, IS a theory of change. Understanding that reality has radical implications for doing change work. This is why I am so passionate about teaching complexity to organizations and especially to funders. If funders believe that all problems can be solved with predictive planning and a logic model adhered to with accountability structures, then they will constrain grantees in ways that prevent grantees from actually addressing the nature of complex phenomena. Working with foundations to change their grant forms is hugely rewarding, but it needs to be supported with change theory literacy at the more powerful levels of the organization and with those who are making granting decisions.
So what does it look like?
I'm trying these days to be very practical in describing how to address complex problems in the world of social change. For me it comes down to these basic activities:
Describe the current state of the system. This is a process of describing what is happening. It can be through a combination of looking at data, conducting narrative research and indeed, sitting in groups full of diversity and different lived experience and talking about what's going on. If we are looking at road safety we could say "there are 70 accidents here this year" or "I don't feel safe crossing the road at this intersection." Collecting data about the current state of things is essential, because no change initiative starts from scratch.
Ask what patterns are occurring the system. Gathering scads of data will reveal patterns that are repeating and reoccurring in the system, Being able to name these patterns is essential. It often looks as simple as "hey, do you notice that there are way more accidents at night concentrated on this stretch of road?" Pattern logic, a process used in the Human Systems Dynamics community, is one way that we make sense of what is happening. It is an essential step because in complexity we cannot simply solve problems but instead we seek to shift patterns.
Ask yourself what might be holding these patterns in place. Recently I have been doing this by asking groups to look at the patterns they have identified and answer this question. "If this pattern was the result of set of principles and advice that we have been following, what would those principles be?" This helps you to see the structures that keep problems in place, and that is an essential intelligence for strategic change work. This is one adaptation of part of the process called TRIZ which seeks to uncover principles and patterns. So in our road safety example we might say, "make sure you drive too fast in the evening on this stretch of road" is a principle that, if followed, would increase danger at this intersection. Ask what principles would give you the behaviours that you are seeing? You are trying to find principles that are hypotheses, things you can test and learn more about. Those principles are what you are aiming to change, to therefore shift behaviour. A key piece of complexity as a theory of change is that constraints influence behaviour. These are sometimes called "simple rules" but I'm going to refer to them as principles, because it will later dovetail better with a particular evaluation method.
Determine a direction of travel towards "better." As opposed to starting with an end point in sight, in complexity you get to determine which direction you want to head towards, and you get to do it with others. "Better" is a set of choices you get to make, and they can be socially constructed and socially contested. "Better" is not inevitable and it cannot be predictive but choosing an indicator like "fewer accidents everywhere and a feeling of safety amongst pedestrians" will help guide your decisions. In a road safety initiative this will direct you towards a monitoring strategy and towards context specific actions for certain places that are more unsafe than others. Note that "eliminating accidents" isn't possible, because the work you are trying to do is dynamic and adaptive, and changes over time. The only way to eliminate accidents is to ban cars. That may be one strategy, and in certain places that might be how you do it. It will of course generate other problems, and you have to be aware and monitor for those as well. In this work we are looking for what is called an "adjacent possible" state for the system. What can we possibly change to take us towards a better state? What is the system inclined to do? Banning cars might not be that adjacent possible.
Choose principles that will help guide you away from the current state towards "better." It's a key piece of complexity as a theory of change that constraints in a system cause emergent actions. One of my favourite writers on constraints is Mark O Sullivan, a soccer coach with AIK in Sweden. He pioneers and research constraint based learning for children at the AIK academy. Rather than teach children strategy, he creates the conditions so that they can discover it for themselves. He gives children simple rules to follow in constrained game simulated situations and lets them explore and experiment with solutions to problems in a dynamic context. In this presentation he shows a video of kids practicing simple rules like "move away from the ball" and "pass" and watches as they discover ways to create and use space, which is an essential tactical skill for players, but which cannot be taught abstractly and which must be learned in application. Principles aimed at changing the constraints will help design interventions to shift patterns.
Design actions aimed at shifting constraints and monitor them closely. Using these simple rules (principles) and a direction of travel, you can begin to design and try actions that give you a sense of what works and what doesn't. These are called safe to fail probes. In the road safety example, probes might include placing temporary speed bumps on the road, installing reflective tape or silhouettes on posts at pedestrian crossings, placing a large object on the road to constrain the driving lanes and cause drivers to slow down. All of these probes will give you information about how to shift the patterns in the system, and some might produce results that will inspire you to make them more permanent. But in addition to monitoring for success, you have to also monitor for emergent side effects. Slowing traffic down might increase delays for drivers, meaning that they drive with more frustration, meaning more fender benders elsewhere in the system. Complex adaptive systems produce emergent outcomes. You have to watch for them.
Evaluate the effectiveness of your principles in changing the constraints in the system. Evaluation in complex systems is about monitoring and watching what develops as you work. It is not about measuring the results of your work, doing a gap analysis and making recommendations. There are many, many approaches to evaluation, and you have to be smart in using the methods that work for the nature of the problem you are facing. In my opinion we all need become much more literate in evaluation theory, because done poorly, evaluation can have the effect of constraining change work into a few easily observed outcomes. One form of evaluation that is getting my attention is principles-based evaluation, which helps you to look at the effectiveness of the principles you are using to guide action. This is why using principles as a framework helps to plan, act and evaluate.
Monitor and repeat. Working on complex problems has no end. A traffic safety initiative will change over time due to factors well outside the control of an organization to respond to it. And so there never can be an end point to the work. Strategies will have an effect and then you need to look at the current state again and repeat the process. Embedding this cycle in daily practice is actually good capacity building and teams and organizations that can do this become more responsive and strategic over time.
Complexity IS indeed a theory of change. I feel like I'm on a mission to help organizations, social change workers and funders get a sense of how and why adopting to that reality is beneficial all round.
How are you working with complexity as a theory of change?