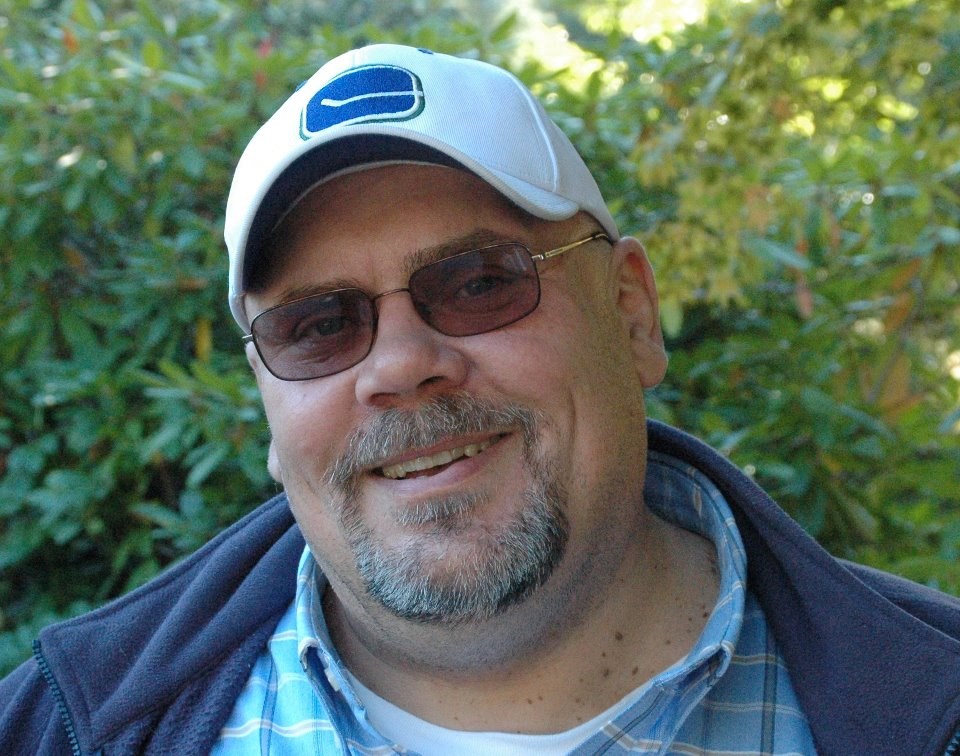 George Zawadzki, photo from Bowen Island Undercurrent
Every community has larger than life characters and it seems like the smaller the community the larger these characters loom. I live on a small island of just under 5000 people and last week, on November 16, we lost a lion-hearted beauty.
George Zawadzki was probably the biggest man on Bowen Island. He stood at least 6'5″ and was a BIG man. He used to drive a small car around that had a permanent lean to the left. The first time my kids met him, he was coming up the driveway with a friend to do some window cleaning for us, and they came running into the house at the appearance of this veritable bear of a man.
But if George had the biggest body on Bowen Island, he may well have also had the biggest heart. He cared so deeply for this place and he fell in love with all the characters here and he poured himself into creating relationships. He drove a taxi, and was an enduring member of a poker game (and he took a crack at a professional career at the game too), twice ran for Council, and made a famous local film of Jacob Two-Two and the Hooded Fang which included a huge cast of local characters, almost all the children on the Island, everyone with a long beard and with George himself playing the Hooded Fang.
In 2014 when he ran for office, he set up a unique, rolling, all-Candidates meeting on Facebook, and asked me to moderate it. My job was to elicit complex open ended questions from the community and posed them to candidates on Facebook so we could see folks working together in real time. I like to think that initiative helped change the character of Council after a couple of really divisive and toxic terms. We learned a lot and I documented it here.
His insatiable curiosity about the people and place here caused him to start a local TV channel on YouTube in 2008, back in the day when you could only upload 10 minute segments. As a Toronto boy of a similar vintage to me, it was instantly recognizable that he was inspired by the 1980s and early 1990s videographers of CityTV – a crew of journalists who carried cameras around the city interviewing regular folks and covering interesting neighbourhood happenings from BEHIND the camera rather than in front of it.
So while the island was going through a very interesting set of changes, George started uploading video to the Bowen TV channel on YouTube where it lives to this day.
Bowen TV captures a moment in time when things were changing in all kinds of ways. Artisan Square and Village Square were well established, giving a new shape to our village. Bowen traditions like the polar bear swim, Light up the Cove and Hallowe'en were still solid community fixtures, political debates raged around development, environmental preservation and planning, and affordable housing. There had been a period from the 1960-1990s which was post-Union Steamship company-town era and the island was still a small and quiet place. Starting about the early 2000s that changed, and lots of new folks (me included) arrived bringing all kinds of changes with us. Some good, some bad, as usual.
Bowen TV captured that era when that general shift was in full swing and his videos span that time, introducing newcomers and featuring old timers. It is a rich historical legacy of a moment in our history lovingly curated by a man that adored this place and was curious about where it was going. He considered it the most important work of his life.
We are going to miss George around here. A larger than life hole has been left in our collective community heart.