Joel Waterman, Canada's soccer teams, supporter culture, and a community of dreams.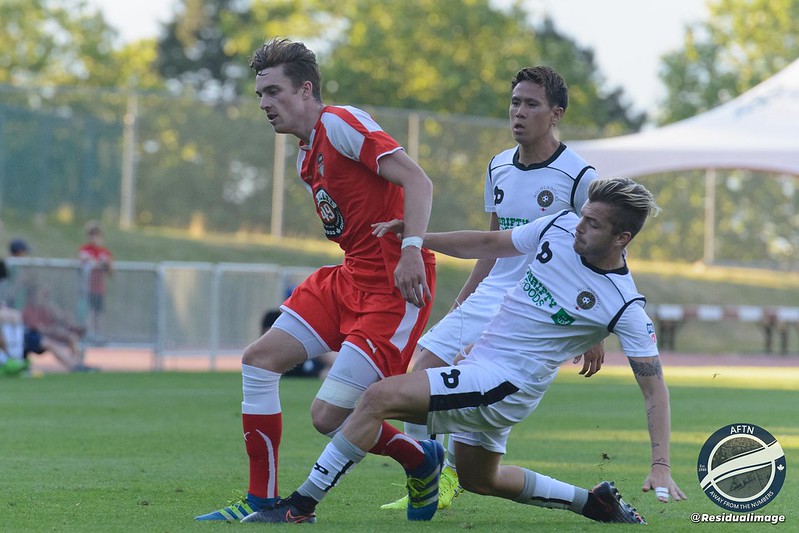 Canada National Team player Joel Waterman, playing in 2017 for TSS Rovers, the club I co-own with more than 300 community owners.
I want to tell about how I came to own part of a semi-pro soccer team, and how one of the men's team players who played for us in 2017 is about to step on the field for Canada in the men's World Cup.
Tonight somewhere in Qatar, a young man from Aldergrove BC is lying down in his bed and hoping he can get some sleep. Joel Waterman was named to the 26 player Canada National Men's Team squad officially last week, and tomorrow he will dress for Canada in our first men's World Cup since I was 18, 36 years ago.
I've followed football for most of my life, other than a gap between 1982 and about 2004 when, outside of World Cups, it wasn't that available to watch. I lived in the UK for a few years as a kid, and supported our nearby local team Tottenham Hotspur, who played a few miles down the road from our house. When my son started playing about 2008 at our local club Bowen Island FC, I started playing too, coaching a little, watching Spurs on dodgy internet streams and attending Vancouver Whitecaps matches.
Living in Hertfordshire, it wasn't unusual to see Tottenham players hanging around the local pool in the off season. I remember one day in 1980 when a bunch of us kids were thrilled to meet Glenn Hoddle at the pool. Local club, local player, even if he did play for England too. Hoddle was us, grew up in Harlow, just down the road, carried the community on his back whether at home at White Hart Lane or away at Arsenal or Argentina.
These days football is celebrity culture. But for us Canadians, the community of soccer clubs and families is small enough, and soccer is still niche enough, that even our global superstars still hold their local roots. People like Alphonso Davies, Jordyn Huitema and Christine Sinclair are synonymous with Edmonton, Chilliwack and Burnaby.
Canada has a weird sports culture. Our major professional teams all play in American leagues: the NHL, MLB, NBA. We have a professional football league for the gridiron version of the game which is different that the NFL version. And after many years of trying we finally have a men's professional soccer league, the Canadian Premier League and we still don't have a national women's professional league. Our Olympic champion Women's Team (also known as the CanXNT) is made up of players that all play outside of Canada. We never get to watch them here at home for their clubs, because the highest level of play for them is a semi-pro summer league.
Soccer-wise in Canada, the scene is dominated by the three Major League Soccer clubs, franchises of an American company set up in 1996 to develop the US National team. Toronto joined in 2007. Vancouver in 2011 and Montreal in 2012. Canadian players do play on thes eteams, but if you are in the academy with these clubs, there are almost no competitive fixtures. The Vancouver Whitecaps only this year restored a reserve team, and because of a new semi-pro summer league in BC, they now play their U-19 team in that league.
In the last decade three new leagues have sprung up in Canada: League 1 Ontario, PLSQ in Quebec and, this past year League 1 BC. This is an essential level of soccer, being composed of men's teams featuring the best of the local talent. Many players are playing US or Canada university soccer in the fall and come to these leagues to play in the summer. The establishment of the League 1 structure beneath the Canadian Premier League has set up a development pyramid for Canadian talent, and we are finally starting to see dividends. The majority of our national men's team players have played atthis level (or in the USL2, an American league with the same structure). These league's are open, standards-based and semi-professional. The winners of the leagues qualify for the Canadian Chamiopnship and play professional clubs for the Voyageurs Cup.
We have no promotion or relegation in North America, and so we get behind our players. Our players move from one level to another, and ultimately we want to see them move on, playing at the highest possible level. If they have come through our local club, we tend to follow them along, supporting them on their way.
For many this journey ultimately means playing professional football in Europe where many of these guys are now ending up, and representing Canada on the international stage. The development pipeline is growing stronger every year, and it's the establishment of the lower levels of the development structure that is doing it. No longer to we have to outsource our best talent to a national association that does not have their best interests in mind. Canadians playing for MLS clubs outside of Canada are counted against a team's quota of international players, and great as he is, Jonathan Osorio is not going to steal an international spot on an American team from an up and coming South American phenom when such spots are coveted currency.
A case in point is going to bed in Qatar right now. Joel Waterman.
Back in 2017 I became involved in a club called TSS Rovers. Started by the owners of a successful private soccer academy in Richmond BC, Rovers was a response to the fact that in 10 years of MLS play, the Vancouver Whitecaps had not developed a BC based player that had made it to the national team. Our founders resolved to mobilize a community behind a club that would do that for both the men's and women's teams by fielding teams in the development leagues of, first of all, the US and then this year in League 1 BC. Since then we have become Canada's first ever supporter-owned club and I'm a proud founding member of the Spirit of the Rovers Supporters' Trust.
(We are currently selling shares by the way. You can buy in until December 17 here!)
in our first year in 2017, we bought a franchise in the United Soccer League league 2. We drafted a team full of university players, including Joel Waterman, who played for Trinity Western University and had spent the summer of 2016 at Kitsap Pumas in Washington. Joel came to us as a player that was focused on making a career in the game no matter what. He chose the best opportunities and the best coaches he could and proved himself to them over and over. On May 12 2017 his family showed up at our humble tailgate and Joel took off into the dressing room to get ready for the match. He had one strong season as a defensive midfielder for us in 2017 and then went on to play for Tommy Wheeldon who was coaching another USL team in Calgary, Foothills FC. Foothills would later form the basis for Cavalry FC, the CPL team that began play with the league started in 2019. Joel won a national USL championship with Foothills in 2018 and then was drafted by Cavalry in the inaugural CPL draft. He played a season in the CPL and became the first player transferred from CPL to MLS when Montreal bought him. After one season of pro football, Joel was playing in MLS, under the coaching of Wilmer Cabrera and later Thierry Henry. One of his first matches was in the CONCACAF Champions League for Montreal in February 2020.
Back in TSS Rovers land we followed Joel and amplified his accomplishments in MLS and on the continental stage. We celebrated his call up into national team camps, knowing that he was well down the depth chart even on a team that was ranked in the high double digits in the FIFA rankings.
As the pandemic deepened, it looked like Joel's ascendancy would be halted. MLS schedules were postponed or delayed, and it playing and training time was curtailed. MLS got the teams into a bubble and the 2020 season resumed. World Cup qualifying appeared and Canada made it through the initial rounds and for the first time in a generation, appeared in the final eight, the Octagonal. This is a round robin competition, with each team playing home and away against the others. The top three qualify for the World Cup and the fourth placed team would qualify for a play-in spot against a team from Asia. That was the spot we had our eyes on. We were never going to top Mexico and the US and Honduras, or even Costa Rica and Jamaica. The Octagonal is brutal.
But we did it. And not only did we qualify, we won the whole tournament. We beat Mexico. We bet Honduras away. We beat the USA. We topped the table and we were the most improved national team in the world, going into the World Cup ranked in the top 40. In march we were ranked 31st overall. In December 2016, the winter Joel signed for us, we were ranked 117th with no pro soccer league and no hope of ever qualifying.
Joel wasn't a part of the Octagonal, but as the season wore on, injuries to our centre backs meant that he was called into the squad and 10 minutes before a friendly match a couple of weeks ago, veteran Doneil Henry got injured in warm up and Joel got the start in a win against Kuwait. He played the next friendly against Japan as well and last week he was named as the 26th player on the 26 player roster.
Which is why tonight, he is in Doha, laying down to sleep, with the hopes and dreams of 320 community owners of TSS Rovers, the fans of Kitsap Pumas, Foothills FC, Cavalry FC, CF Montreal, Trinity Western University and Aldergrove FC lifting his spirit and wishing him luck.
Joel made his pathway. He did it without being given much of a chance by the elite clubs and big leagues. He chose to play for good coaches in development leagues, took his opportunities and knew that he had the support of thousands and the sole responsibility to achieve. For me he is the quintessential Rover, the quintessential Canadian player. And I think if you get to see him play in the next week, you'll agree that he's one of the guys you just want to do well, because he's us, and we're all for him.