How we have hidden women's soccer from Canadians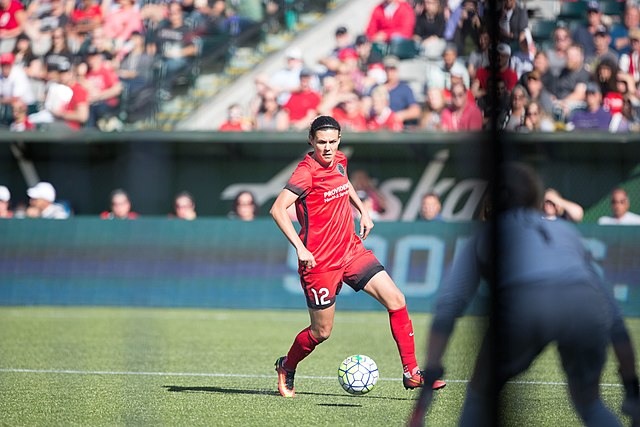 Christine Sinclair, photo by Ray Terrill, CC AT-SA 2.0
I have been loving watching Canada back in the men's World Cup for the first time since 1986. And while this has been going on on social media and in the broadcasts, a number of people have been insisting that we remember that this is the Men's World Cup and that Canada has been long known as a dominant force in international soccer on the women's side. There are two FIFA run World Cups for senior teams. And it's mind boggling how invisible our achievements on the global stage have been because of the neglect of women's soccer in Canada.
I'm a bit salty about this, because our women's team has been AMAZING. Here are some interesting facts.
The Canadian National Women's team is often referred to on social media as the "CanXNT" because we have a non-binary trans player, Quinn, who became the first trans athlete to win a gold medal last year when we won the Olympics.
The top scorer in world soccer of any gender is Christine Sinclair who has scored 190 goals in 310 performances for Canada. She eclipsed American Abby Wambach last year and has played and scored in five World Cups one of only three players ever to do that (the others being Marta and Ronaldo). Next year, she will likely play in, and hopefully score in, her sixth.
International women's soccer in North and Central American and the Caribbean (the CONCACAF Confederation) is generally played in tournament settings, often all in one place,and hardly ever in Canada. THis is unlike men's soccer where qualifying and Nations League games are played home and away. So despite appearing 310 times for Canada since 2000, Sinclair has only ever appeared in 13 competitive games on Canadian soil for Canada and the last time was seven and half years ago at the 2015 World Cup. The greatest international soccer goalscorer of all time has not played a competitive match in her own country since 2015. Just friendlies.
The USA has played 63 competitive matches at home during that same time.
And that isn't just international matches too. Sinclair currently plays for the Portland Thorns and hasn't played for a Canadian club team since she left the Vancouver Whitecaps in 2008.
And even if she wanted too, she couldn't play a competitive club match in Canada because Canada does not have a domestic women's soccer league. Of all the countries appearing in the 2023 women's World Cup, Canada will be the only one without a national women's league, and this is despite the fact that Canada hosted the 2015 Women's World Cup, an event which usually results in the establishment of professional infrastructure. We have had seven years of not much happening. Well, we did finally start a men's professional league in Canada, the Canadian Premier League. Yes our domestic men's soccer league was only started in 2019, despite some failed attempts earlier in the century.
The highest level of women's soccer is currently one of three regional semi-professional summer leagues in Ontario, Quebec and BC federated in League 1 Canada. League 1 BC features nine teams including TSS Rovers, the supporter-owned club I have written about before. We go into the World Cup behind in our development to Zambia, Vietnam, Nigeria, Morocco, and every other European, Asian, South and Central American country who has qualified.
I THINK we will be the only team at the 2023 World Cup that has no players playing domestically for their country. All of our national team players play professionally abroad, in the USA and Europe.
People are excited to start talking about Canada as a finally arriving as a soccer country, and while lots has happened to get us to this point, we cannot make that claim. Not while we have the greatest goal scoring in international history only playing a handful of friendly matches at home. We will be the last country in the world at the 2023 World Cup to be without a league.
This largely falls at the feet of the Canadian Soccer Association, but I'm not going to list all the ways that the CSA has screwed this up. Suffice to say that the best accomplishments of a generation of Canadian global sport personalities have been hidden, squandered, and wasted. We have built no legacy and every year, even as we propo up the illusion with an appearance in a World Cup here or there, with a big name signing to a European juggernaut here or there, we fall behind the rest of the world because we coasted on the talents of a century-level player whose achievements were lauded, but whose appeals for a legacy fell upon deaf ears.
My involvement with TSS Rovers is a small way that I can be a part of investing in the sustainability of long term development of soccer talent in Canada. As the saying goes, the best time to have done this was 20 years ago. The second best time is today. So let's enjoy the Morocco game on Thursday and look forward to the Women's World Cup in July and maybe, just maybe, we'll get around to taking the "We're a Soccer Country!" idea seriously.