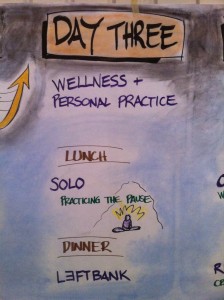 A long time ago I was an introverted person and over the years that has completely changed.  If you know me, you'll know I love talking to others, being around people and engaging in meaningful social interaction.  I still love my solitude but I love hanging anround in my local coffee shop and pub more.
As a process designer, creating good meeting and learning spaces for introverts has long been a blind spot for me.  Facilitators by definition bring people together.  If we are extroverted, the processes we design can often contain an overwhelming amount of social interaction for introverts which actually alienates them from the group and marginalizes their contributions.  Sometimes I have run meetings where the introverts never contributed at all.  That wasn't through their fault – it was the fault of my process design that never took their learning styles into account.
You might call it extrovert privilege.
Back in June I was on the hosting team for an Art of Hosting in northern California.  A long time friend was there – Tree Fitzpatrick –  one of the most deeply intensive introverts I know.  She is also a long time process designer and facilitator nd she knowns her stuff.  She left after the first hour of the workshop, but not without having a long conversation with me about what she was experiencing.  She later made a beautiful gift of sharing her insights with me in a long email on designing processes for introverts.  In the past six months, these insights have been a gorgeous gift to my own practice and have radically shifted the way I design, by actually putting the needs of introverted people at the centre of the work.  The core of her message to me was this, quoting:
"Please consider integrating some introvert work into your designs. You don't have to worry about the extroverts: while you give the group quiet time, which is giving the introverts permission to reflect inwardly, most extroverts will just go on doing whatever they want to do but the introverts will feel better if you give them permission to reflect. It only has to be a minute of reflection before speaking but it can make a huge difference to the introvert's experience in small group talk."
In the past six months, I have done several things to attend to this.
Be aware of your "extrovert privilege."  You will know that you suffer from this if silence and solitude seems anaethma to you in a group setting.  You will often find introverts confusing and will lose patience with their demands for personal space.  You may harbour thoughts about them that are mean spirited, feeling like they are acting out or making some kind of victimization power play.  These are your thoughts, and they are not reality.  Work on them and recognize your extrovert privilege.  I have been working over the past six months to take long periods of solitude for myself just to build up that capacity.  I have come to deeply appreciate it as a learning modality
Introverts need silence and space.   When you are working with silence, make sure you build a strong container for it.  Sometimes this means really enforcing the silence, but I do this by explaining why this is important and invite people who are uncomfortable with silence to see it as a challenge worthy of their leadership.  It's fierce hosting work, because extroverts are very dismissive of it, and I haven't always been successful. In Ireland in September we had a particularly gregarious group of Irish language scholars and activists, and I learned about "Irish silence" which something of a dull roar rather than a raucous buzz!  Our hosting team was highly amused at my attempts to get anything better than that in the room!
Build in long periods of silence before asking people to engage in conversation. A minute sounds good but two minutes is better.  For deeper conversations even five minutes of silence is powerful.  The extroverts will get fidgety, so invite them to write their thoughts down to give them something to do with their hands.
Provide a meaningful time for reflection at the end of a day.  At Rivendell, one of our local spaces for retreat here on Bowen Island, the whole space goes into an hour of silence at 5pm.  Anything happening at the facility must also go into this period of silence – it is one of the conditions for being there.  For the core group that maintains the space, this is a spiritual practice, although people working there are free to see it in another way.  The first time I encountered it I found it a nuisance because at the end of a day of learning usually the groups I am with are bubbly and excited to chat.  But working at Rivendell over the years has exposed me to the deep wisdom of building in long periods of silent and solo reflection.  It takes all of the learning from the day and plunges it deep into the heart.
In larger learning initiatives, build in long periods of reflection time out of doors.  In Theory U based change labs, the solo presencing retreat is a crucial part of the work.  This is where participants spend time alone on the land reflecting.  I have been building in long periods of solo time on the land recently.  In Ireland our team there uses half day guided walks in The Burren to deepen relationships between people and immerse them in what the land has to offer.  I have brought that approach back to Bowen Island and in recent leadership development work we have been doing here, a half day process including an hour long silent period on the land is a core part of the work.  This needs to be hosted very strongly…we invite people to hold the silence together from the time we leave, through the solo time, until the time we return.  This is a powerful experience for introverts and extroverts alike.
In smaller settings, building in reflection activities is easy.  The reflection toolkit from the Northwest Service Academy in Portland, Oregon is a fabulous resource to share with groups and to invite groups members to lead one or more of these exercises throughout your process.  My colleague Jerry Nagel inserted this kit into a training workbook we used with the Blue Cross/Blue Shield Foundation in Minnesota and was immediately useful.
This has evolved into a really fabulous learning edge for me both personally and professionally and I am grateful to Tree for setting me on the path.