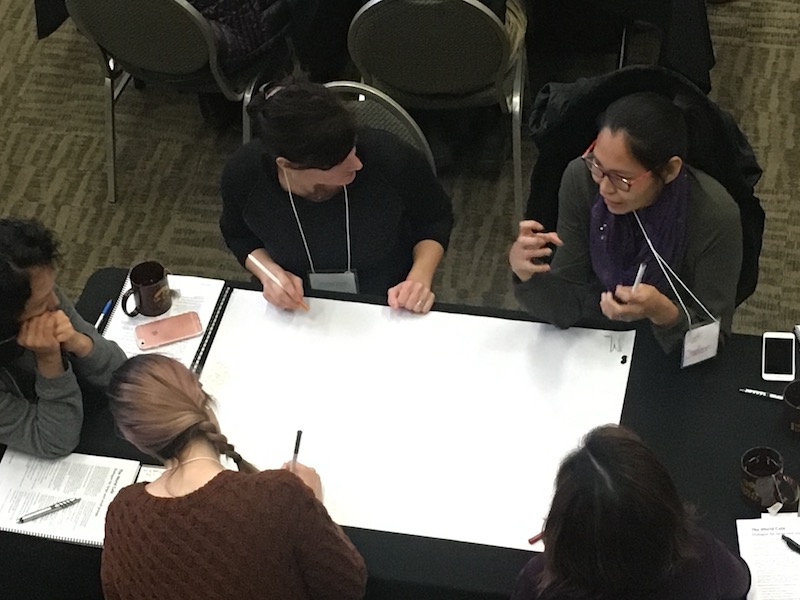 Last week we were out in Tofino hosting a three-day leadership workshop on dialogue with sixty people, most of whom were from the Port Alberni and west coast area. In the room were leaders from Hupacaseth, Toquaht, Ahousaht, Hesquiaht, Tsehshaht and Tloquiaht First Nations and Councillors from Ucluelet, Tofino and the Alberni-Clayoquat Regional District. Additionally there were citizens, non-profit workers, community foundation staff, scientists and small business people in the room. It was the kind of gathering that everyone is always saying "has to happen."
The west coast of Vancouver Island, from Port Alberni to Clayoquot Sound is a region full of difference, conflict and surprising consensus. British Columbians remember the "War in the Woods" in the late 1980s that stopped industrial logging practices in the Sound. But little is known about the way the communities began to rebuild after forestry and fishing declined. The important role of First Nations, both in treaty and outside that process has meant that a steady relationship has flowed to seek collective benefit for all those who live and work in the region, in an economy that is still rooted in the land and sea and diversified too.
Reaching across differences has been at the root of everything that has worked. The inability to transcend division has been at the root of everything that has failed.
The last 30 years has not been easy in Clayoquot Sound. It has seen astonishing levels of collaboration, but also deep despair, massive change and, every so often, violent backlash. Even as we speak there is a deep division between Port Alberni citizens over the renaming of a street and a school that was named for an early 20th century politician who was overtly racist in his pursuit of residential school policy and Asian exclusion. Citizens are divided over the renaming, with First Nations and Japanese people making the argument that such a person no longer deserves to be honoured. And the backlash has been terrifying and personal for some, including incidents of violence and threat.
It's no surprise that we need to learn to work together across difference these days, and that those differences are full of the energy of separation. We are seeing this at every scale, from the global to the personal, and as a practitioner of dialogue for strategy and community building, it's obvious to me that the cost of this division is alienation, dehumanization and ultimately violence.
Sitting with leaders at the coalface of reconciliation and justice this week, I learned a few things about what it takes to create a community (or region or country) that can transcend these differences.
First, we must be courageous enough to meet each other. When we refuse to meet each other we exacerbate difference and division. We need to actually encounter each other with curiosity, which seems impossible in a world of judgement. But ask yourself, if you are not willing to sit down and listen to someone who's views are odious to you, why should they be expected to do the same?
Second, we must be willing to be changed by what we hear in dialogue. In a post-truth world, facts don't matter, rational persuasion is simply a way for declaring your opposition to another person. If you are really committed to learning from others and living in community, you should only engage in these kinds of conversations if you're are willing to be changed by them. It doesn't matter if the other person is willing to be changed. But if you enter into them defensive and righteous about your non-negotiatables, no matter how well or poorly thought through they are, you must accord your conversation partner the same courtesy to be intrasigent and defensive. The only way to disrupt that is to ask another person for specific stories about things that you are curious about and that may potentially change you or your thinking.
Consequently, personal stories matter. It is worth asking people to describe important markers of quality in their life. I am working with friends in the USA to help them host conversations with Trump supporters. The strategy we are designing is to sit together and look at what measurements we all use to gauge how well things are going: health costs? wages? community safety? It doesn't matter what the metrics are. Agreeing together what to look for and then talking about how these things change helps to see how effective leaders are or how devastating policies can be. Personal stories hold our attention. External facts and data become battlegrounds for debates that are a waste of time. Ask for people to tell you things about themselves that will open your mind.
The key to living in a deeply conflicted society is not always to look for common ground, but to understand and respect differences. However if we are intransigent and self-righteous about our own view of the world and our difference with others, we create a community in which intransigence and self-righteousness is permitted as a way of being. That leaves us hopeless and stuck. Rather, do things that help understand difference while staying in relationship/
Leadership means being the first to act. To reach out across a massive divide and make contact with people that are so easy to demonize is difficult and frightening. I'm watching with awe as my friends in Port Alberni do that, and as my friends and colleagues around the USA bravely attempt to disrupt the division that now threatens to tear their country apart. Peacemaking is never easy, and it requires courage and leadership. But if you let fear scare you away from it, peace will never be in reach.