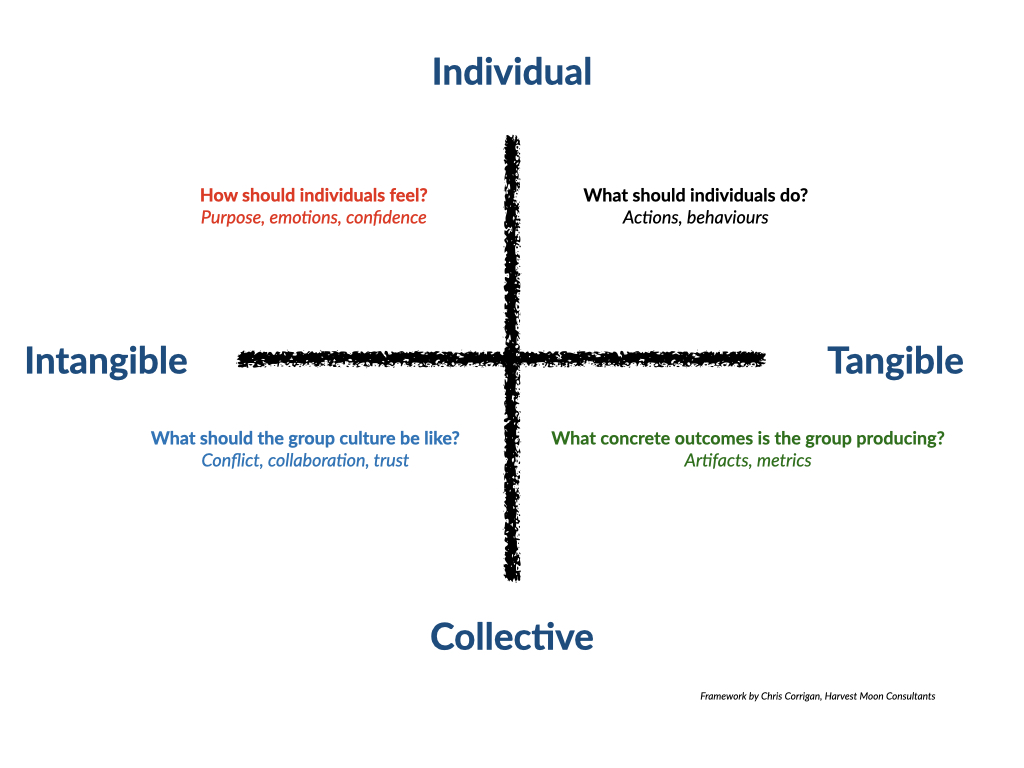 I love working with frameworks, of all kinds. Templates, canvases, questions, story spines…all the different kinds of ways of bringing a little form to confusion. As a person who specializes in complex facilitation, using a good framework is the wise application of constraints to a participatory process. It's hard to get it right – sometimes I offer frameworks that are too tight and don't allow for any creativity, and sometimes they are too open and don't help us to focus. But when you are able to offer a group just the right degree of constraint balanced by just the right degree of openness, the magic of self-organization and emergence takes over and groups learn and discover new things together.
Today I was on a coaching call with some clients and they were talking about a long term process that had a lot of technical steps but needed good relationships to be sustainable. It was possible for them just to do the required tasks and kick relationships to the curb, but they also knew that doing so would make the work harder, riskier, and over the long term, less sustainable.
To help out I offered them an old framework that I have been using more frequently with clients. This is based on the integral framework of Ken Wilber. I like it not because I love Integral Theory – I don't – but because it offers an open frame with just enough container that it allows for focus and still inspires insight into "things we haven't thought about." It helps us to see. I wrote about using this one late last year, but here's a cleaner version of the tool.
Basically the way you use this is in the design process of a gathering. The framework assumes that every conversation, interaction or process will produce outputs and results in all four of these quadrants. If you are not intentional about naming these things, you run the risk of over-focusing on one particular quadrant (usually from the tangible side of the framework). It is entirely possible to do good quality work as a group and destroy group cohesion, trust, and individual commitment. So I have found that supporting a planning team to name outputs in all the quadrants helps them to focus on choosing tools and processes that will be conscious of the effect of their work on the intangibles.
Time after time, using this tool creates interesting conversations about what we want to happen, what is possible and what we need to do differently to get results that are far more holistic and sustainable over time. As you use this tool you will discover questions that work to elicit ideas in each quadrant, and you will build up your eye for spotting where folks are missing a big part of their planning.
Give it a whirl in your process design conversation and see how it changes your practice and your group's design. Leave a comment to tell me a little about your experience.