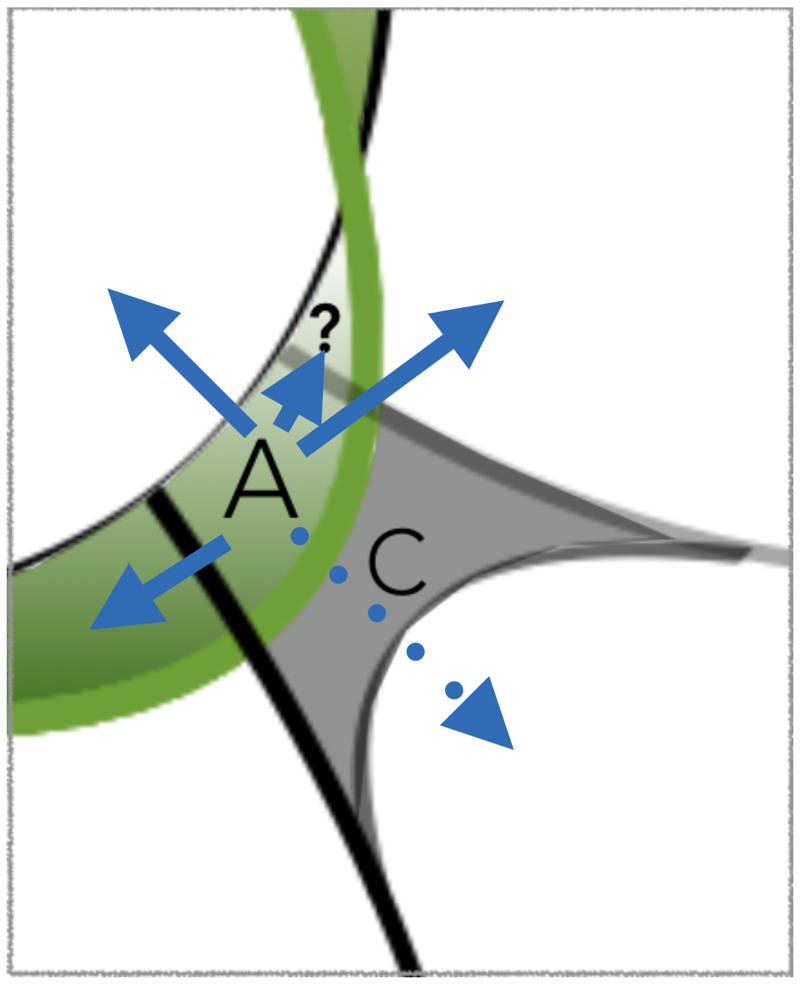 I want to draw your attention to this incredible post by Zhen Goh, a fellow Cognitive Edge practitioner, exploring what is happening to the formerly-named "Disorder" domain in Cynefin, now called "Confusion." In renaming the domain Confusion, Dave has also divided it into two types of confusion: Aproretic and Confused. I have taken to describing these, respectively, this way:
Aporetic means "at a loss" and indicates an unresolved confusion, or a paradox, which is just fine. Sometimes things need to remain a little murky for a while. "Confused" refers to the state of mind where you just aren't getting it, and you don't understand the problem. It's often the result of a failure to see past one's own biases, habits, and entrained patterns of solving things.
I have started thinking of this domain as the most important Cynefin domain because really, everything starts there. When you are confused, you can go to Cynefin to help you make sense of the routes available to you for action. This is the subject of some of Dave's recent thinking, and also the meaning of the above graphic that he has produced. There is probably a lot more coming on this.
At any rate, that brings me to Zhen's great post, which has been rattling around in my consciousness the last couple of weeks, largely because of this line, which is Jacques Derrida ultimately quoting Søren Kirkegaard:
"The moment of decision as such… must always remain a finite moment of urgency and precipitation; it must not be the consequence or the effect of theoretical or historical knowledge, reflection or deliberation, since the decision always marks the interruption of the juridico-, ethico-, or politico-cognitive deliberation that precedes it, that must precede it. The instant of a decision is a madness." ('Dialanguages' in Points: Interviews 1974–1994 (Stanford, Stanford University Press, 1995), 147–8.)
Isn't that the truth? We only ever need to make a decision in the absence of actually knowing what is the right thing to do.
Speaking personally, it is one of my personal leadership challenges, making a decision in the absence of certainty. I find myself paralyzed at times, unable to make a choice. As Dave Snowden said on a webinar last week "there is really no right decision, but there ARE wrong ones." Making a tough decision often feels like a kind of madness, dangling above an abyss full of projected and imagined monsters and very real pitfalls.
But making decisions in radical uncertainty is what is happening to all of us right now. We are all in radical Aporia, confronting paradoxes and situations that have no resolution, no precedent and no right way forward. We have to rely on human instincts now, ethics, values, morality. Moments like this reveal true character, and we are seeing the leaders who are truly built for these times, like Leo Varadhkar who has taken up his doctor's license again. Also, our own Dr. Bonnie Henry in BC, who I can't stop writing about. These are people who recognize, as Zhen puts it, that "Aporia allows for humanity:"
Aporia is part of ontological reality when facing crisis – but the burden of leadership is to communicate with clarity and authenticity. At once providing direction, demonstrating action, but acknowledging where there is uncertainty. Acknowledgment of this uncertainty is where the invitation for collective action can take place.



These folks are merely the most visible archetypes of human leadership in times of unresolvable confusion. In every home and every family, there are many millions more who are discovering what high-risk decision making is all about. May you all persevere in this time in being a leader who confronts the reality of Aporia and works diligently against mere confusion.