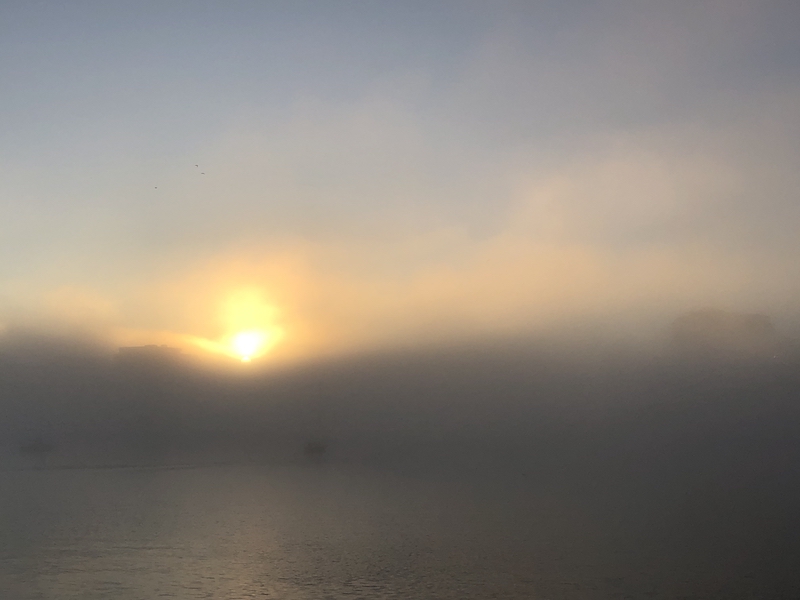 Back in December I announced my intention to take a sabbatical from Facebook and see what would happen. There were a number of factors in that decision, and I'll share what I learned and what I'm doing now.
I had a few reasons for wanting to take a break:
Facebook was a huge time waster, and earlier last year I deleted the app from my phone (it and Messenger and Instagram track your life your life and serve you ads based on what you've been doing). As a result, I have spent a lot less time there, although I do spend a lot of time on twitter.
Facebook in engaged in undermining democracy and articles I was reading in 2018 pointed to their intentional and unintentional aiding and abetting behaviour with respect to undermining elections and eroding democratic engagement.  Here is a good Atlantic article on that.
Facebook creates a deep gravity well for conversation. It tailors your news feed using algorithms to only serve you a very small slice of your friends' activity. Much of what you see confirms what you know and it is designed to activate your brain in a way that causes you to share information and pass it on, deepening confirmation bias, and spreading rumours and lies.
People communicate on Facebook in shallow and brief ways, meaning large and important conversations for local communities become pile ons, where people that have never made the effort to introduce themselves to others in real life nevertheless feel free to be mean spirited and even borderline libellous while hiding behind their virtual identities.  This has major implications in a small community like mine, where big local issues result in people starting rumours, passing judgements and ostracizing and slandering others in a way they would never do if they had to write to the newspaper, or see these people at the General Store. Discussions of complex ideas have devolved into the equivalent of drive-by shootings, often deeply personal.
These were the reasons I took a break and these are the reasons I am not coming back in a meaningful way.
When I started blogging in 2001, the promise of the Web 2.0 was that it would usher in the era of the creator. Any one could now create work on line. Recording studios, radio stations, television and film productions, newspaper, and magazines and book publishing all used to be inaccessible for the common person or the beginner artist. Now anyone could use whatever form of medium they wanted to say what is important to them. Before social media, Web 2.0 was about content creation media. It took time and effort to do it, but you could build a life, connect with others, find community in far flung corners of the globe, and make a contribution. 
When social media came about into widespread use, around 2007 in my case with Facebook, the blogging world almost completely disappeared. People whose blogs I followed moved into facebook where I followed them for a while until their well crafted posts were lost in the endless stream of mindless diarizing, half-baked opinions and, later, the endless copypasta of shared memes and viral content. I had a hard time finding my people, but I was enjoying wishing friends a happy birthday and connecting with people from school, 30 years ago.
Over the past ten or so years what has happened is that my time has disappeared into the suck hole of scrolling through useless content instead of producing some of my own. Yesterday, talking with my friend Julien Thomas, I remembered that somewhere I said that democracy depends on us being active participants and not consumers.
Social media has made us consumers of other people's content. In the 2001-2007 era of blogging, someone would write a post and if it was meaningful to you, you would quote it with an annotation about why it mattered and what your take was on it. Conversation was more considered and content was savoured and appreciated and hardly ever simply passed on.  We were all content creators, hyperlinked to other content creators. When commenting began, discussion started to remain in a limited number of places but it was all open in the public and available to anyone. Comment spam really killed open discussion on blogs and maintaining spam-free comments sections became time-consuming. (Luckily there are better tools now, which is why you need to wait for me to approve comments on my blog).
With the dawn of Facebook however, content creation became highly concentrated in only a relatively and proportionally small number of places. Most people on Facebook simply pass it on other people's stuff, often without any credit or link back to the original creator, and discussion happens behind closed doors and isn't archived or very easy to access.
These days we are consumers of other people's content, and we generally pass on what we like and agree with, amplifying it's impact without adding to it. A few people have complained that they miss me on facebook, that they miss my voice and the things I say. But what I notice is that they like those things mostly because they can pass them on, or because what I have to say validates their views. It makes me I wonder where THEIR voice is, why they haven't been thinking about things and sharing original opinions. And I wonder half-heartedly why I never get stuff from in my news feed that challenges my biases and my ideas anymore. 
I have recently created a sock puppet twitter account to engage with conservatives in Canada, including those who are nationalist, populist and extreme right-wing. I am curious and concerned about the rise of populism and nationalism in Canada and the global connections between far right leaders who are promoting anti-immigrant, anti-globalist politics and messages.  Through my "fake" twitter account, I am meeting conservatives that are also opposed to these far right echo chambers, and I am having my own ideas challenged. I am getting into debates and conversations with people I vehemently disagree with. I am posing on twitter as a real person, but not as "Chris Corrigan."
I'm not going to reveal the identity of that twitter account. It says something to me about the nature of the social media landscape that I feel deeply uncomfortable showing up as my own self in those conversations. Debating with Nazis is not a safe thing to do, especially when one is debating with people hiding behind anonymous identities. And so I show up as a real person but with a fake name. Interesting.
Social media has become a place where relationships have become commercialized transactions and where democratic engagement has devolved into a fact free festival of insulting the other and patting your friends and allies on the back while being served highly specific advertising messages from corporations and political influencers. All the while, someone other than you is getting rich every time you connect to a friend. While it is nice to "stay in touch" I have to say that most of what passes across my screens on facebook is of very little value to me.
I would encourage people to go back to, or start blogging, and I'd encourage you to do it in the spirit of 2001 blogging, not in the spirit of "blog as PR tool" that we see today: share things, speculate, use it as a platform for what I call "Open Source Learning." Use it as a gift exchange, not as a digital business card. Embed links to other people and add to the gifts of knowledge you receive before passing them on. You can start with WordPress as a powerful, free and easy-to-get-started-with tool.
For me I'll be using facebook in these ways going forward:
I'll be continuing to promote workshops and events there, and for limited times, participating in facebook groups where that is chosen by the group as a way of keeping in touch.
I will occasionally scan my feed and if I see that you have a birthday, or have experienced a death in the family, and you are a person with whom I have a personal relationship, you may well get an email or a phone call from me.
I will share blog posts on facebook, but encourage discussion to happen here on the blog, where the world can see it and anyone can participate.
I'll be going off Instagram and What's App entirely (both owned by Facebook) and continuing to use twitter (@chriscorrigan) as a place for spontaneous conversation and meeting new voices.  You can find my photos on Flickr, which has recently become revitalized and awesome again. If you have a blog, let me know and I'll add you to my RSS feed (I use Inoreader for that)