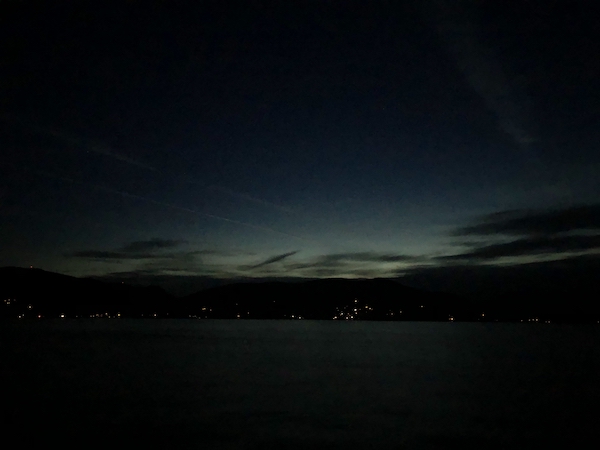 I live on a small island in the sea with a very complicated water supply. We have some community water systems, and a complex geology that means that many people are on wells, and nearly every well seems different. As our population increases, and as the moisture decreases, we are finding ourselves subject to more and more restrictions on what we can do with water. This is as it should be. We cannot live on our island beyond our limits, with a bigger water footprint than the water we have available to us. In the past, you were free to run taps as long as you want. Now we are metered and in some neighbourhoods there are daily sue restrictions. Signs at the entrance to these areas say "Converse Water Or Have None." It's not an alarmist message. It is true.
One of the arguments I often hear people using against things like climate change mitigation is that it will somehow restrict their freedom. Libertarians, for whom all taxation is theft, protest against carbon pricing as a tax grab, even though it was always the preferred mechanism of free market economists. Oil companies and manufacturers complain about excessive regulation of fuel standards and emissions, and consumers object to high prices which limit what they are able to do.
Climate change requires a radical shift in the way economies and societies work, and it's interesting to look at this from a complexity perspective. Ideally in a society you want to manage complex dynamics with complexity based policy solutions. In other words, instead of dictating behaviours, it's better to influence behaviours by incentivizing things that lead in a positive direction and dis-incentivizing things that lead in a negative direction. This can be done with laws, regulations, pricing incentives, policies, and taxation. These attractors and boundaries create the conditions for behaviour change.
The free market is indeed a self-organizing mechanism, but it is also amoral. There is a reason why, even in the United States where gun ownership is a right, there are plenty of weapons and firearms that are highly restricted and outright banned. There is a good reason why it illegal to dispose of PCBs and dioxin in the atmosphere, despite the fact that for years companies used the fact that air wasn't taxed to dump their waste products. So markets are regulated and behaviours change. That is a complexity based approach to trouble.
In chaos, the only response is a massive imposition of constraints and restriction of people's freedom. Think of situation in which you might have required a first responder like a paramedic. If you are injured, you will accept a high degree of control over your life in order to stabilize the situation. First responders impose sometimes extreme levels of command and control to manage a situation. When things are more stable and heading out of chaos, the constraints relax and the complex task of healing or rebuilding or moving on can begin.
The argument I find myself making with folks who object to climate solutions is this: if you think that a simple carbon tax is an infringement on your freedom now, are you willing to live with that freedom now in exchange for much more brutal constraints on your freedom later? As climate emergencies continue to increase, it is very likely that people will be told where they can live and where they cannot, how they are allowed to travel, how much water they can use, what they can do with their land. The increase of control over people increases with the level of crisis and chaos. At a certain point you simply cannot live free beyond the limits of your bio-physical system to maintain you. The system imposes the constraints, and you will have no choice but to be told what to do.
For libertarians and others who value personal choice, now is actually the time to get on board with the complexity tools that can help us make choices that limit our impact on the climate. If we fail to influence populations into positive choices now – and it may already be too late – we will find ourselves increasingly being subjected to highly controlled environments later. One way or the other, our freedom to do whatever we want needs to be curtailed. We have lived for decades in unmitigated commercial and economic freedom on the backs of future generations, and the planet is telling us that it's over. Choose differently now, or be told what to do later.