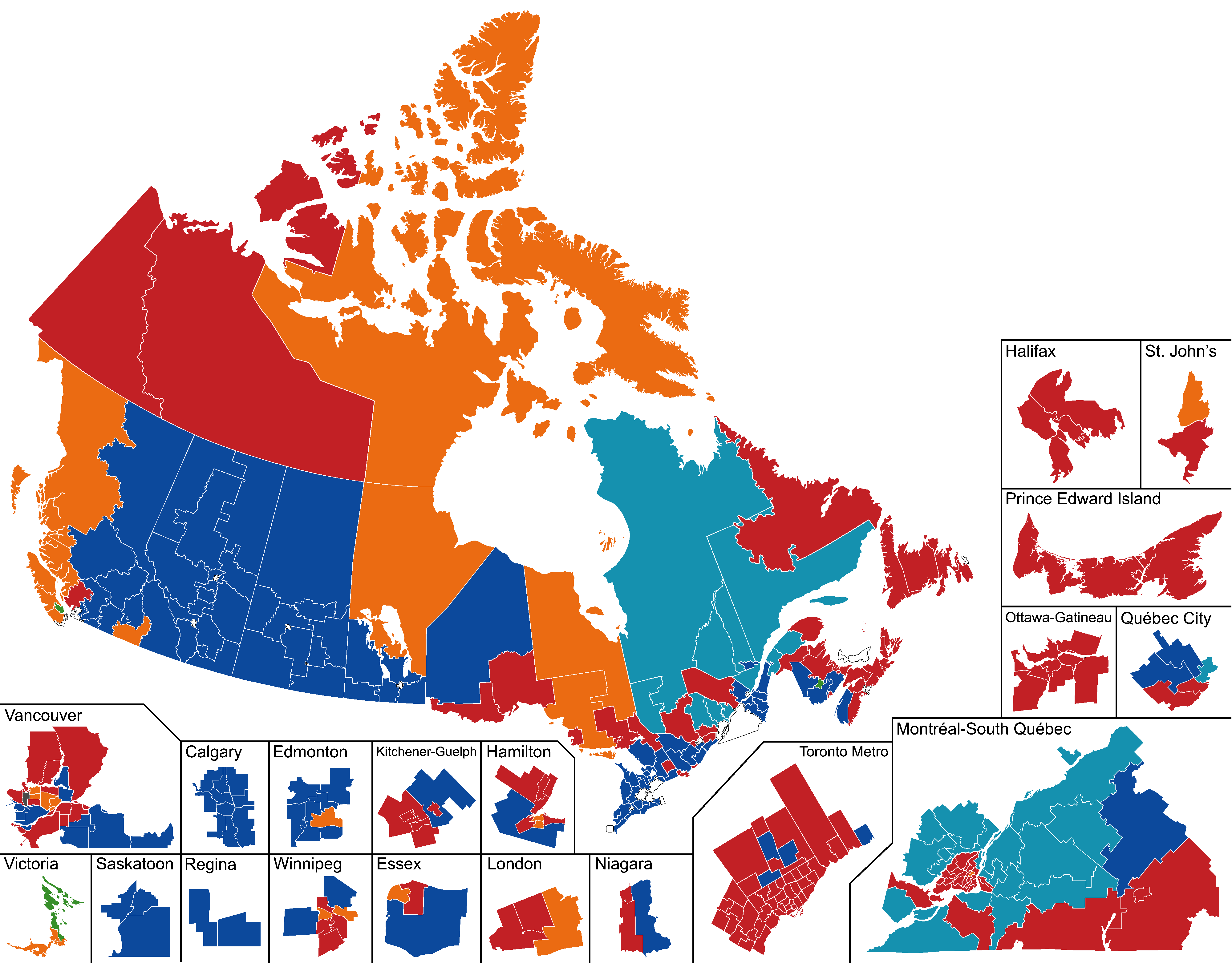 So we had a very interesting election yesterday in Canada and a couple of progressive American friends of mine were hoping from afar that we would reject the kind of right wing racist populism that has infected much of the western world at the moment. This is the response I sent them. For those of you not in Canada, perhaps it will help you understand what happened in our country, written from an unabashedly progressive standpoint. It's just my take, but here it is for posterity.
We pretty strongly rejected the People's Party of Canada, the one actual right wing populist party that was running, although the Bloc Quebecois (Quebec's sovereignties party) gained a lot of support, making some headway on the basis of Bill 21 in Quebec. That provincial bill outlaws public employees from wearing religious symbols in public and is lauded by some Quebeckers as a commitment to secularism and the civil law code principle of "laïcité" which is poorly understood outside of Quebec, but which comes across as racist and discriminatory in practice when seen through the common law lens of our Constitution. (In Canada both civil law and common law have standing, a historical anomaly stemming from the colonial compromise between English and French legal codes) In Quebec the province had to invoke the notwithstanding clause in the Constitution to pass the bill, meaning that it wasn't subject to the Constitutional provisions to protect minority rights. Many are calling the bill racist and are begging the federal government to take it to Court. While that seems like a practical thing to do, in this political structure, it's going to be hard.
The BQ and the Conservatives together with a few Liberal abstentions from Quebec can seriously hamper the government on bills that negatively impact Quebec, and as a result this issue might actually be allowed to stand without a Supreme Court challenge in the short term. Likewise, the BQ might join the government in messing up the investigation of corruption and obstruction of justice that needs to go on around the SNC-Lavalin affair that saw Trudeau pressure his Attorney General to allow the company to have a deferred prosecution agreement around some massive corruption they were involved in internationally. That AG, Jody Wilson-Raybould, is an indigenous woman, and she resigned her position, called out the Prime Minister and ran last night as an independent and got re-elected. So she will be back in the House, with a mandate to use her voice.
The Conservatives' problem was that they pandered to a ton of anti-Trudeau rhetoric in Alberta and Saskatchewan. This has meant that they have won provincial elections there in recent years, but the rest of Canada thinks they are now a narrow-minded, regional-focused, climate change denying, dinosaur party and so the prairies are triumphantly blue and, outside of rural southern Ontario, all alone. They failed to see that Trudeau was actually the only leader willing to both build the pipeline they want (the government bought it last year) and also appeal broadly to the rest of Canada with social programs and policies that could unite interests. Had they voted Liberal, they would have had tremendous influence in Ottawa. Had the Conservatives broadened their appeal nationally, they would have won. As it is, we're fractured along regional lines again, much as we were in 1993 and Trudeau returns to Ottawa with a minority government and actually coming in second in the popular vote. Folks are saying it's the weakest mandate ever given to a government in Canadian history.
As a result, the NDP holds the balance of power, which will help get a few big things over the line such as a national pharmacare program, and perhaps a national low income dental care program and possibly some housing and urban infrastructure programs. It will preserve the climate strategy the Liberals have put forward, but that is still too weak to meet our Paris targets. For social programs, it's the best possible outcome I think, but even with NDP support, the government is in a very weak position and the partisan and regional attacks will keep coming from Quebec and AlSask. That may mean a weak government and another election in a couple of years, and if that happens my guess is that the Liberals will have a better chance to capture conservative voters in Ontario who just hate Alberta moaning all the time even if they are supportive of oil and big business in general.
Interesting times. The Liberal party has not been good on progressive issues, especially indigenous issues, despite their rhetoric towards reconciliation. When the centre-right parties are weak, they tend to move right to canibalize the Conservatives' soft support. Having the NDP holding the balance will help check them, but it's not a massive progressive repudiation of populism.
Maybe it's fair to say that it's a defensive play against hate and it seems like our election was relatively protected from outside influence, hacks and Russian bots. They were definitely trying, but we are blessed not to have a two party system. It means that when things fracture, they do so in a way that creates more diversity rather that staunch and stark divisions. Makes it harder to govern, but then I think that should be a feature of Canadian politics and not a bug.
If you're Canadian, why not weigh in here and offer perspective for folks reading this outside of Canada. What's your take?