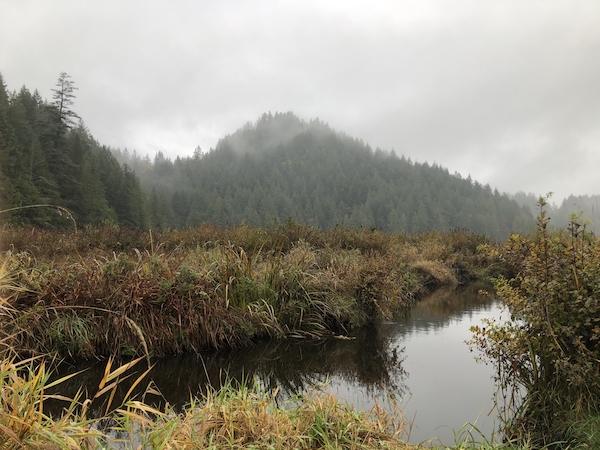 I Love the rain. The fall rains here in Bowen Island come heavy and steady starting in mid September and going through to December. They fill creeks and create the conditions for the salmon to return. You never know how many will return every year but without the rains they can't taste their home stream or in ocean.
For some reason I have been really craving the rain this year. Waiting for it like people in the North wait for the ice to break up in the spring. It feels like a release somehow. Todayt we are expecting about 50mm of rain and this morning I headed out in it to cast my votes in our federal election. The forest is luminescent with fungus and lichen and the forest floor is covered in mushrooms. This weekend I fasted on fresh boletes and oyster mushrooms and spent time drying some.
Walking in the heavy rain is wonderful when you have the right gear. Layers of clothes with a water proof outer layer and good goretex boots does the trick. Walking quietly in a rainy forest whilst remaining sheltered from the water is a cozy and almost spiritual experience. It brings one into a contemplative mind, tucked beneath a hood, rain spattering on my head,, the constant sound of water flowing all around. Returning home to dry by the fire or tucking into the pub in the late afternoon for a quiet chat with the regulars now that the tourists have all gone. All of it is west coast spiritual practice.
Today we have a classic southeasterly wind and heavy rain. And tomorrow skies will clear and the winds will back strongly from the northwest, making it a good day to head over to the west side of our little island and watch the waves crash on the Cape after travelling 100 kms down the Salish Sea. It's not a long fetch and not a heavy swell but the wind fills the face, the sun is glorious out over the Strait of Georgia, and the blue of sea and sky is flecked with brilliant white foam from crashing waves and chaotic seas.
It's nice to be home.