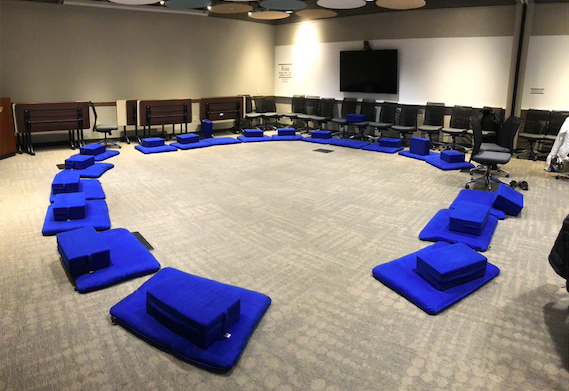 Facilitators are getting inundated with panicky requests to host meetings online. Some of us have the tech know-how to do this, and others don't. Clients are feeling pressure and urgency to get teams up and running online and folks are hoping the important meeting that they have been working with for months can suddenly go online and get the same kinds of results.
Here is some stuff to help you out.
Slow down. Just because you are not hosting face to face does not mean you are not hosting. Make sure that you do the due diligence in designing and hosting the meeting. You will need to talk to your clients and coach them and give a sense of some of the realities of what is possible and what isn't, and you are going to need to remind them that this will be clunky and difficult as people learn new ways to work together. Have them invite the group to be patient as everyone learns how to do this.
Work with a tech person and a harvesting person. No matter what platform you are using. hosting online takes a special kind of presence and attention, and it is helpful if you have a small team of people to help you. Notably, if you can have someone managing the tech – including taking participants with technical problems offline – that helps a lot. Also harvesting and documenting as you go is important. As in all processes I run, I try to get folks to co-create the harvest, and when working online you can do that in a Google document where you can set up a template beforehand. If you aren't able to get everyone to work on the Google document – because people are connecting by phone, for example – then make sure someone is keeping good notes of decisions. At a minimum type these in the chat function, but don't forget to save the text before exiting the meeting.
Keep it simple. You might be super interested to use all the new tech tools and apps, but bear in mind that your participants are most interested in connecting and getting their work done. Use the easiest mode possible, even if that is a good old fashioned conference call, and taking notes with paper and a pen.
Design together. Let your clients know that it will be helpful to design well. At the very least you should have a conversation with them about the urgent necessity for the meeting and the purpose, the outputs that you are looking for, and the structure and flow of the meeting that will serve that. You can download the Chaordic Stepping Stones tool for a deeper dive into design, or just keep it simple and high level. But let them know that just because you are going online does not mean you can shirk on design time.
Consider the check in. Check ins are really important parts of meetings. It brings people into the meeting space and helps them ground. Invite folks to do these things:
Shut down all their other apps and programs and clean up their monitor view. This will help people not get lost navigating between windows and will prevent them from getting distracted, and it also conserves bandwidth and makes connections more stable. My friend and colleague Amanda Fenton today shared that it is a kind of aesthetic practice, to create a clean and beautiful workspace for work.
Give a moment of silence. Just invite a breath, There is a lot going on. Bring a bit of calm into the space.
Invite people to check in on the google document or in the chatbox. Doing this invites people to immediately participate, by typing and seeing other people working. It helps focus attention on the work at hand and prevents a distraction.
Attend to dynamics:
Be aware of grief. Everything is shitty right now. People are not coming into work situations in the best mood and some may be experiencing crippling anxiety or grief. If you have an intense meeting coming up with important content, consider offering the check-in as a special gathering an hour or two in advance, just so people can connect with their colleagues and share their emotions. At the very least, remember that in stressful times, people swing wildly in their responses to things. You may need to intervene more often than usual and offer silence and regrounding.
Be aware of the hum of rush. There is a hum running under everything that is making folks feel rushed. It's as if the meetings I have hosted or participated in have been running at about 500rpm higher than normal. It's barely noted consciously, but I've noticed that it spins people into intensity. Add to that any technical glitches and frustrations, and it's difficult to keep it together. So between grief and the hum of rush, pay attention to the emotional tone of the meeting. Focus on the important urgent matters with the right urgency.
Get ready to let go of your design. That should go without saying in any facilitation, especially if you are facilitating in turbulent and complex situations, but it's even more true now. Take time to design, but as my friend and colleague Ciaran Camman remarked today, "really be ready to let things go, to find out what the need is again, and respond to that."
And this one from Amanda Fenton: "Everything takes a little bit longer. If you ask a question, wait twice as long as you would when hosting face-to-face. People are working harder to sense cues from each other on who might be ready to speak or be fumbling for their un-mute button. If you use break-out rooms, give a minute of informal reintegration before transitioning. Welcome those little pauses." Good advice.
And finally, attend to your practice. Remember when we used to facilitate face to face meetings? You are still that person, and you still have that practice. Take some time in the next few days to sit down and remind yourself of that. Just because we are doing things in a different way doesn't mean that we aren't needed in the same way.
Please share more tips and practices below, especially as it relates to the role and practice of hosting and facilitation and less about tools and software.