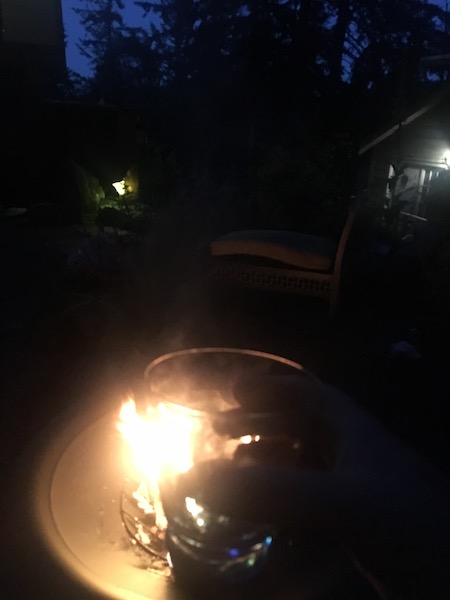 Yesterday I passed through the start line again. Forty nine times I have rode this incredible planet around the sun, corkscrewing together through space. Last night I sat by a small fire with a small glass of whiskey in my hand, friends and family around me and we just hung out, enjoying each other's company, listening to a little Stephen Fearing and John Wort Hannam and eating fresh strawberries.
The last half dozen years of more have been really illuminating in terms of my own professional life. I have moved from the place of a pure practitioner to a professional who is trying hard to ground practice in theory, and theory that is based in cognitive science, pedagogy and complexity.  When you dive into those worlds I think there comes an extended moment of despair or worry that nothing really matters, or nothing makes a difference. I have been there and I am probably still there, but I'm feeling my way into something new, something more existentially rich
Yesterday on a call with friends to discuss an upcoming Art of Hosting in Amsterdam in the fall, I used an image to talk about why I feel like "social innovation" is bit of an inaccurate term to explain what we are doing.  I argued that we were learning to live with "social evolution" and that as individuals we have choices about how to deal with the fact that our evolving world demands that we all learn new things.  Not learning is not an option. Even those among us that are bed-bound use cell phones and iPads. This was not something they ever imagined in the 1930s when they were teenagers.
So the image is this: when I visit Amsterdam perhaps I will take a vial of water from the Pacific ocean to connect us. I may stand beside a canal or on the shore of the English Channel and drop that small amount of water into the sea. And to the oceans, this act means nothing and is even beyond any practical scope of measurement. But to me, there is a deeper meaning attached to it. It is important. It is interesting. It connect me to my friends, acknowledges a bond. It helps me under the existential questions that come with the beginning of the 50th trip around the sun.
Recently I've been accompanying clients who are trying hard to measure the impact they are making in the world. I can't let them suffer any longer. I have to step in and say "you can't measure it. Rather, just keep doing it. Do it because it feels right, and it is good, and watch what you are doing and do more of the things that align with your sense of goodness and rightness. We have no idea what the effect is, so be present to your work, be diligent and disciplined. Make it worthy and worthwhile, and worth doing. Succeed or fail, your time on the earth is yours to use as you can. Be present to need, offer what you can, and allow the world to evolve."
Of course I can go down a strategic and theoretical rabbit hole with this, but none of that should dissuade people from adopting a simple approach to their work, not too precious, not too cavalier.  Just enough to give their work and life meaning, and to pursue goodness as you can.
A friend tells me that 49 is a good number. It is seven by seven and in many sacred traditions including my own, that number stands for the countless generations. Each of us is a product is of the 128 pairs of humans that gathered in a virtual circle 150 or 200 years ago, and had a hand in creating six more generations of humans that ultimately culminated in you.  No one knew what they were doing. They weren't trying to give you the gift of life and a scant few decades on this earth. Some of them barely survived long enough to contribute to the project. They didn't know each other, didn't even know that the other's existed. Probably may of them would be disgusted at the thought that they would be participating in project with others of a certain race, culture or religion to create a living human being.
Now is a good time to be humble about what we are doing. Work and live. Help out and get out of the way.