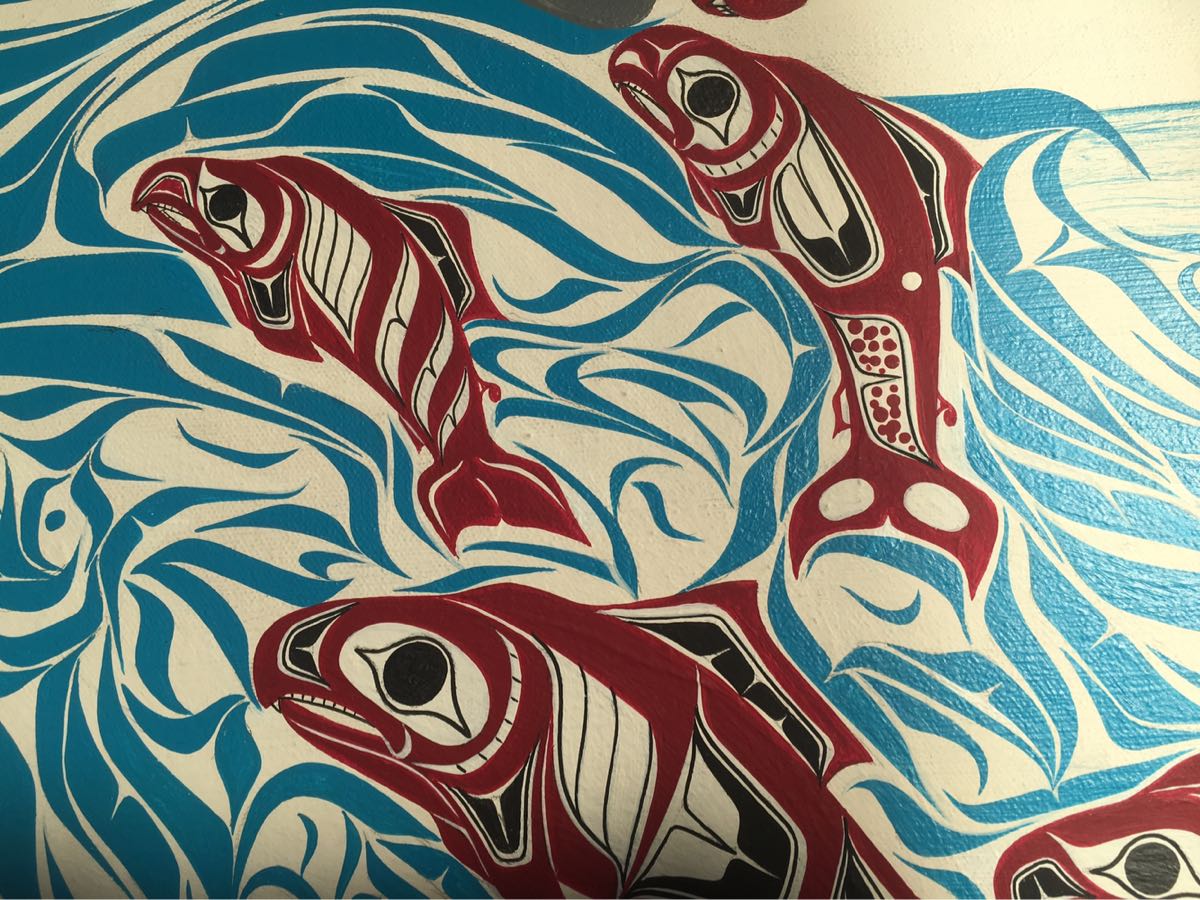 Detail from Richard Shorty's work "Genesis 1:20-25"
Wednesday is National Aboriginal Day and ten days later, Canada commemorates its 150th birthday. Since the centenary in 1967 and even since Canada 125 in 1992, the whole enterprise of Canada has become deeply informed by the need for reconciliation between indigenous people and communities, and settler people and communities.
We are all treaty people. Everyone in Canada who has citizenship is also a beneficiary to the treaties that were signed and made as a way of acknowledging and making binding, the relationship between settler communities and indigenous nations. The ability to own private land, for example, is one way in which settlers benefit from treaties that were signed long ago, even if those treaties were made hundreds of years ago in other parts of the country. Canadian society depends on the ability of governments to provide access to land and resources, and that access flows directly from treaties. Not from conquering and taking. From legally binding agreements. You are a treaty person.
The promise of Canada has never been properly delivered to indigenous communities. Over decades courts have declared this. The Truth and Reconciliation Commission declared this. The Royal Commission on Aboriginal Peoples declared this. It is evident in data and research and popular culture.
The need for reconciliation is long overdue.
For thirty years I have worked in this space, and lately I have been working with a small set of principles, when settlers ask me about reconciliation. Here they are:
Reconciliation requires restitution. For reconciliation to be real it must be accompanied by restitution. Reconciliation efforts aimed at increasing awareness are fine, but they should have a direct and material benefit to indigenous people and communities, When indigenous communities do well, we all do well. Restitution can happen in all kinds of ways including the return of lands and property, but it also requires the honouring of the ongoing relationships embedded in the treaties in which mutual benefit was supposed to flow for the future.
Reconciliation is unsettling. My friend Michelle Nahanee talks about "emotional equity" which is one way of thinking about what it costs for indigenous people to interact in non-indigenous contexts. It is inherently unsettling. For non-indigenous people a true commitment to reconciliation means unsettling notions of what you take for granted. Just understanding how you are a treaty beneficiary is one way to suddenly become unsettled. And I have often said that the only job for settlers in reconciliation is to be unsettled. It is from that place that we can all meet and work on a different set of ideas than colonization.
Settlers need to make the first move. Still with the idea of emotional equity, it is important that settlers make the first move in a reconciliation initiative. Indigenous people cannot be expected to be the ones to make it easy for everyone to do reconciliation. Settlers must make the first moves, and must do so in all the vulnerability and fear that comes from making the first move. Do something, do it badly, be open to learning and keep going.
Reconciliation is a verb. The right term is "reconciling" because we aren't ever going to acheive a place wher ethe world is reconciled. It is an ongoing project. If the project of the last 150 years was about creating a Canada where there were once only dozens of nations, perhaps the project of the next 150 years should be about figuring out how to make a country possible that reconciles the interests, duties and obligations of it's history and privilege with the results of the colonization that enabled that privilege. There is no certain answer, but I have faith that together we can create a place that is better than either of us can do separately.
Its about relationship. The reason why Canada has to confront the horrible legacy of colonization is that Canadians entered into and then promptly forgot the nature of the relationships that were set in place by the laws and policies of 1763. In that year King George proclaimed that nations west of the Atlantic watershed needed to be dealt with as nations, and according to the rule of law. That proclamation, recognizing the importance of relationship over domination, became the basis for all Aboriginal law in Canada and is still to this day the standard upon which adherence to the rule of law is applied. All Canadians are born or move into a relationship with indigenous people and the relationship is direct, personal and beneficial. Reconciliation needs to restore this sense of mutual dependancy and correct the balance.
I will be hosting conversations on reconciliation at Canada Day commemorations on (Nexwlelexwem) Bowen Island this year with my friend Pauline Le Bel, who is running a series of interesting events this year called "Knowing Our Place" about the relationship of Bowen Islanders to the Skwxwu7mesh Nation and to our At'lkitsem (Howe Sound). If you're on Bowen, join us. If not, host your own and think about why reconciliation matters to you.