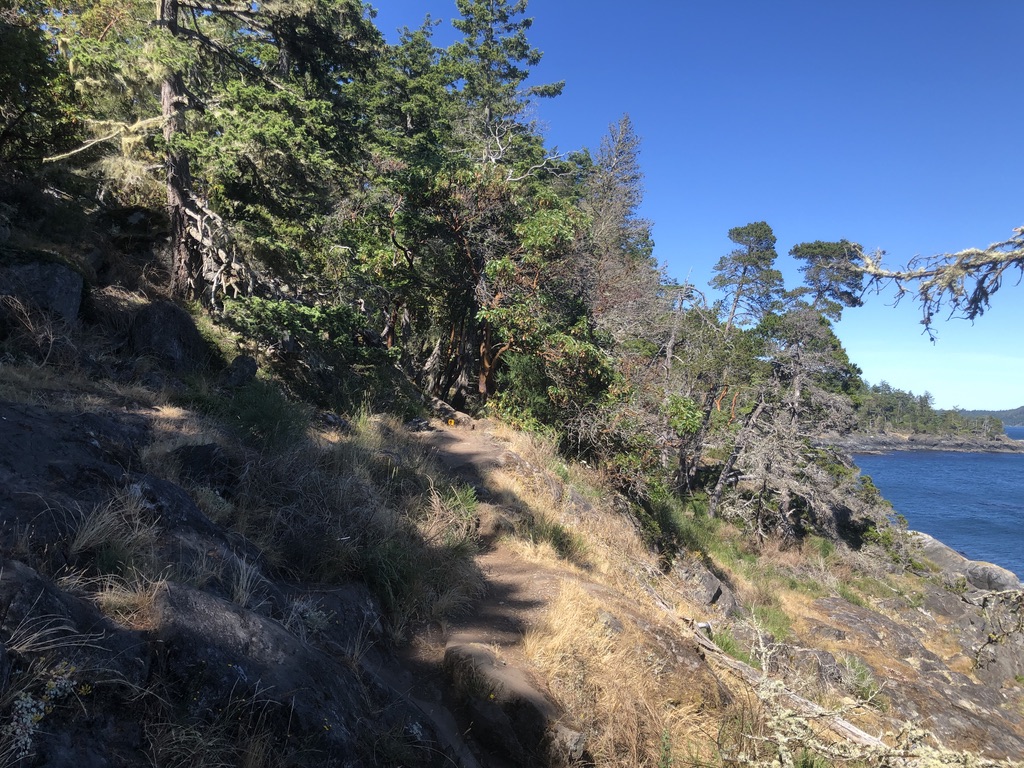 Yesterday we were walking an incredible cliff top trail in East Sooke Park, in Scia'new territory on Vancouver Island. The Coast Trail there is rugged along the Juan de Fuca side of the park and although it is well travelled, there are sections across bare rock cliff top when the path is all but invisible. It requires a deeper kind of seeing to discern where the path is, especially if you follow what looks to be an obvious route which can take you to some dangerous places. As an experienced trail walker, I find myself in moments like this looking for evidence that I am NOT on the path. Is there broken foliage? Is the soil compressed and eroded by boots rather than hoofs or water? Are the roots underfoot rubbed clean of bark? Are there any trail markers about? When I find myself answering "no" to these questions I move slower, until the evidence is overwhelming, and I stop and track back to find out where I went wrong.
You can see why looking for evidence to DISPROVE your belief creates a safe to fail situation. If I find a single piece of evidence that confirms my belief that I am on the right track, and I follow it unquestioningly, the results become increasingly dangerous, and failure becomes unsafe.
A lot of my life and work is about paying attention to these weak signals. Whether it is making music with others, facilitating groups, helping organizations with strategy, playing and watching sports like soccer, rugby and hockey, it all comes down to paying attention in a way that challenges your beliefs.
The other day I offered a pithy comment on facebook to the question of "what is the difference between critical thinking and buying conspiracy theories?" and it really came down to this: critical thinkers look for evidence to disprove their beliefs and conspiracy theorists look for evidence to confirm their beliefs.
I think the latter is quite the norm in our current mainstream organizational cultures, even if it doesn't lead to conspiracy theory. The pressure for accountability and getting it right leaves very little space to see what's going wrong in the organization. The desire to build on what is working – while being an important part of the strategic toolkit – is not served without a critical look at the fact that we might be doing it wrong.
This is why sensemaking has become a critical part of my practice. And by sensemaking I mean collecting large numbers of small anecdotes about a situation and having large numbers of people look at them together. The idea is that with a diverse set of data points and a diverse number of perspectives, you get a truer picture of the actual culture of an organization, and you can act with more capacity to find multiple ways forward, including those which both challenge your assumptions about what is right and good now and those which discover what is better and better.
Recently in Canada we have been having a little debate about whether celebrating Canada Day on July 1 is appropriate given that fact that this month – National Indigenous Peoples Month, as it turns out – has been marked by a reckoning with the visible evidence of the genocide that has been committed here. While hundreds of thousands of people here are in mourning or grief, and are reliving the trauma that has travelled through their families as a result of the genocidal policies of residential school and the non-consensual adoption of children, many others are predictably coming out with a counter reaction that goes something like this "yeah, well let's get over it. Canada is still the best country of the world to live in."
And that makes sense for many people – like me – who live here and have a great life. But as I have been saying elsewhere on Twitter: don't confuse you having a great life with this being a great country. There is nothing wrong with people having a great life. That is what we should want for all people. But Canada is not a place where that happens for everyone. The story is very different for lots of people who struggle to find contentment and acceptance inside this nation-state. Canada's very existence is owed to broken treaties, environmental destruction, relational treachery, economic injustice, and genocide.
Paying attention to the weak signals is important here. If all you can see is how great your own life is, and you think we just need to keep doing whatever it is that we are doing that assures that continuity, then we are headed for a precipice. We are headed off an environmental cliff, into a quagmire of injustice and economic inequality that destabilizes everything you have in a catastrophic way.
Listening to First Nations – really paying attention to possibilities – is mutually beneficial to everyone. If one wants all lives to matter, then one has to ensure that every life matters, which means taking the lead from those whose lives have been considered dispensable in the project called "Canada." And it's not like they haven't been out here for the past 250 years calling for a better way. It's just that the mainstream, largely led by commercial interests who have hungered for and exploited natural resources that never belonged to them, have cheered on the idea that if Canada is good for me, it must be good period.
Let seeing be disbelieving. This country is not an inherently GOOD place. But it could be. It could be great. It could be safe, healthy, prosperous, balanced, creative and monumentally amazing. But it requires us to first question the limiting beliefs we have that it could never be better than this and second to pay attention to the weak signals that help guide us onto a path that takes us there.
It is far too early to celebrate Canada Day. We haven't yet fulfilled the promise of the treaties and the vision with which indigenous Nations entered into relationships with Europeans oh so long ago, and that vision which is continually offered up to settlers through reciprocity and relationship. If there is anything to celebrate, perhaps it is the fact that we do have the resources to make this country work for all and we have the intelligence and creativity and willingness to do it, but you won't find that in the Board rooms and the Parliamentary lobbies and the Cabinet offices and the global markets.
It is in the weak signals, the stories and small pathways of promise out there that are born in struggle and resilience and survival and generate connection, sustainability and the promise of well-being for all.