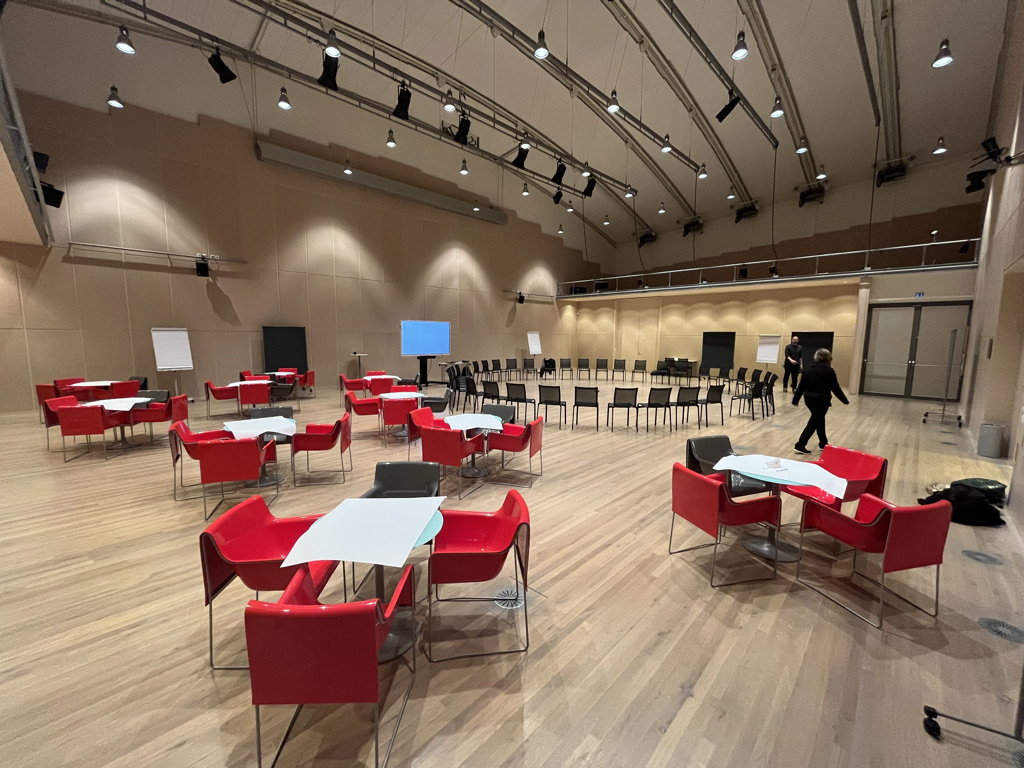 I don't know why I have never done this, but a recent misunderstanding with a client has prompted me to get more accurate about the room requirements we need for good participatory meetings.
Many of my meetings involve being in both a circle configuration and gathered around small tables. It is possible to move table in and out, but for most meetings (and full day or more workshops) these room requirements will be ideal:
The formula for an ideal room size is 100 square feet per person or 10 square meters per person. the more square the room the better. This allows us to set up a circle and a cafe space. If we are only doing one process (a world cafe OR an Open Space), then we can go with 75 square feet or 7.5 square meters per person. But more room is always better, especially in pandemic times.
Good air filtration is important.
Natural light is ideal. Windows on two sides of the room with empty walls on the other two sides is perfect.
Room set up is a circle of chairs in one half of the room and a cafe space in the other side. The tables in the cafe space should be ideally 3×3 feet or 1×1 meter with four chairs around them. For a group of 40 people, we need 10 tables. Square tables work best. if squares aren't available, 6 foot (2 meter) long rectangular tables work well too, and we can get 6 people around them if need be. Round conference tables are not helpful as people are too far apart and it increases the noise in a room.
It is ideal to be able to tape posters on the wall using painter's tape.
Projection optional but useful.
For groups larger than 40, and depending on the acoustics, a handheld microphone is helpful. I always assume there are folks in the room with hearing issues. 30-40 is the maximum for unamplified sound, and even then some people have very soft voices.
Typical materials we use in workshops and participatory events include these:
Mr. Sketch markers, one marker per four people.
Crayola markers, one package of these per 20 people.
Plain white flip chart paper for the tables so people can write on it. One pad of 50 sheets per 30 people.
Post it flipchart pads optional (these are expensive and not as useful as plain pads, but we do use them)
Post-it notes Packages of 3×5 and 6×4 and assorted 2×2 square sizes are useful too. Important that these have the "Super Sticky" symbol on them which means they will stick to walls and hang vertically.
Basic office supplies: Scissors, painter's tape, ballpoint pens and name tags.
Additional decorations for the circle centre, important organizational artifacts, nice fabrics, flowers.
A portable bluetooth speaker for music.
For local events, I usually bring the markers and post it notes, letter sized paper, tape and bluetooth speaker, and ask the client to bring flip chart pads, office supplies and the organizational artifacts.
Put all that together well and you get a beautiful space with lots of room to move around and lots of materials to work with.
What is your essential list?