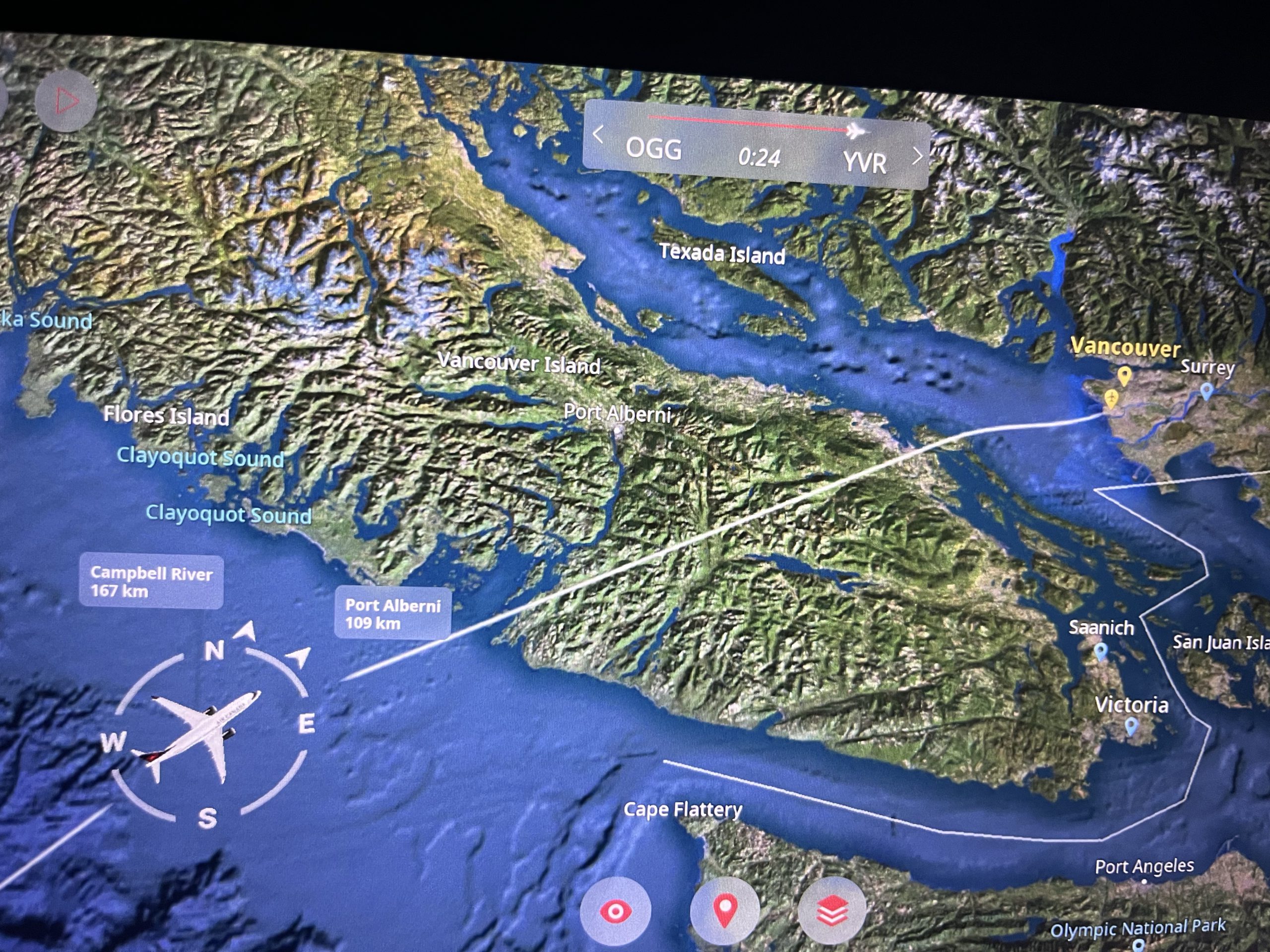 A photo of the navigation system on my flight back from Hawai'i
Flying over the Pacific always conjures up the idea that I'm in a low earth orbit. It is a bizarre notion to climb into the sky and have the earth turn below you and then few hours later to drop one sixth of the world away.
On long haul flights there is very much a feeling of relativity. We are together, a couple of hundred of us, in a tube in the sky. There is very little feeling of speed. There are no cues to tell you where you are, especially at night and especially over the Pacific Ocean. Each moment is much like the others until you make landfall and suddenly land rises out of the sea.
The term "raising islands" comes to me though the art of Polynesian navigation. This past week I immersed myself in Sam Low's book Hawaiki Rising which documents the first six or seven years of the Polynesian Voyaging Society who built a double-hulled sailing canoe called Hokule'a and, under the guidance of a Micronesian navigator called Mau Pilliag, sailed it from Hawai'i to Tahiti.
On the return voyage the navigation was taken over by Nainoa Thompson, and the book recounts two successful and one tragic voyages under his guidance between 1976-80
Polynesian navigation combines a deep and intense attentiveness to every possible source of information available to the navigator. This includes, principally, stars, swells, clouds and light. Getting from one island to another over 2400 miles of open ocean requires a navigator to be present and attentive for the entire voyage. You must know where you have come from in order for your present position to make and sense and in order for accurate decisions to be taken about your course. This means mostly staying awake for almost the entire trip of a month or more with only brief sleeps allowed
When land comes into sight it is said that the navigator has "raised it out of the sea. " when your whole life takes place inside a small container for a month with nothing but open sea all around, there must develop a very intense sensation of being essentially stationary and instead turning the world below you.
I'm having that same feeling tonight, returning home. Noting that we are 24 minutes from landing and still out of sight of the west coast of Vancouver Island. If you were a Tshshaht navigator perched on an island in Barkley Sound for the night, in a few minutes you might catch our lights rising up over the dark western horizon. And although we will have started our descent, you might not hear us over the surf crashing on the reefs as we skim about 10,000 meters overhead landing in Vancouver which still lies 250 kilometres to the east. It is a journey that would take a week or more in a Tseshaht canoe. But now that we have raised Vancouver Island, we'll be on the ground before you know it.