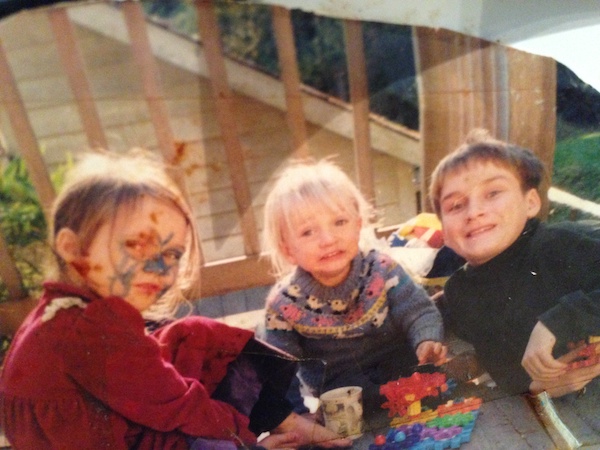 From the time my daughter was born in 1997, my partner and I went hard on studying learning theory to understand how kids learn, what's good for them and how to support their growth. These little beings don't come with instruction books. It's hard enough to learn how to feed and maintain them, let alone figure out how to help their brains and hearts grow.
We studied for a lot of years and gradually landed on the work of John Holt, an educational psychologist who, in the 1960s and 1970s, studied how children fail in the Boston school system. Motivated by that work, he later wrote a book called "How Children Learn" which was a seminal text in what became the movement of "unschooling" or "life learning." This is, to some, a radical approach to homeschooling children.
In the early 2000s, along with a few other families on Bowen Island, Canada where we live, we created a publically-funded homelearning support community called Island Discovery Learning Community. There, our children could come together with other kids and adults, with teachers and resources, and even with curriculum and assignments, to engage in self-directed learning in the community.
Unschooling is a serious commitment and we did this with our children until they were 13 and 10 respectively, following their leads, and guiding them until they chose to go to school. At that point, we treated their choice as another step in their learning journey and at the end of every year, checked in with them about whether they wanted to keep doing that. They said yes, and have both since made their way into university – our daughter first as a jazz musician and now studying psychology and criminology, and our son going part time to explore subjects that might interest him, currently focusing on economics.
I share with you this history so you know that I have some experience in what many of you are facing right now. Kids at home, not feeling like you are qualified to teach them anything, not knowing what to do and maybe even afraid that without school they will be set up for failure in life. It's all real.
SO to give you some hope, I want to share a few key principles and practices that work when you are homeschooling kids. Your mileage may vary.
First, relax. Even if your kid took a whole year off school, it is not going to lasting damage to them. You are not falling behind, and your kids isn't losing an advantage by spending a tremendous amount of time away from a classroom. Things will be fine. Trust me.K
Don't replicate "school" at home. This is a recipe for failure. Your home is not a school and probably the last thing your kid wants is a full scale conversion of their living and playing space into a school run by a nervous parent who is trying to replicate a mass education institution with no good grounding in theory or practice. Your home needs to be a home, especially now, and it needs to be a place of safety and security and love for your kids. Try to avoid doing things that place pressure on your relationship and that cause the child to become angry, resentful, or distant. If your school district is giving your child work, make sure it doesn't take up the whole day. Remember that they need time to goof off and let off steam. So do you, probably.
Notice that you are all learning all the time. Leaning always happens best in context. Your kids will have ample opportunity to practice reading, math, epidemiology, art, music, video editing, writing, research, cooking, animal care, mutual aid and support, ideation, design, technical skills acquisition, and life skills right now. Just like they do every day. Just like you do every day. Learning doesn't stop, especially in a context that is always challenging and offering up new experiences. What you can do is take time to notice what they are learning, collect examples of their work and build a portfolio together. Homeschooling families do this all the time because if you never go to school, this is how universities court you to attend their programs. On your body of work.
Kids learn at different speeds. For busy parents who are not intimately involved in their kids' education, it might come as a surprise to realize that your kids all learn things at different speeds. Our son taught himself to read at 4 years old. Our daughter didn't start reading until she was 10. They both learned to read in a couple of weeks when they were ready to. If you are getting homework from the school and it seems to be taking your kid ages to grasp a concept that is because it takes them ages to grasp a concept. They might not even be ready to grasp it. They are not broken. There is not something wrong and they are not "losing." You might need to put aside that concept and do something else. Don't forget there is nothing essential for them to learn right now in this moment. You could spend months trying to teach a kid something when they aren't ready to learn and find out that a year or two later, they get it right away. Don't force it.
Adopt this simple pedagogy: STREWING AND CONVERSATION. Seriously, these two practices took us through a decade and a half of support our children's learning. Strewing means that you flood you environment with interesting things – books, websites, podcasts, videos, games, challenges, work, interesting people – and you watch to see what they attach to. When they show some interest in something, engage them in conversation with genuine curiosity. Ask them questions so that they can teach YOU about the topic. Don't quiz them or judge where their attention goes. Even if they spend hours playing Fortnight, get in there with them and understand what they are doing. Ask them questions about how they make decisions, come up with a strategy and work together. I daresay that you will learn something from having them teach you about situational awareness, rapid-cycle strategic iteration, and real-time collaboration.
Love them above all else.  Can I just bluntly say, that being a parent right now is fucking hard. You're not failing if you're feeling that. Your kids are anxious, worried, and carrying a lot as they move through this disruption in their lives. They can't see their friends and they are possibly even beginning to hear stories of people they love who are getting sick. If they can't focus on schoolwork, don't force them to. These are traumatizing times. What they need right now is probably a good hug and a cry. I'm not sure that is an age-dependent need, actually. The most important thing of all is to love them and care for them right now. Make them as happy as possible right now, because that is what will help them stay resilient, and that is the most important thing.