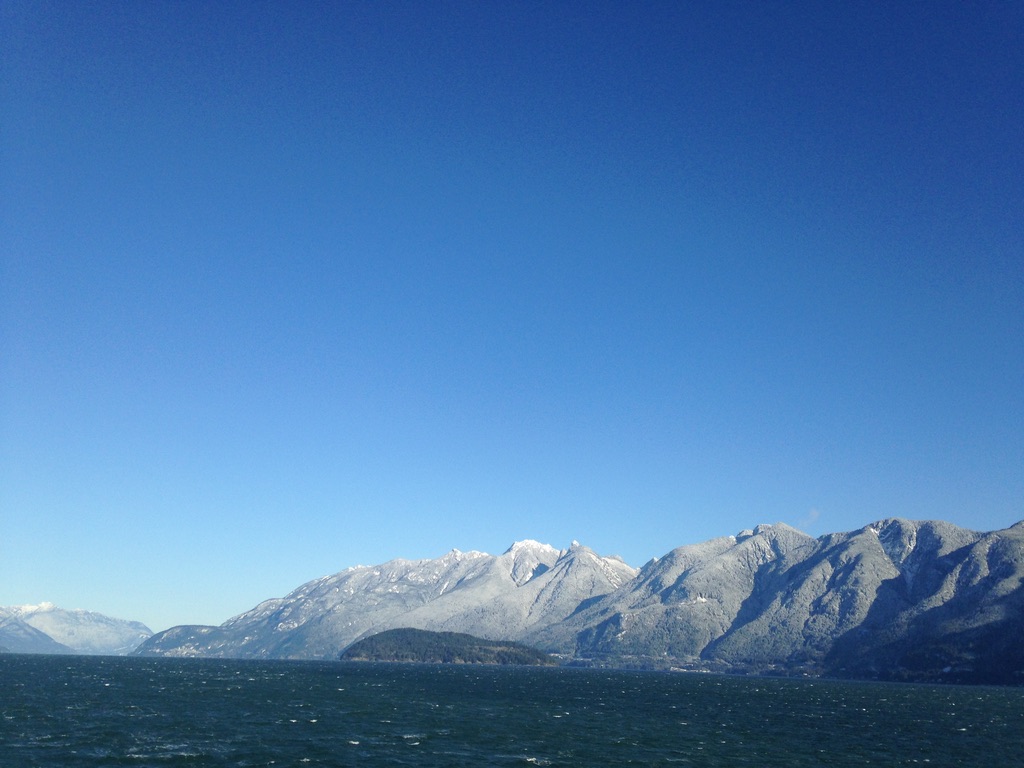 Átl'ka7tsem, the fjord in which I live, in a photo I took in November 2014
The National Day for Truth and Reconciliation is coming up in Canada.
Every person in Canada lives in a place that, from time immemorial, has been occupied, used, loved, protected and cherished by an Indigenous culture. In Canadian law, settler governments and citizens have a special relationship with these Nations, and it has been thus since the Crown of Britain elbowed itself into the already fully occupied territories of North America. It was encoded into common law in 1763 through the Royal Proclamation and, subsequently, through treaties and later in the Canadian Constitution.
Despite a couple of centuries of focused efforts to eradicate Indigenous cultures across Canada, we still retain the obligations and responsibilities of that special relationship. Settler governments have always been hungry for the lands and resources of this place and have often acted in immoral and illegal ways in the pursuit of those resources. Even the Supreme Court of Canada has, over decades, chastised and reined in the rapacious appetite of colonizing governments to remind Canada that it is bound to the agreements it has made and to enforce Canada's own laws on its governments.
Despite that set of obligations and responsibilities, all of which invite Canada and Indigenous Nations and people into ongoing and permanent relationships, Canada and the Provinces and the former Colonies of Britain long pursued policies like the banning of the potlatch, the prohibition of legal action regarding land claims, and residential schools and worse, through deliberate acts of genocide, like the preventable 1862 spread of smallpox across the entire coast which decimated the Indigenous Nations of coastal British Columbia.
These events aren't news. This history is well documented, and that paradox that Canada has on the one hand, relied on this relationship to sustain its jurisdictional claims on the continent and on the other has sought to destroy the partners with whom it has a relationship in different ways.
Resetting the relationship happens on a variety of levels and ways, and one of the best ways for non-Indigenous people to do that is to take the time to deepen and appreciate the place where you live and the culture that has been nurtured in that place for thousands and thousands of years. It is, as my friend Pauline and I discovered, about Knowing Our Place.
The place i live in is called Skwxwú7mesh Temíxw. I live on an island whose historical name is Nexwlélexwm, above a bay called Kwilákm, in an inlet called Átl'ka7tsem. The names of these places are difficult for English speakers to say, but easy enough to learn, but they are beautiful sounds, guttural and rhythmic and when you hear them spoken by Skwxwú7mesh speakers they are musical. They contain meaning and relationship to other words, to other times, to stories.
It can be hard to learn about your place because Indigenous knowledge is tricky to share. There is knowledge that is held only by specific families and that is proprietary, there is knowledge that relates to legal claims in which large amounts of money are at stake. There are places that are deeply sacred to the culture and need to be protected for cultural practices to continue on the land. On top of all that, Elders, and staff in these Nations are often overwhelmed with requests for information, and they often don't even have the capacity to respond to the needs of their own communities. Cultural and language revitalization takes time and attention and effort.
The Indigenous government of this land where I live, Skwxwú7mesh Úxwmixw, along with the knowledge keepers in the Nation are deeply focused on recovering from the systematic efforts of the Canadian government. But they have also shared some remarkable resources publically to increase knowledge and awareness of the history, culture and language of the territory and the people. If you live in this territory, perhaps this week is a good time to soak in these resources and learn more about where you live.
An atlas created by Chief Ian Campbell that contains links to many stories about the territory.
A project developed by Kwi Awt Stélmexw (now the Sníchim Foundation) to locate Squamish place names along with some pronunciation guides and a bit of history.
A set of videos of Squamish language terms and expressions from the Nation's Language and Cultural Affairs Department.
A foundation set up to support the revitalization of the Squamish language. I am a regular donor to this foundation, and this is a good way to support effective efforts to revitalize the language. The Foundation has had a powerful effect in bringing along dozens more speakers at higher levels of fluency through it's immersion programs and resources. Every time we are asked to do a territorial acknowledgement in this territory we donate a portion of our fees to this work. This is a good and tangible way to donate if you are participating in this year's "One Day's Pay" initiative, which advocates providing material benefit to Nations to put meaningful action to intentions for reconciliation.
I hope as September 30 approaches that you take the time to learn about and support the efforts to repair relationships and grow strong partnerships with the Nations in whose lands you reside.