Exploring future possibilities by mapping "dispositionalities"
April 25, 2016 By Chris Corrigan Art of Harvesting, Art of Hosting, Complexity, Evaluation, Facilitation, Featured, Learning, Philanthropy, Uncategorized, World Cafe 5 Comments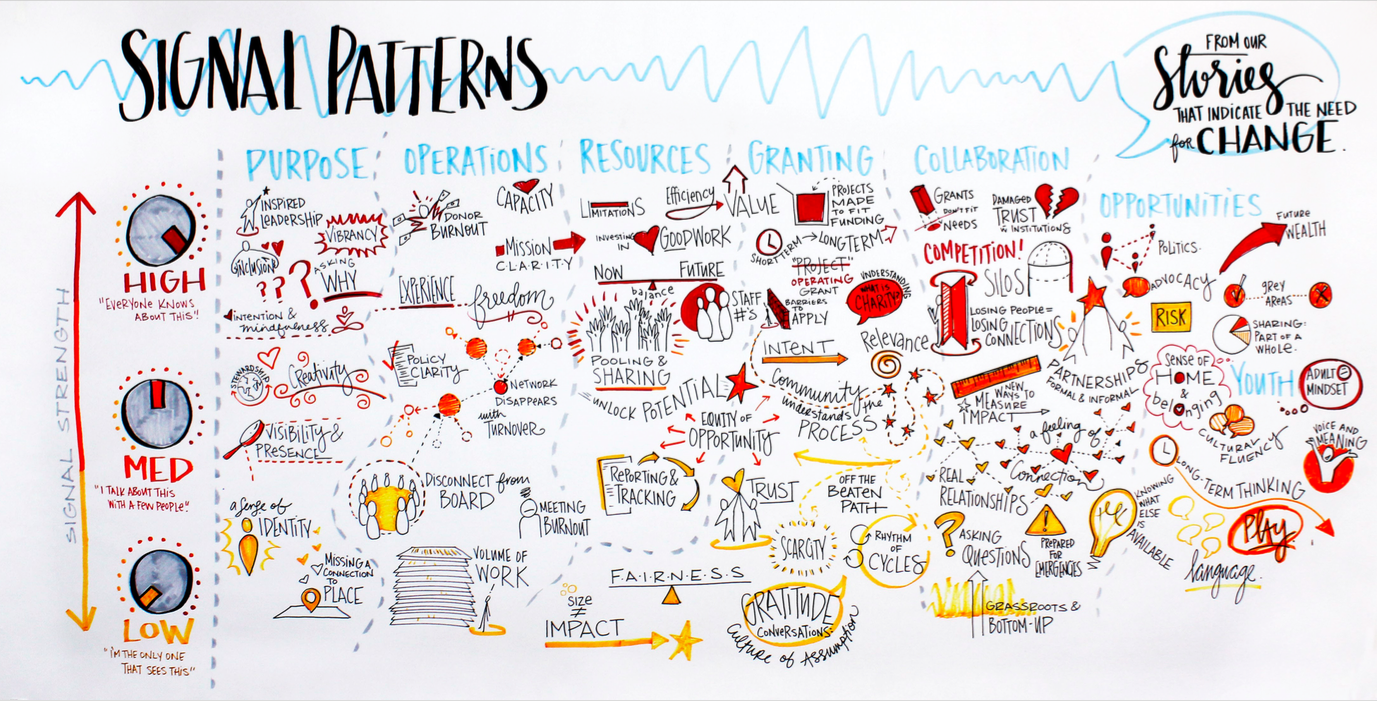 It's good to have Dave Snowden back from his treks in the Himalayas. He's been a big influence on my thinking and practice over the past few years and his near daily blog posts are always rich, irreverent and practical. He is in the process of creating an important body of theory and practice that is useful even if the language and the concepts are sometimes a lot of work to grasp. The payoff from wrestling with his ideas is rich.
Today he's discussing "dispositionality" which simply means that making change in a system is much easier when you have a sense of what the system is pre-disposed to do (and what it is NOT pre-disposed to do…)
Back in the summer Caitlin and I led a learning lab for the board and staff members of various community foundations from around British Columbia.  The five principles that Dave articulated today were very much embedded in our work and they are becoming very much the basis for any change and planning work I do.  Here's how we made it work, pen and paper style.
1. Map the current state of the system, including its dominant flows, eddy points and whirlpools.
We began with a World Cafe design based on small stories of change. It is always good to ask people about actual decisions or stories that they remember to ground their experience in discovery. If you run a cafe on "What are the big sources of change in our sector?" you get a data set that is divorced from reality, meaning that it is subject to being gamed by the participants. I can just insert the things I want to see in there.  But if I am asked to tell a story about a particular decision I had to made, the data set is richer and we have a good chance to see emerging patterns.
And so our Cafe ran like that: "Tell a story of a time when you knew things needed to change?"
Each person told a story and the other three at the table listened and wrote down what they heard was the impetus for change, with one data point on a post-it note.  We did several rounds of story telling.  At the end of the round, we asked people to give the post-its to the story teller, and we gave the story tellers time to rank each post it note on a scale of 1-3. A one meant that the impetus for change was just known to me (a weak signal),  two meant that a few other people know about this impetus, and a three meant that this change trigger was known by everybody.
We then had the group cluster all the post-its to find major categories, and we sorted post it notes within the categories to produce a map that was rendered by our graphic recorder, Corrina Keeling. You can see that above.
2. Identify the energy gradient associated with existing dominant patterns and what adjacent possible states to any undesirable pattern present themselves.
The resulting map shows the major areas for change making, specific "acupuncture points" and the "energy gradients associated with the dominant patterns."  Practically what this means is that items marked in yellow were very weak signals and could be candidates for a change initiative that would appear out of left field for the dominant system.  Not a bad thing to do, but it requires a lot of resources and political capital to initiate.  The red items were things that EVERYBODY was talking about, which meant that the space for innovation was quite closed down.  There are a lot of experts, large consulting firms, influential funding pots and politically committed people tackling change at this level because it is perceived to be an influential place to play.  As a result it is generally a zone that is not failure tolerant and so these items are not good candidates for a probe or prototyping approach.
But the orange items were in a kind of Goldilocks zone: there are a few people who know that you can make change here, so you have allies, but the field is not cluttered with competing experts trying to assert their ideological solutions.
The whole map allows you to make choices.
3. Engage in safe-to-fail experiments in parallel either to change the energy gradient or to nudge (or shift) a dominant pattern to a more desirable state ideally through action rather than platitude.
This is of course the best approach to making change within complex systems.  We took time to develop prototypes that were intended to tell us something about the system. A bonus would be that we might might create ideas that would turn into interesting new initiatives, but the primary function of running prototypes is to probe the system to tell us something about what is possible.  Making tentative conclusions from action inspires people to try more, on a path that is a little more blazed.  Just creating platitudes such as "Let's build networks for knowledge transfer" doesn't do enough to help change makers poke around and try things that are likely to work.
Each participant in the group created one or two prototypes which they rolled out, seeking to make a bit of change and learn about what helped or hindered change making in a relatively conservative sector of civil society.
4. Monitor the impact in real time and take multiple small actions to reinforce the good and disrupt the bad.
We kept the group together over a few months, having them check in over webinars to share the progress on their prototypes. We deliberately created a space where things were allowed to fail or radically change and we harvested learning all the way along. Where things were working, prototypes evolved in that direction, and we had a little funding to help accelerate them. By simply starting, participants discovered oblique strategies and in some cases entirely new ways to address their basic desire for changing some element of their environment.  Without engaging in a deliberate yet loosely held action-based project, it is very difficult to see the opportunities that lie in the blind spots.
This learning was summarized in a report, but the bigger harvest was the capacity that each participant built to take steps to sense, design and implement change initiatives with a better informed complexity approach.
5. At all costs avoid any announcement of a change initiative or idealistic outcome based targets
I think this goes without saying. Change making in the complex space is essentially learning on overdrive. When we are truly stuck and yet we have a sense that "this might just work" we need good support to explore that instinct.  Being deliberate about it helps.  But announcing that "this is what we are doing and here are the targets we have to meet" will collapse people's inherent creativity down to narrowing the focus of their work on achieve the pre-determined outcomes.  That is a perfect strategy for destroying the capacity to engage with complexity, and it can result in a myopic approach to change that guarantees "black swan events" and other nasty surprises.