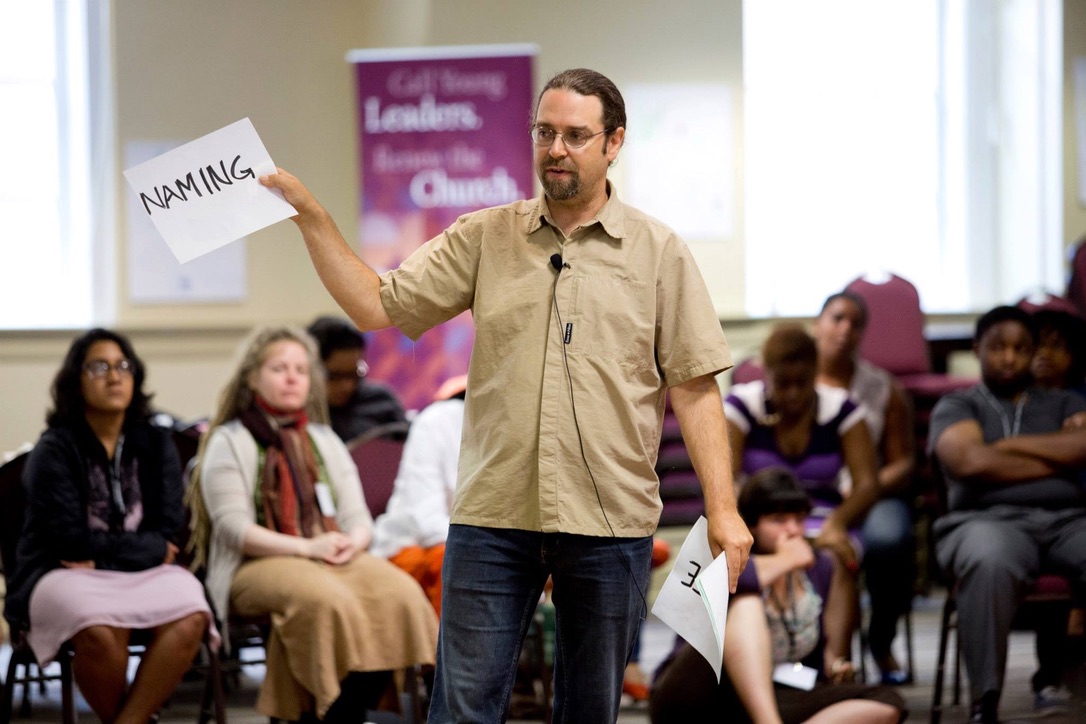 That's me, teaching something about living and dying systems from a decade ago.
Years ago, I worked on a team with a client at a large US Foundation. We were planning a participatory process for a big stream of their work, and they were nervous. Large-scale participatory group methods were new to them, and lots of the leaders were nervous about losing control. That's not uncommon, but the one thing that stuck with me was a line that came from our direct project lead. He said, "I don't mind the highly participatory nature of the work, and I don't worry about the uncertainty. But there is one thing I cannot tolerate. I do not want you to tell me what experience I will have."
This comment has stuck with me for years, and I understand where he is coming from. Since then, I have never told people up front that "this will be a great meeting… you will struggle and then enjoy…my goal is to ensure everyone is comfortable and happy…." And even after nearly three decades of facilitating meetings, this is still the toughest thing to check me on.
One of the things that many facilitators and hosts worry about with complex facilitation practices is the outcomes and the quality of the experience. It is the hardest thing to let go of and probably the last piece of "performative facilitation" that deeply experienced facilitators are able to release. Of course, we all want people to have a good experience in the meetings that we facilitate, and we want to create conditions that are safe enough for work to get done in a good way.
But that desire and drive for a particular emotional outcome can be as damaging to a meeting as a drive toward a particular material outcome. It can leave people feeling manipulated or invalidated. If a person is truly having a terrible time or is seeing something painful that needs to be addressed, trumping them with a pre-conceived mould of their emotional experience can be a devastating way to render them invisible.
The truth, of course, is that this stuff is HARD, and some of the conversations and gatherings that we all do will have anger, irrational behaviour, sadness, stress, anxiety, trauma and grief. The work of a facilitator, especially in complexity, is always to create the conditions for the work and not to do the work. In the words of Viv Read, writing in her excellent chapter on complex facilitation in the book Cynefin: weaving sense-making into the fabric of our world, "the intent of complex facilitation…is to sustain an environment for a group of people that enables a socially constructed shared understanding of complex issues to emerge with sufficient agreement to take action." That means making a thousand little decisions beforehand and during a meeting that ensures that people can struggle together in the service of whatever the work is or needs to become.
So do that. Don't tell people what they will experience. Don't pre-determine their outcomes or their emotional journey on the day. Let go of that control and enable the environment.