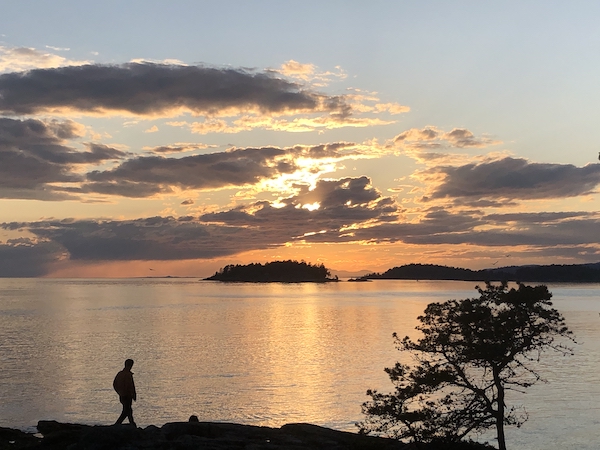 I adore Alicia Juarerro's work. So much so that I just watched a short video and spent the last hour writing about it. Here's what I'm learning
Alicia Juarrero is a philosopher whose thinking about causality, complexity, action, and emergence has been critical to some of the ways in which folks like Dave Snowden have thought about this field. Her book Dynamics in Action is a really important read, packed full of thinking about complex systems and constraints. It's a hard book to get into – indeed advice I have had from others is "start in the middle" (a helpful enabling constraint) – but worth the read.
But if reading philosophy is not your idea of a fun pandemic activity and you'd like a tiny primer into her work, I strongly encourage you to watch this 27-minute video of her presenting on emergence, constraints, and closure. Watch it first and then come back to these notes, for I am going to summarize her ideas and bring them into more common applications. I'll probably end up carving massive holes in her thinking – so feel free to correct my takes here – but here's what got me thinking.
Juarrero presents on three main topics, emergence and constraints, context-free and context-sensitive constraints, and closure.
Emergence
Here are her main points:
Nature uses constraints to generate emergence and sustain it. Constraints both limit and enable.
Evolution selects for resilience, adaptability, and evolvability.
Resilience is sustained by micro-diversity.
Ecosystems are sustained by distributed control rather than governing control. The key is in the links.
The emergence of novel practices – innovation – cannot be caused, but novelty can be enabled. You do this by catalyzing conditions that allow innovation to occur.
Think of constraints as phenomena that change the likelihood of things, and the probabilities of what is going on.
SO the conclusion from this section is pretty straightforward. One cannot simply say to people "INNOVATE!" and expect emergence to happen. In order to create the conditions for novelty, one must change the interaction between the people in the system. You can do that in any number of ways, by changing a constraint. Everyone will be familiar with what happens when you are given a task with a constrained amount of time in which to complete it. The pressure of a deadline sometimes creates the conditions for novel practice. By cutting your available time in half, you will discover that a solution that requires an hour will not work, and you may discover that you can find a way to do the task in 30 minutes.
Folks are. discovering this all the time right now. Being forced to work from home is suddenly creating all kinds of novelty and innovation. Many people are discovering that the commute is simply not worth it. Some are finding that they cannot do their work from home and so must find new jobs or new ways to do what they did before. Being forced to isolate has created the conditions for emergence and innovation, and not all of it is successful. Complexity-informed governments have created temporary universal incomes to enable people to be safe to fail. This is not the time to force people to "stand on their own two feet." If you want people to stay at home, you have to enable them to do that in order to disrupt the pandemic, otherwise, they will have no choice but to head out looking for jobs, thereby increasing the spread of COVID-19.
Context-free and context-specific constraints
This is important and dense stuff, and Juarerro gets this from Lil Gatlin who wrote about it as far back as 1971, but here are the main points:
In a system, the probability that something will happen vs. something else happening is due to constraints.
A system with no constraints is "smooth," in other words there is an equal probability of anything happening.
For example, if I give you a random number sequence like 761893826544528… what do you think the next number will be? In a random system, there is an equal probability that the next number will be between 0-9.
Now If I give you this number sequence: 123456… there is a much higher probability that the next number will be a 7. Why? Because the way to make some things more likely than others is to provide constraints. In this case, the constraint is your bias that the number sequence is not random and you are entrained to expect a 7.
So then what of constraints. Juarerro says:
All systems come with built-in probability: it's more likely to be one thing or another. Probability is determined by two types of constraints: context-free and context-sensitive.
A context free-constraint is like a bias, or an assumption, or a preference.
A context-sensitive constraint is something that is conditional on a state in the context.
For example, you might say "I like walking on the beach" and that is a context-free constraint that might help you get a date. But a context-sensitive constraint like "If it is raining, I hate walking on beaches" is helpful for your date to know so they don't invite you out for a beach walk on a rainy day, thereby ruining the chances of romance.
("But you said you liked to walk on beaches!" is not an endearing thing to say to a waterlogged and miserable partner)
This is useful for innovation because a context-free constraint – like a shared purpose – can help give a sense of direction to work. Developing a new shared purpose will cause some things to be more likely than others. If you decide to stop farming and start building cars, you will be unlikely to be found buying seeds, discussing the weather, or thinking about crop yields. You will be more likely to be focused on supply chains, manufacturing efficiency, engineering, and roads. But in both cases, the higher level context-free constraint is the need to make money.
Context-sensitive constraints begin to give a system coherence. A context-sensitive constraint creates an interdependence or an interrelationship between to parts of a system. Hating rain makes one's mood dependant on rain, and that can govern or enable a whole set of behaviors. If you end up with a friend who loves rain and one that hates rain, the probability of enjoying each other outdoors on a rainy day decreases radically. But it also means that two people may find that they both love being indoors playing board games while it is raining outside. Sustainable long term relationships are dependant on people finding novel ways of being together as their context-specific constraints change. This is called resilience: the ability to maintain coherence while changing.
Juarrero then talks about some useful kinds of constraints:
Linkages and relationships: innovation requires interaction and collaboration and interdependence among what will become the components of a larger system.
Catalysts: things which, given their presence, make other things possible. Catalysts act to break patterns or to create new ones and can sometimes become attractors in their own right.
Feedback, especially positive (reinforcing) feedback between parts in a system which increases the likelihood of emergence.
Rhythm, gait, cadence, sequence, order, and timing – temporal constraints – which are very helpful context-sensitive constraints that make things interconnected and interdependent in time as well as space.
In my work as a facilitator and a consultant that helps people innovate, I catalog these attractors with the ABCEI acronym, standing for Attractors, Boundaries, Connections, Exchanges, and Identities. These constraints can all be found active in systems and sets of problems. When people tell me that they are "stuck" we can usually find some of the constraints at play that are causing that state of affairs. Once we have put our finger on something, it's a good idea to try catalyzing that constraint to see if we can break it or tighten it as need be, to create the conditions in which another course of action is more probable.
For example, today I was coaching someone to use Zoom. She had read the documentation and watched videos, but she had context-specific questions about the application. Clearly she needed more connection with someone who had more experience than she did. So I tightened that connection with her and focused the exchange of information. I started by giving her a tour and I showed her things, but when when I was going too fast she slowed me down, and ask me how she could do those things. Responding to this new constraint on our session – her desire to learn hands-on – I shifted her identity and handed her the power to host our meeting and she took a turn making breakout groups. The whole session took a funny turn when we ended up chasing each other through ten breakout rooms we had created.
By the end of the session, she had enough information to be able to schedule and host a Zoom meeting. She took on the mantle of "Zoom host" an identity that an hour previously, we didn't even know existed.
Learning like this is emergent and one can work with constraints to discover new ways to teach, new ways to learn and play, and new things to do to address old problems. Constraints-led learning is major field of pedagogy and my friend Mark O Sullivan, a football coach with AIK in Stockholm, is one of the leading proponents of this way of learning skills and teaching the complex sport of football.
Closure
The last part of Juarrero's talk is about closure, the essential dynamic that makes emergence possible. She says:
Loops create novelty and innovation. When a loop closes, what emerges is cohesion and cohesiveness.
Autocatalytic, circular causality and closed positive feedback loops generate novelty.
Parts interact and when the loop closes, an emergent whole is created, and when that loops back it influences the parts: cultures, systems, organizations, communities, identities,. These are all cohesive and influence parts that come into the system.
Stuart Kauffman's work on evolutionary biology and autocatalytic systems describes this process beautifully. Essentially the ancestors of all living things are small contained systems of molecules that act on one another. A interacts with B to create C and C interact with A to create B, and suddenly you have a coherent system that "creates itself."
At the cultural level, look at the way that feedback loops and closure create communities online, for better or worse. In highly partisan contexts, "echo-chambers" are simply autocatalyzing social systems, where biases are reinforced, shared purposes are strengthened and new identities are formed and stabilized. This can create such deep attractor wells into which people fall, almost like cults. Family members can no longer relate to them, they become unable to work with people who are different than they are, especially those who are considered "the enemy."
Closure creates identity and landscapes of mountains and valleys that Juarrero talks about toward the end of her talk. A mountain might represent an idea that is unthinkable – having dinner with your racist uncle – and a valley might be a much easier, more preferable, and more possible outcome, such as going to a rally for racial justice with your friends. The way in which constraints have closed and looped and fed back information to you in your life will determine which of these two scenarios is most probable. When you choose dinner with your uncle. everyone will express surprise. They never saw that coming. You must have climbed a mountain to make that possible.
Juarrero ends with a really important point about what happens with context-specific constraints operate in a closed system: you get identities, cultures and mindsets, which themselves become context-free constraints for new things entering the system. If you have ever had the experience of moving to a new place you know this well. On our island where I live we have a "Newcomers Guide" that talks about practical realities of becoming a Bowen Islander. It contains a helpful mix of tangible facts – like where the school is, and how to check the ferry schedule. But it also contains insider information about the emergent characteristics of Bowen Island life that have grown out of our interactions with each other and our environment over many decades. These include things such as "Someone flashing their hazard lights in the rearview mirror is not being a jerk. They are a firefighter on their way to a call" or "Don't ask online for whom an ambulance siren was sounding…" The original guide was written in 2016, and I can already see where things need changing, although the heuristics by which one shod live here, seem robust enough for now.
Like everything associated with complexity these three simple concepts – emergence, constraints, and closure – are easy to see, difficult to unpack, and powerful in practice. Go read and listen to Alica Juarrero though, and be grateful, as I am, that someone as brilliant as her has done the heavy lifting for us.