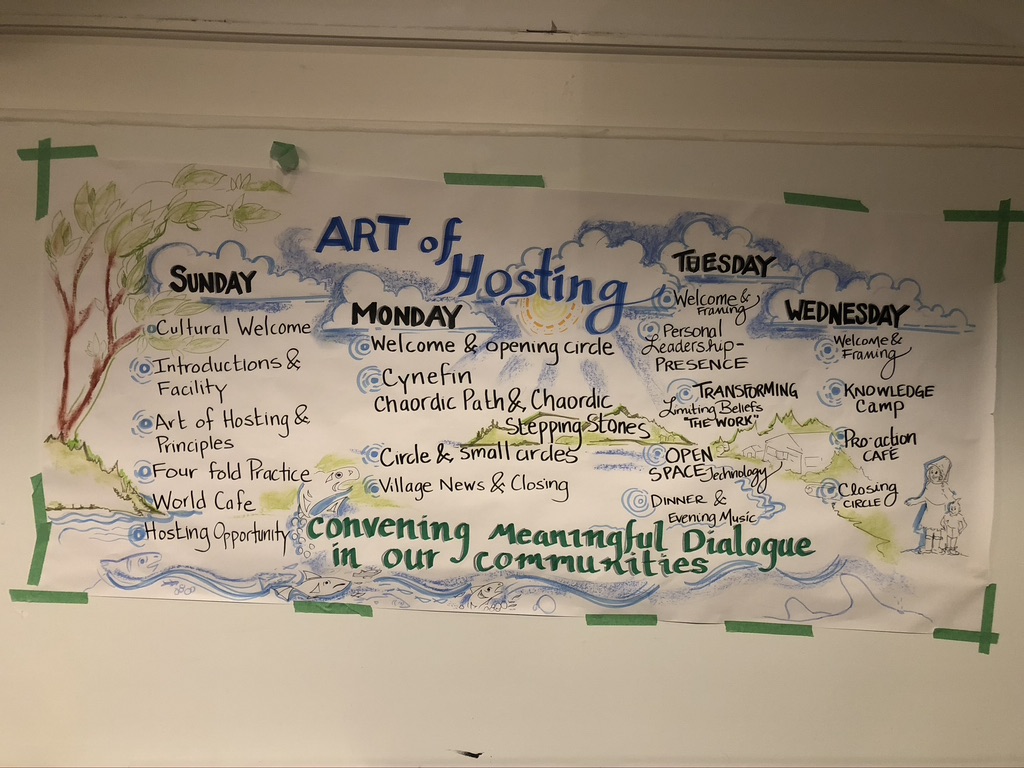 Since 2004, the Art of Hosting has been offered every autumn on Bowen Island, British Columbia, where I live. I was a participant in the first one and since then have been on the hosting team every year. We love hosting people here, as the island itself is such an incredible place to be and to sink into relationship with one another as we learn and explore participatory leadership and facilitation. What I especially love about this offering is the people that we work withe on our teams and the questions we get to be in together.
In the past all of our retreats have been residential, and as we ease out of COVID restrictions we have decided that we want to offer an Art of Hosting in this region, but we're not yet ready to make it residential. And so we are proud to announce that from September 26-28, 2022 to be held in Vancouver. You can register here.
Our team this year will consist of me, Caitlin Frost, Kelly Foxcroft-Poirier and Kris Archie. All four of us have stewarded the Art of Hosting in this region for many years working with Indigenous communities, non-profits, governments, philanthropy, and businesses in a huge variety of settings. We bring a deep set of experiences with the Art of Hosting,using the four fold practice in incredibly diverse contexts, working with participatory methods and leadership development with equity and decolonization lenses and putting the tools and practices to use in contexts ranging from personal work to system change around social services, mainstream philanthropy, and governance.
These three partners are some of my closest collaborators in this work and I think it is fair to say that we are all mutually inspired by each other. I am excited to see the growing list of people coming to join us for this event. The learning and creativity in the room will be amazing.
We would love to have you join us. Click the link to learn more about the program and please come and join us in Vancouver in the fall.