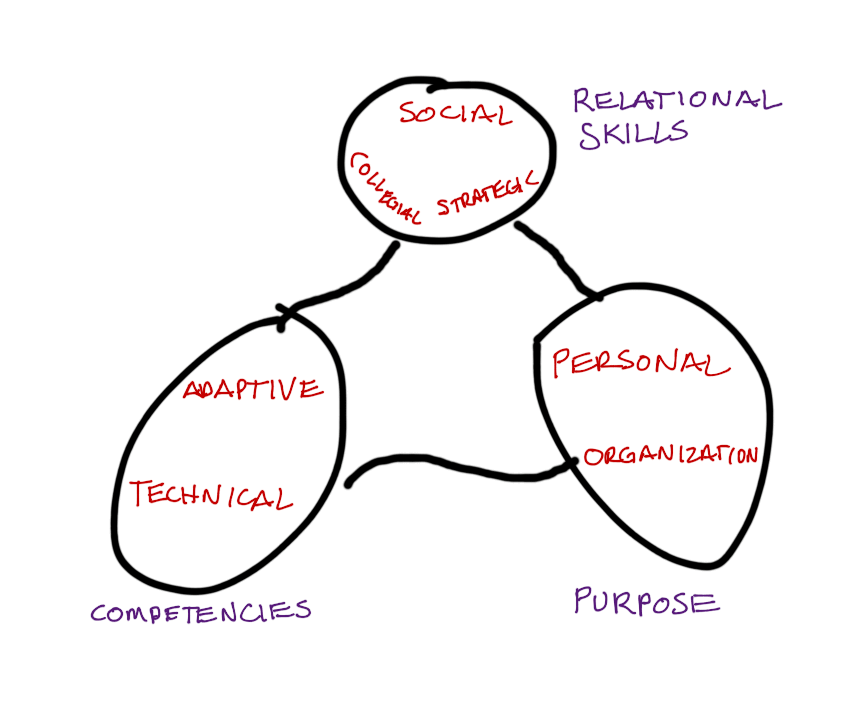 in this video, Organizational practices applied  by Tim Merry he talks about an organization that adopts basic practices to restore humanity to its structures.  Predicated on the idea that the quality of results are directly dependant on the quality of relationship in the organization, he describes using circle practice as a simply way to activate relational capacities in a team.
The link between relationship and results is well established. It is the basis of relational theory and is a core assumption underlying a whole world of organizational development thinking and practice, including the Art of Hosting.
Good relationships are fundamental but not completely exclusive to getting great results.  It is also important that people in the organization are skilled for the work they are doing and that there is a clarity about what we are trying to achieve.  Skills include the technical skills needed to do the job as well as adaptive skills needed to be able to respond to changing conditions.  Clarity includes personal and collective clarity of purpose.
i find that many organizations excel in a technical skills focus and spend a lot of time on clarifying organizational purpose through strategic plans and the operational plans that are meant to connect everyone in an organization to the central purpose.
And what passes for good management is this technical axis of organizational life.  It is privileged by using terms like "hard skills" and when push comes to shove the "softer side" of organizational life is often sacrificed in favour of strict accountability to the plan.
Restoring relational skills is often the first step to stabilizing a team that has lost its way.  I have worked with highly skilled team – for example in university professional faculties – where there is no shortage of extremely talented individuals and an audacious but achievable drive to be the best of their kind in their market.  But very often highly skilled and committed people get into tough disputes with one another as egos clash and personal purposes become more important tha organizational ones.  Over time toxic environments can appear that, when combined with the unskillful use of power and authority, can create pain and trauma in organizations.  Almost everyone I know has a story of this.  It is absolutely rife in organizational life as we seek to balance self-fulfillment with collective strategic direction.
What Tim points to, and what we cover in the Art of Hosting, including in our offering on Beyond the Basics, is that a restorative approach to human relationships can steady the ship.  This means taking time away from strictly strategic objectives in order to attend to relationships.  And it is not simply a thing that happens in offsite meetings to deal with organizational conflict.  It is about instituting practices – such as week-starting and week-ending circles – to discuss strategic objectives, and to do so in a way that honours and deals with the struggles that naturally occur as we try to do things we've never done before.
A weekly practice of PeerSpirit Circle for example becomes a strategic leverage point for better organizational life and more humane working environments.  It doesn't replace technical skills or organizational goals, but it ties those things to personal aspirations and provides a rich ground for creativity, adaptability, cohesion and sustainability