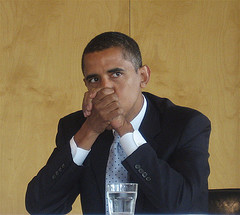 Photo by jurvetson
Being a Canadian means watching US politics like most people watch major sporting events. You admire the players, ooo and ahh at the spectacular moves they make, but ultimately you know you will never have a chance to play. It's all entertainment.
Except that it isn't. The President of the United States is often styled as the "leader of the free world" which is true in some ways, although the leader the rest of us in the "free world" might choose for ourselves is very often not the ones Americans choose for us. So, in case any of my many American friends and colleagues are curious about the opinions of those of us who have to live with whoever you elect, here is my most concise redux on Barak Obama.
Obama matters because he is inviting us to see the world differently. He is bucking the trend of western society by offering hope instead of hate, by challenging us to be better rather than to be afraid, but encouraging responsibility rather than dependancy. And if we needed any further evidence of that, along comes his masterful speech of yesterday in which he addressed the real life racism and divisiveness that plagues American society and rests just beneath the surface.
The world right now is about segmenting everything – market share, demographics, political polarities. In the corporate world, we are subjected to team building exercises that using various typologies to label what kind of thing everybody else is. We are not seeing each other clearly. Prejudice, be it economic, racial, demographic or whatever, fuels everything. Companies and campaigns reach out to different groups in different ways to get them to buy into the same thing, leaving people divided, bitter and suspicious about the "other" even as we all end up drinking Coke.
If Obama is doing anything – inviting anything – he is inviting us to rise above the ways in which we have been segmented, and the ways in which we segment ourselves and find partners, collaborators, creative sources of tension and cohesion by USING the diversity that exists everywhere. Diversity and multiculturalism in the America I know currently holds that country back. It is exploited for gain, whether political, social or economic. Obama is calling for it instead to take the country forward, and as a citizen of America's closest neighbour, I applaud that call and hope it resonates in November.
I think Obama is raising the stakes with the magnificent speech. If his campaign dies because his message is destroyed by the very things he is calling out, it will represent a Pyrrhic victory for the the winner, be it Clinton or McCain. Whoever defeats that message of hope and cohesion will have inherited a country which glimpsed the light of possibility and lowered the shades against it.
So I invite my American friends to think about the kind of leadership that is being offered in this moment and imagine what it will mean not only for your country but for the rest of the world as well. If I was voting, I'd throw it to Obama. To the extent that any of these three candidates can, he has the best chance to really help things shift. That shift, as I see it, can only be a good thing for America and the rest of the world.