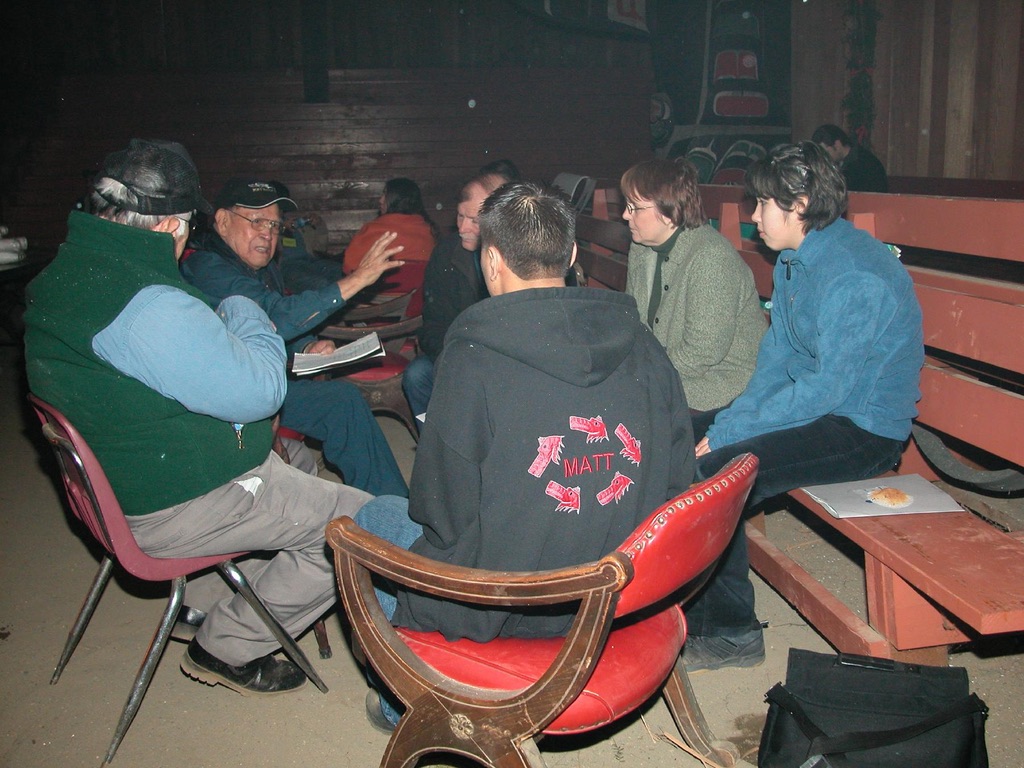 Nuu-Chah-Nulth and Kwakw'kwa'kwa'kw Elders and youth teaching together in the Kwagiulth big house at Fort Rupert in 2005.
Once a month, in our little United Church here on Nexwlelexwm (Bowen Island) I fill in for our not-quite-full-time minister by leading the service and offering a sermon. I've never published those sermons here, but why not? Here is today's.
Reading: Matthew 4:12-25
We are well into the season of Epiphany and so this is the time of year that we contemplate Jesus' ministry in the world and his early life. We get to witness a Jesus who is called from his work as a carpenter and who becomes an important and radical spiritual leader in his time. For the first 28 or 30 years of his life, things are somewhat uneventful, and although he shows some talent for interpreting scripture as a precocious child , he isn't doing much else of note.
To set the stage, Matthew, whose terse words we will be studying this year, offers this text from chapter 4, which is the first time he writes about Jesus as a spiritual leader. The first few chapters of his book concern Jesus' birth, the visit of the magi and the story of John the Baptist. With chapter 4 we get two important stories. The first, which we will hear in the first week of Lent, is the story of Jesus retiring to the wilderness of a 40 day retreat in which he meets the devil and wrestles with temptation. It is a story of a spiritual coming of age that echoes that of other great spiritual leaders, including Buddha, who sits under the bodhi tree struggling with his mind in the form of the temptress Mara as he approaches the great insights and liberation of Nirvana. Somewhere in this story of baptism, retreat and now calling, Jesus has gone through a similar transformation. He is not longer a carpenter.
Now these events are often told in a breezy narrative of what Jesus is up to, but as I read and meditated on the readings this week I was struck by how the simple structure of the story that Mark just read mirrors four deeper callings that I think are part of our work as Christians.
A calling is just something that one cannot ignore. It is a movement of Spirit that reaches deep inside and changes a person. It hits you like, well, like an Epiphany, which is to say that a calling is a manifestation of Spirit inside of oneself that changes behaviour. It can draw us towards a life mission, and an identity. It has the power to surprise, to give insight, to change one's ways, and to ultimately align one' purpose in life with the needs of the world.
What I also love about the way that this little story is told is that it also provides some simple guidance for ourselves, to act in tune with Spirit.
The first calling is to withdrawal and contemplation and alignment with the light of God that shines through the soul of a person and turns their heart and mind and hands to acts of justice and compassion, the words of the prophet Isaiah.  This comes on the heels of news that John the Baptist has been arrested, and will soon be killed. John is very much the pre-cursor of Jesus and this news provides the gravitas for Jesus's choice. He knows that choosing to reveal himself will result in his death. His choice to act has a consequence from which he cannot escape and so he withdraws to rest and wait before responding to the call.  Like the morning sky waiting for the sun to rise, Jesus withdraws to cultivate his light. It does not good to burn too brightly right out of the gate.
Discernment is a critical part of responding to a calling. A calling changes lives. Even on the micro-scale if we realize that we are about to confront a major decision in our lives, even burdened by urgency and overwhelming need, the first act should be to withdraw and consider the consequences.  It's not second thoughts so much as it is deeper thoughts.
The second calling is revealed in the simple statement 'Repent, for the kingdom of heaven has come near.'  With these modest words, Jesus' entire message of spiritual liberation is embodied and in saying it he has become a spiritual teacher.  As we've learned before the word "repent" is the English translation for the Greek word "metanoia" and it is a terrible translation.  "Repent" means to feel guilt, remorse and shame for something and it's as far as you can get fro Jesus' message of compassion and forgiveness.  "Metanoia" means to change one's life, literally to turn around. Jesus offers this as an instruction: if you have done something wrong, go back to that point and take a different tack, apologize, heal yourself, and you will find forgiveness because the "kindom" of heaven wants you to belong, wants you to be in relationship and wants you to be connected and whole. Like the Buddha, Jesus knows that life is hard and that we all walk around with shame and guilt and regret. He is not interested in doubling down on that, pressing on teh bruise and making you feel like shit. He is about liberation, and he is about giving you a simple pathway to addressing the burdens you are carrying. Simple in concept, tricky to execute. But to be left riddled with shame and guilt is literally NOT what Jesus said.  So, "Change your life: stopping harming yourself and others and the forgiveness and love you seek – which is always there – will fill you with joy and healing." That's a better translation of the phrase.
The third calling is to community and movement-building, gathering the disciples around him in a core team to activate the mission of love and justice. The phrase "become fishers of people" is a reference to the sayings of multiple prophets who point to the rich and unjust people in the world who rule with cruelty.  Jesus' mission is to rally a group of people together to transform the society they are all living in. To practice radical love and forgiveness, to gather people together, to heal and feed, to support and care for one another. Once he is committed to this call, Jesus's mission becomes gathering many people into a movement to make change.
Justice is not the work of a single person. We have just passed the annual commemoration of Martin Luther King Jr. Day and when I think about him, and Indigenous rights leaders here in Canada like Delbert Guerin and Simon Baker and Marge White and Khelsilem and George Manuel and Gisda'wa and Wedlidi Speck, I can see that the project of becoming a prophet, literally a social justice warrior, is not work to do alone, nor is it work that one can do part time. Jesus asks his disciples to leave their professions and engage in the work of world transformation alongside him.
A life's calling has that effect on a person. Suddenly you know what you are made for and whatever you were doing before falls by the wayside as you fully commit yourself to the work of Spirit.
And finally we come to the fourth calling: the work of healing people and the world. It is not just enough to advocate for a more just world. The world cries out for healing and reparations and repair and reconciliation.  We have damaged social relations, our connection to the planet and to our selves. In order to make change in the world, we need to heal and restore. You can see that no matter how you have healed – cooled your anger, broken your addictions, restored an ecosystem formerly devoid of whales, life floods back in. Joy and Spirit and wellness fills you. The "Kindom of God" surrounds you. Being healed is the name we give the way from guilt and disconnection to wholeness and life.
And so the readings give us a map of our calling, a checklist of things to do if we are to follow in the footsteps of Jesus as his followers. May we have ears to hear how our callings can contribute to a just and kind world.