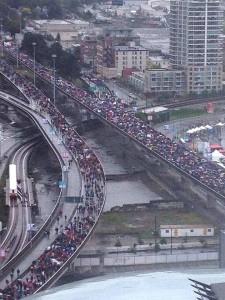 Here we are On September 22 in Vancouver.  Tens of thousands of people walking in the rain across the Georgia Street viaduct, down one side and up the other.
My family and I stood in the rain very near the front of the walk that morning listening speakers talk about what we doing there.  Chief Robert Joseph, who we all call "Bobby Joe" had a dream and here we were living it.  As a longtime voice of the victims of residential schools and then a champion of reconciliation, Bobby Joe had glimpsed a possibility: that if enough Canadians could come together in one place and have an experience of reconciliation through encountering one another and then being together, then something might start.
He formed an organization called Reconciliation Canada to do just that.  He hired good people (many of them friends of mine) to train British Columbians in running circles around the province so that Indigenous and settler could encounter one another's stories.  And he dreamed of a walk together at the conclusion of a week of hearings by the Truth and Reconciliation Commission in Vancouver.
And so on a wet Sunday morning, I took my family and we went downtown and we stood near an empty stage in the pouring rain and became part of Bobby Joe's dream.  And we stood there for two hours, listening to speeches from friends and colleagues like Chief Ian Campbell and Judge Murray Sinclair and Karen Joseph, Bobby's daughter.  And all the while the crowd swelled behind us and we had no idea how many people had come out in the downpour to be a part of this event until Shelagh Rogers made the declaration that there were 70,000 people and that they stretched up Georgia Street as far as we could see.  That was astonishing.  I held that number in my mind even as I listened to Dr. Bernice King, the daughter of Dr. Martin Luther King Jr. say her piece.  It was impressive but not yet powerful.
And then Wa sang.
Wa is a 'Namgis friend I met at a gathering last November.  I'm surprised I've never met him before, but we clicked deeply, as Wa does with many people.  He is an affable, funny and important man.  Important because he is a song catcher – he knows probably thousands of songs from his own community and others around him in the Kwakwa̱ka̱'wakw territories of northern Vancouver Island and the Central Coast.  He knows songs from all the neighbouring nations too, whether Coast Salish, Nuu-Cha-Nulth, Haida, Haisla or Nuxalk.  And he helps people, especially youth, catch snippets of melody that float through the coastal air like orographic clouds, hanging in atmosphere ready to be turned into nourishing rain.
Wa sang.  He sang something simple and powerful.  A monosyllabic single line repeated several times.  he sang it from a place of deepest resonance.  If we had been in a big house, he would have shook the poles.  He shook mine – cracked me wide open.
After Wa sang the walk began.  A screen was raised and lowered several times, a thin threshold that separated the 70,000 from a small group of people who were adorned in regalia.  Someone was blowing eagle down back at us.  Drums and cheering were heard everytime the screen came down to reveal this crowd.  And in time we began to walk down Georgia Street and onto the viaduct.
Now the physical location of this walk was important.  Georgia Street leads on to an elevated roadway which at one time in Vancouver's history was going to be a freeway connection from the centre of the city out to the Trans Canada Highway near the Burnaby border.  Georgia and Dunsmuir Streets were both led on to elevated expressways but before they could get to Chinatown the project was stopped.  Completing the work would have destroyed neighbourhoods and communities, especially the historic urban Chinese Italian and native communities of the downtown eastside.  It was, as many projects like it are, undertaken with a sense of contempt for the communities below.  But it was stopped and there is a story about that and the story is one of repect – literally "looking again" at something and seeing something far more important to protect in the face of "progress."  Ironically, Dunsmuir Street was named for James Dunsmuir, a former premier and industrialist who was an advocate for raising the poll tax on Asians even as he imported them by the hundreds to work on his railways and coal mines.  Georgia Street was named for King George III who issued the Royal Proclamation of 1763 – 250 years ago today – that is the basis for all treaty and reconciliation law in Canada.  It should be renamed the Reconciliation Parkway.
That was the road we walked out on.  There we all were, some three stories above the ground heading out of downtown.  It was beautiful, but lonely and confining.  From the middle of the crowd I had no sense of how big we were or where we were all going, and so I walked inside myself, reflecting on the act of reconciliation.  It felt like the energy had been drawn out, lost and quieted.
And then something astonishing happened.  The march doubled back on itself.  At the end of the expressway, the crowd walked down off off Georgia Street and did a 180 degres turn onto the Dunsmuir Street ramp.  As they doubled back I could hear them coming and then we met – 50 meters apart, three stories into the air, we met the waves of walkers, led by the survivors in their regalia.  We couldn't reach them but only watch and call out as we passed one another in the air.  But here we were, finally walking together in a way that encountered each other.  Like the two-row wampum belt, separate paths, but seen and visible.  Honoured and held up.  Survivors waving at us like you do when two boats pass.  Songs filling the space between us, cheers and greetings rising up out of the crowd.  The traditional coastal gesture of raising one's hands in respect and acknowledgement became a profound way for me to greet people.  I raised my hands to every survivor I made eye contact and I received in return smiles, and waves and raised hands back.  It was irresistible, and in the photo above you can see the people on the Dunsmuir side all pressed to the edge, greeting the bulk of the walkers coming the other way.
Somehow unwittingly, this march had created a physical container for reconciliation.  We could see each other, greet each other, connect with each other even as we were separated, elevated and moving.
Reconciliation is not a single act at a single point in time.  It is living this dynamic swirl of relationships like this always.
Once we came off the bridge the march wound through Chinatown and at one point stopped in front of Tinseltown, a downtown mall.  A group of about ten women were drumming and singing a well known women's warrior song, and we stopped to join them.  That song usually gets sung six times through, but as more and more people joined we sang it over and over and over.  Dozens of people arrived, learned the song and sang it at the tops of their lungs, bouncing off the glass facade of the mall and the brick facades of the east side buildings.  It was utter joy, as it is to sing a warrior's song at the top of your lungs with survivors.  An unleashing of the emotional energy of the day.  A marker.