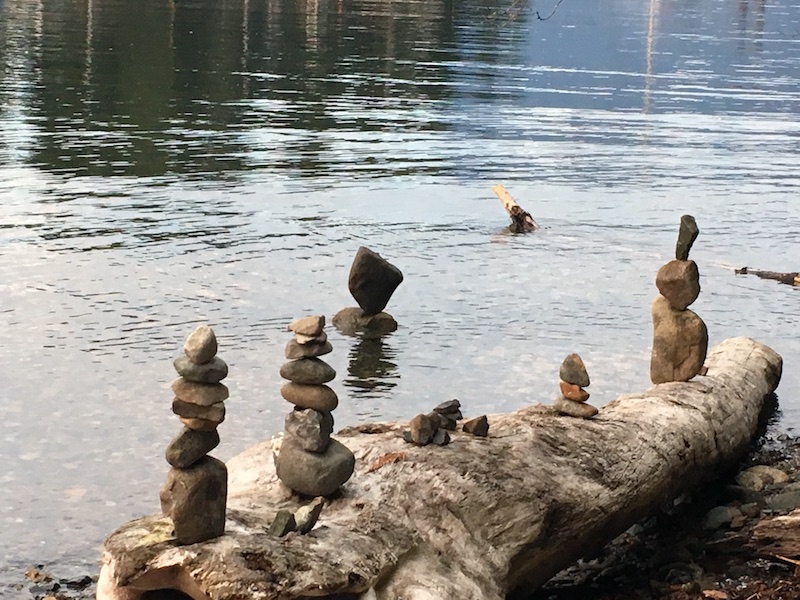 Another two friends died yesterday. They were well known men in our community and both part of the hosting world on our little Bowen Island, integral to providing experiences for visitors that allow us to provide well hosted learning experiences for people here. They didn't always do it loudly, but they left legacies that are so important to what we are able to do here.
It has been a really strange few months with 9 deaths of people I know to various degrees; from close friends to intimate strangers. Two from suicide, one from a heart attack, the rest from cancer. Several "before their time."  It's numbing. There are moments I've lost count of who has died since July.
I have been thinking lately – especially reflecting on the suicides – that perhaps my job might be to pick up the unclaimed portion of joy that my friends left in the world. It is a crazy world. There is suffering all around us and I understand the idea that "remaining normal in an insane world is insane."  Yet I feel strongly how life moves in me and through my friendships, and communities. I feel immense gratitude for fleeting moments and I realize that I am at times a fierce practitioner of play. Whether I'm playing soccer with my son in our local recreational league, playing music with my daughter and friends, creating workshops, supporting my local soccer teams by singing with hundreds in support of our players – I feel the intense surge of life that comes with the portion of joy that is left to me to claim.
These days I sing for Kay and Dan, the two Shannons, Kieran and Chris, Matthew and the three others (wow, I just remembered one more.)  I sing and play for me, find sensemaking in a crazy world in the presence of connections with friends and strangers over the long cadence of lives intertwined or the fleeting moment of random encounters on the buses, sidewalks and trails.
Bernie de Koeven, a master practitioner of play, who himself is dying publically, shared this quote from a comment on his blog followed by his own reflection:
"Speaking of the very end, I recently read a modern classic, Ernest Becker's The Denial of Death. It explains culture (which I think includes play) as an outcome of this denial. In a sense then, we should not "be calm and carry on" to the very end, but arbitrarily, playfully, insistently dedicate ourselves to the never-ending. I think this is what many people mean by "love" and maybe what Bernie means by play."

So we have on one side love and play; and on the other, the dead and dying; the somber and despairing. We mustn't let ourselves get confused by any of these. Love and life, after all, are manifestations of each other. Love is the invitation to life. As is play. It's all a matter of perspective, don't you know. From this side, it's all so obvious: love, play, life. Fear. Dread. Death.

You stand here. The rest there.

Feel the embrace.
So that's where I am these days. I know the world is crazy right now. I know it's hard to find the good in the news but you won't find it there because the news asks you to be only a passive consumer of the world's pain and joy. What we need to do is rise from our seats and participate in the world as fully as possible. Life is the ultimate infinite game. The joy we seek is located in the little interactions and small kindnesses initiated or received; in play.
My wish for all of us is that we can claim the portion of unclaimed joy that others have left for us, and especially those who rode who claimed more than their share of suffering and rode it to their their end. I know clearly what they want for us, those they loved and whom they left behind. It is to continue living.
I'm here, playing, hunting joy, embracing it when it comes. Not always finding it, but cultivating the eye that sees it in the small and subtle currents of living. And you're there too, doing your thing, but now reading this and playing along, at least in this moment.