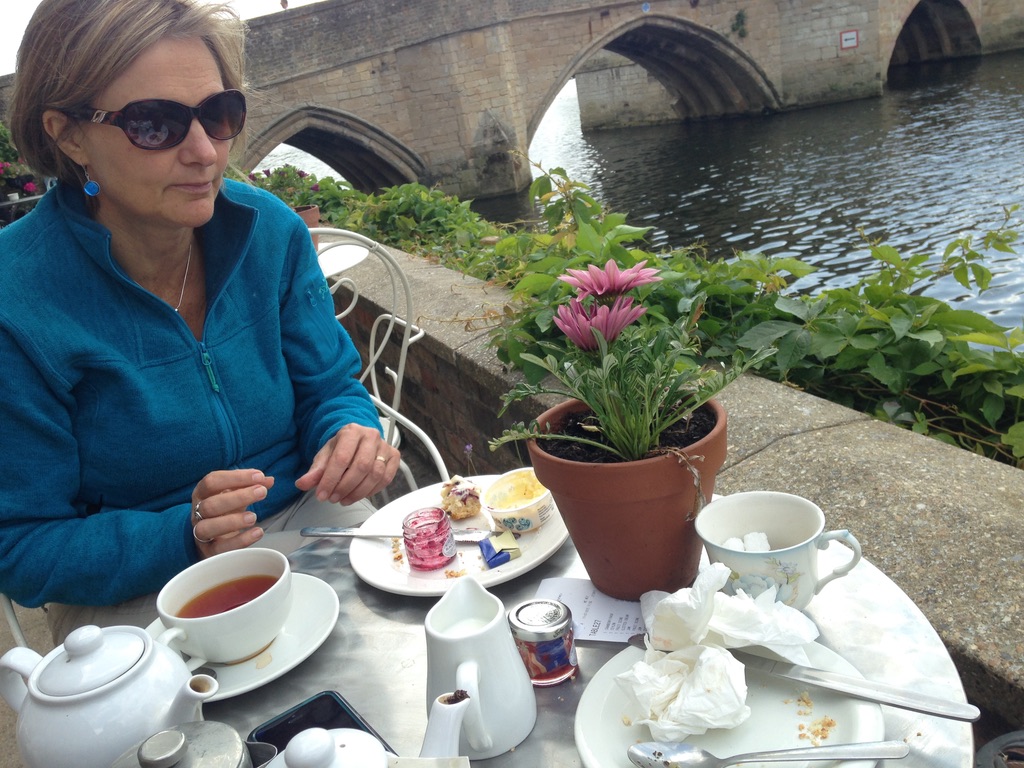 It is apparently International Tea Day, and my friend Ciaran Camman sent along this beautiful twitter thread describing tea culture across the Muslim world. It put me in mind of some memorable cups of tea I have had in my time:
I fell in love with Turkish tea culture sipping tea from tulip glasses in Istanbul, during summer downpours in Taksim, by the side of the Bosphoros, or in the quiet back alleys of the old town as the calls to prayer echoed through the streets. Or on a gullet in the quiet waters off Demera, or in the mountains of Selçuk.
A impromptu stop in for a gorgeous cup of tea and a perfect scone with my beloved beside the Ouse in St. Ives in the UK on a summer day, pictured above.
Developing a deep love of the cornflower flavoured black tea that we used to buy from The Tea Merchant on the Byward market in Ottawa.
Endless cups of Dilmah tea with my lovely mother-in-law. She introduced me to Dilmah, and I've never gone back. A lovely Ceylon tea, from a great company.
Drinking dark thick, bitter tea from a huge pot boiled for hours on a woodstove in a hunting cabin on the tundra of Nunavik as a group of Inuit polar bear hunters sat in circle and discussed their futures over caribou stew and bowhead muktuk.
Making an impromptu tea ceremony with So Yoshida and friends in a small tea house in a little park near the Tokyo harbour.
Watching used Irish Breakfast tea bags pile up in a little plate in the kitchen of a cottage I shared with Chris Chapman and Anthony McCann by the shores of Galway Bay in Ballyvaughn, Co. Clare as a kind of metric of the conversations and stories we were telling.
Sharing a pot of tea with Simon and Julia Lucas back in 1989 when a group of us Native Studies students travelled to Hesquiaht in Clayoquot Sound with Sennan Charleson to spend a week immersed in the community. It was my first trip ever to BC, the first time I ever got to meet Simon and Julia and it was a memorable afternoon, listening to stories of the community, the culture, the language and the plans for the future.
Drinking rooibos outside our meeting space while watching giraffes carefully pick their way around small dialogue groups during an Art of Hosting at the Heia Safari in South Africa.
Grateful for these experiences and connections.