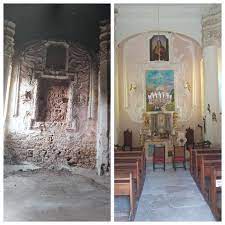 The chapel at the Statenberg Manor, when we finished cleaning it out in 2013, and after it has been restored.
The global Art of Hosting community is an eclectic group of people from all over the world who share an inquiry about how to bring more participatory processes to a massive variety of challenges they face with their communities and organizations. There is no formal organization, but the community is a network loosely connected through a website, animated through Zoom calls, an active Facebook group and face-to-face gatherings of practitioners who occasionally meet to forge connections and share practices. One such important gathering happens next week.
As an approach to dialogue and leadership, the Art of Hosting itself is very simple: it is a framework that connects the practices of self-hosting and presence, hosting others, fostering participation, and enabling co-creation. This simple framework has formed the basis of an inquiry and practice that has evolved over the past 25 years or so in many places all over the world. To hold together the essence of this approach, a group of experienced practitioners evolved to steward the Art of Hosting and ensure that there was some consistency in how we talk about the practice and how we connect practitioners so that the global community can thrive, share learnings and be a resource to each other. SInce about 2008 I have been one of those stewards, responding to an invitation from my friend Toke Møller to do so after a stewards gathering in Nova Scotia.
As my friends and colleagues begin to gather in Slovenia for a larger global gathering next week, I took a few minutes to write about some key lessons I have taken from my work as a steward of this practice over the past couple of decades. This letter reflects on lessons from a similar gathering ten years ago at the Statenberg Manor, where the present gathering will be held, and I share it here for posterity.
Hello, colleagues, friends and fellow practitioners.
I want to send my greetings from the traditional territory of the Squamish people off the west coast of Canada from the island of Nexwlelexw, also known as Bowen Island, nestled in the waters of Howe Sound. Since 2004 we have hosted dozens of Art of Hosting gatherings on our Island or in the nearby City of Vancouver, or, during the pandemic, online. We have built a deep community of practice in this part of the world and the Art of Hosting has found its way into many aspects of civil society, local government, Indigenous Nations, and community. we have a number of local stewards in this region who offer training and use these practices for good in the world.
I was at Statenberg in 2013 and I fondly remember visiting with friends, connecting with other practitioners and learning a little bit about how the Art of Hosting community was spreading its wings across the world. I co-hosted a smaller steward's gathering in 2010 here on our Island, where we engaged with the same kinds of questions about stewardship, leadership and essence under the watchful gaze of a thousand-year-old Douglas fir tree and with the visit of a bear who reminded us of the powerful effect that a well-hosted conversation can have in a world full of uncertainty.
I reflected on the biggest lesson I took away ten years ago at the gathering of 2013. When we arrived on the site we saw that the chapel had close to a meter of dust and dirt and rubble covering the stone floor. it seems that for more than 250 years nobody had bothered to sweep it out, and our children, who got very bored at the important conversations their parents were having, began a competition to see who could remove the most wheelbarrows full of debris from that Chapel. Over the course of the week, they set up a scoreboard on a flip chart at the entrance to the chapel and every time somebody shovelled out another wheelbarrow of debris they put a point next to their name. I don't remember the actual scores but I do remember that hundreds of wheelbarrows of debris got moved from the chapel and dumped elsewhere on the grounds. The chapel was so clean by the end of the week that the priest came up from Makole with a number of villagers and reconsecrated the chapel. In this space of five or six days, many small human beings and a few big ones came together to reclaim and restore a sacred space and leave a legacy in place as a gift of return to the community that had hosted us.
I will always remember that particular act as the defining moment of stewardship. leave what you have found better than when you found it and return it to those who gifted it to you in the first place, your descendants and those who are yet to come. when you visit the chapel in that space make sure that Franc tells you the story and the photos of what it looked like before, and reflect on your role as a steward of a practice that supports life-giving spaces and conversations to make our world a better place.
When people ask me what it is I'm stewarding within the Art of Hosting community, it's very simple. it's that I hold the memory that a global community of us discovered value in a framework that connects presence, participation, hosting and co-creation. we all have many different ways of doing that but the idea that these four approaches to life and facilitation and learning and leadership are connected and interdependent is the essence that forms the basis of the art we practice. it's that simple ground upon which we meet and it's that simple ground that provides us a context for conversations that will enliven you and challenge you, cause you to find new mates and reignite the love and friendship you share with old ones.
There are two key lessons I have taken from this practice over the past 20 years of stewardship. The first is a quote from my friend Thomas Arthur, who spoke these words at the beginning of a Shambhala Institute faculty retreat years ago. Speaking as an artist, he channelled the urgency of the times and said: "If you have a gift, give it now." This is not the time for any of us to hoard or hold on to things that can benefit all of us so give your gifts with energy and unconditional love.
The second lesson I've learned Is one that served me well in my life at every stage of my work. and that is "Support is Life." None of us exist without the support of others and we must do everything we can to support the people building the world we want to see.
So in closing, I wish you to have a beautiful gathering in that incredibly powerful place. I hope you will learn, I hope you will make deep, lasting friendships, I hope you will be challenged, and I hope you leave there with a strong sense of what your gifts are to give away and how you can support others to host a better world into being.
Thank you for gathering and being a part of this community of practice and practitioners. Have a great time.