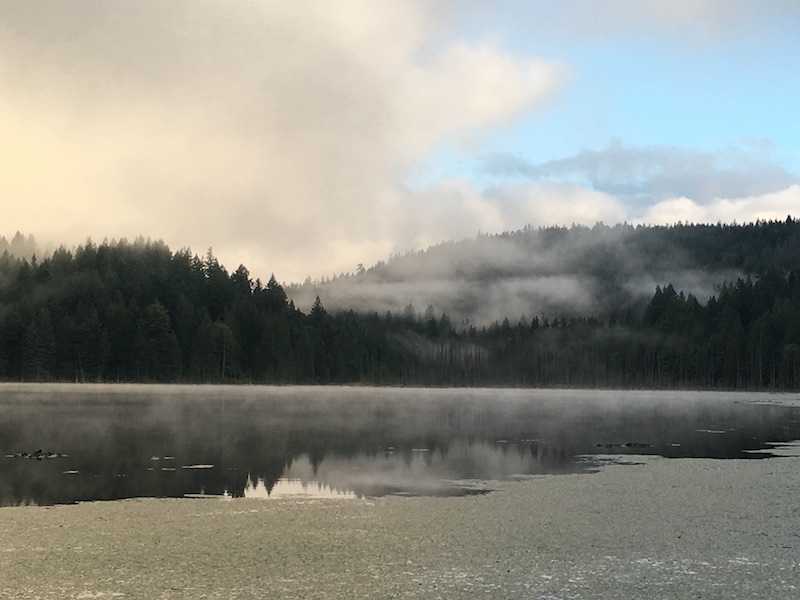 Isn't that beautiful image? Here on the west coast of Canada the Douglas-firs and cedars and hemlocks that cover the mountains and islands rake the sky for moisture. As the rains return in the fall, the trees help the forest drink. Rain showers pass through and for hours afterwards, the trees drip water onto the forest floor, feeding all the understory and the mushrooms that keep them alive.
That image was one given to me by Chris Weaver, a fellow Open Space Technology facilitator and a poet and a friend who spent years on this coast, south of me, in Washington State.  I say friend, in a particularly 21st century way. We never met in person, but the beauty of his words, our shared professional growth and our email exchanges from 1998 to 2006 were rich and playful and full of depth. He brought out a part of myself that I loved.
Chris died the other day, the second of my friends this summer to succumb to suicide from depression.
He is being remembered by friends and colleagues the world over, because his death was untimely and his life was one that touched many people very deeply, even if we were not always at his side.
When my father in law died in 2004, he consoled me this way:
my whole heart descends with you to that place of grieving, all interlaced with

the joy of life well-lived – the test so finely and passionately played in

sun and rain and mud.
He was referring to Test cricket in that blessing, a sport about which he knew nothing but he enjoyed witnessing the banter between me and Alan Stewart about the Australia-India test series of 2004.  He could take something like that and, yes, weave it into a consolation.
it's funny, i have two pieces of music that are back-to-back on a cd called "the gentle side of john coltrane," and for some reason when i listen to them, i often think, those two songs are all i need for my memorial. they are about feeling it all, and releasing it all into joy. track 11 is "in a sentimental mood," duke ellington's tune, a rare time when coltrane and ellington recorded together. track 12 is called "dear lord," with mccoy tyner back on the keys, & if my life has a theme song, that's it.
since you're taking notes for the event ash, they're both slow-dances
Well, the time has come for us to remember Chris, and so, here are those two pieces of music.
In that post I shared a vision for my own memorial in which I said that I'd love an Open Space with everyone who knew me to be gathered together to talk about good work they could do in the world. To that idea Chris Weaver simply replied:
"i'll be there, chris (even if my own memorial comes first!)"
Chris' words are spanning the globe right now as his colleagues and friends remember him. Cherish these drops of rain. Long after the storm has passed, they continue to slake our thirst.
Godspeed friend. See you at my memorial.