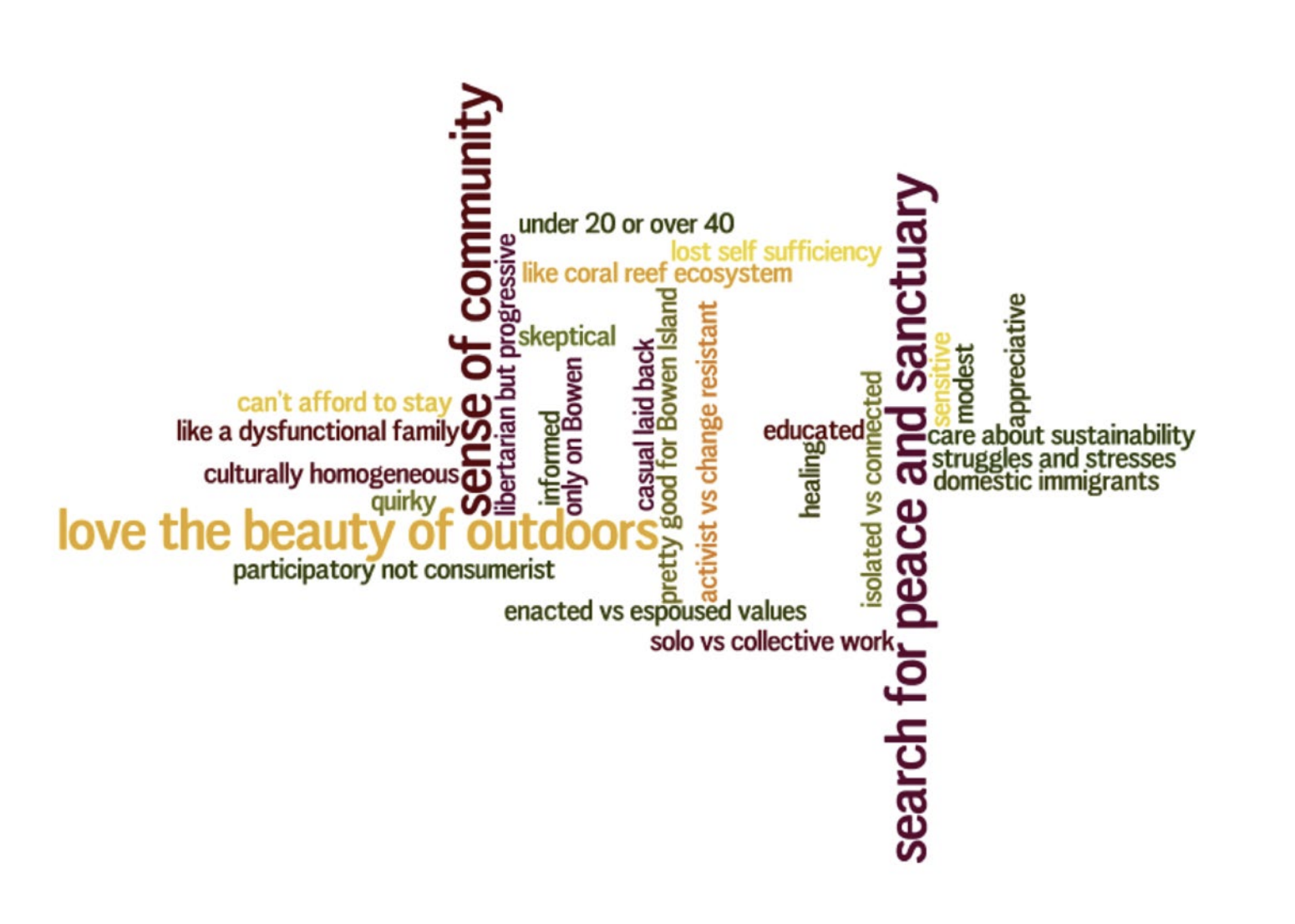 Image: a word cloud capturing Bowen Island culture from the 2017 Cultural Master Plan
About 15 years ago I met Lyman Orton, who is a small town entrepreneur who created a very successful mail order business from his family's General Store in a small town in Vermont. He tells the story of how he got involved in town planning and ended up creating a community plan that was top-down, based on a template and not engaged with the community. When a developer with an idea for a carnival park and zoo came along, the community got quickly divided and Lyman realized that if the community had been more involved in the plan, perhaps the conflicts that lasted for years could have been averted.
That was the beginning of the Community Heart and Soul Initiative that Lyman started through his Orton Family Foundation, and that is how I met him, at a gathering of Community Heart and Soul planners in Denver in 2005. I ran an Open Space session for a ful day of that conference in which planners could share stories and tools and ask questions of each other as they wrestled with how you plan from the heart and soul of a community.
The process of heart and soul planning begins and ends with stories. It's about the collection of stories about what matters in a place and the engagement of people to make sense of those stories. In my years on the Community Economic Development Committee on Bowen Island, Edward Wachtman and I ran a series of anecdote and sense-making circles in our community working with a storytelling research method that Edward and his life and business partner Sheree Johnson created. The data we gathered and the processes we ran resulted in an incredible set of studies that Ed and Sheree created on visitor, business and resident experiences of our island, and we used this information to produce reports and to hold an annual business summit at which businesses discussed how they could tap into a support the story of Bowen. This work also fed into our branding process. Over the years it became clear to me that the businesses that understood our story and embraced it became sustainable on Bowen and those that didn't often failed. When the pandemic struck, the community rallied around the businesses that really meant the most to the Island and I think most of the storefronts on Bowen survived with government support and community devotion.
You can find all that research and community engagement work on the CEDC webpage in the expandable tabs.
Over the years through the story gathering and engagement work we did, Sheree was able to bring her immense talents to discerning a core story about the heart and soul of Bowen Island. And here it is:
Just off the coast of Vancouver is a place where everything's…well…a little different. When you take the 20min ferry ride over, it feels as though you've crossed over to another world, a special place where life is a little simpler, a little less stressful.


The sights, the smells, the sounds, the people – all fill you with a calmness and an
awareness; making you feel a little different. There's no hustle, no bustle, and certainly no
rat race. The sense of community is so strong you can almost feel the hugs. In a modern
world where everything's always moving faster and faster, it feels really, really good to hit
pause. To reflect. To exhale. To take stock. To stop and smell the ocean. To connect with
what really matters.


Bowen Islanders are fiercely proud of their island, and more than a little protective.
Sometimes they're tempted to keep it to themselves. But if you're looking for a way to
redefine play, work or life, this might be your place, too. You'll leave your ordinary self at the dock along with all your mainland baggage. Bowen will change you… for the better
We found that there were five pillars that I guess pointed to the soul of our community, and these seemed to have stood the tests of time, certainly over the 20 years that I have lived here, and in my experience many who have lived here much longer than me confirm these:
Community. We know each other, we help each other out, we can easily connect and create things we need here.Even strangers on Bowen are closer than neighbours on the mainland. We have a shared experience of the place.
Nature. We live in a forest, in an fjord, in the sea, We are contained in some pretty impressive natural landscapes and we treasure them. We value quiet, the silence, the fresh air and the access we have to the natural enviroment. Almost every Bowen Island owns a piece of Bowen Island art of some kind that points to this aspect of our heart and soul and the community mural by the ferry dock is all about this story.
Crossing over. You can only get here by crossing over the waters of Átl'ka7tsem,usually by boat. The journey from there to here is archetypal and we use it to decompress, to slow down, to change our identity from mainlander to islander. And visitors feel this as well. There are few journey's more meaningful to the human soul than crossing over a wild body of water and arriving safe in a snug harbour.
You'll be better for being here. Many of us moved here to raise our children, or came to find community. So many people I know became artists once they moved here, having never created anything before in their lives. This is a place to heal and rest, and we have retreat and recovery centres that are devoted to just this aspect of who we are. People talk about Bowen Island as having a healing character. And truthfully, even though we are often in conflict with one another, you HAVE to learn to live with each other because that person you are arguing with online today may be the one who helps you out of a ditch tomorrow. We have the chance to learn how to live with difference here.
Connected with what matters most. That is to say those things you advise others not to take for granted while you are resting on your death bed: friends, kindness, fun, adventure, spirit, generosity, community. Bowen is a platform for the practice of what matters most.
Around the same time, Dave Pollard led us through the creation of a cultural master plan for Bowen Island which is a brilliant piece of work that used stories and sense-making to more deeply understand our community culture and find ways to use arts and allied organizations to support that culture. I think the Cultural Master Plan is one of most important documents outlining the heart and soul of our place, and one that was massively underappreciated outside of the arts community. Here is an example, an introduction paragraph to the section on trying to define what Bowen's culture is:
This section of the Culture Plan was written in one of Bowen Island's renowned cafés—a meeting place where Bowen's culture is almost flagrantly on display. Bleary-eyed commuters stagger in well before dawn for enough caffeine to get them onto the ferry. Telecommuters work at their laptops, interrupted constantly by friends who pull up chairs and share the latest local news. Several breakfast business meetings are taking place. The walls are covered with local art. Tradespeople get the day's instructions by
cellphone. A young couple studies a map of Bowen's hiking trails. A small crowd of dogs waits anxiously by the door for their people, checking out the other dogs much as the people check each other out.


Most of the people filing in wave and chat with others they know, while the few people visiting for the first time look somewhat bewildered, as if this place has a language they don't know. Suddenly, a flash mob choir bursts into song, and then hurries off to brief applause. Then someone announces "The ferry is here…" and a mass exodus ensues. The café empties, but then as the ferry deposits its load of visitors and returning residents, it quickly fills up again.
Now these documents and values were what we said back in 2014-17 and it has been only six years or so since then but a LIFETIME has passed. We have had a turnover of well over half of our residents since then and many of those who left or died are our Elders and long time community builders who made the businesses and places and organizations that have sustained community life here. The pandemic sent us into our homes and created a double whammy of isolation from one another and a large influx of new people who arrived without having access to any of the institutions, rhythms and practices of community life that I had when I moved here. Things have changed, that's for sure. But it's hard to say exactly what's different.
This has always been a place that welcomes newcomers, and the best stay on and help create new things. Sometimes it works and sometimes it doesn't, but the important things we do and have are created by people that started things like the fastpitch league, our festivals and community events like Bowfest, Dog Days, The Dock Dance, the Craft Fair, Hallowe'en, Remembrance Day and Light up the Cove. We have a vibrant performing arts community of actors and musicians who worked for decades to build a community performance space. We have dozens of published writers, painters and sculptors, some of whom are internationally known. We have gardening clubs and a little farmers' market and the shared frustrations of the ferry and fall storms and the overwhelm of tourist season. We have business owners and their teams that care for us like Pat Buchanan at the Building Centre and Glen Cormier at the Pub and the Dike family at the Union Steamship Company. We have teams that have built our arts centre, the library, a state of the art soccer field, a new Health Centre, and a community performance space, We have developers that are actually from here like Wolfgang Duntz and John Reid and although not everyone is always happy with what they do, they are us, and they have made parks and buildings and spaces that we cherish, All these things together make a soul. A turbulent, churning, generative soul.
The five pillars that we defined back in 2016 and the work Dave led in 2017 are so right feeling to me that when I see things that run counter to them, it gets my dander up. Sometimes people have great ideas that will build community but they are opposed on the grounds of property values decreasing. We've had lawsuits over docks and temporary use permits and although I understand why people want these things or want to oppose them, I can't always find pillar number five reflected in those discussions.
The pandemic has restricted our ability to both create and maintain the heart and soul of Bowen Island (and crucially introduce it to newcomers) AND it has robbed us of the chance to have conversations about what is REALLY meaningful to Bowen Islanders. We're not quite a zombie Island, but we are a bit like a new cake recipe slid into the oven for the first time and about half way through cooking. Tasty looking on the outside, a bit raw in the middle.
in the next few years we are simply going to have to re-do our Community Plan. It no longer serves us. It doesn't capture the heart and soul of Bowen Island. When we find ourselves saying "no" to almost every new and interesting idea here, it says to me that our plan has not adequately captured a sense of who we are and what we want. And at the moment, I don't actually think we collectively know who we are and what we want. I think as individuals we know that, but we have not been actively creating that collective sense for a few years now and so the conversations about what matters are rooted in both individual concerns and projections onto the whole. "This is what I think Bowen is, therefore this idea is in line with (or opposed) to that." History and new perspectives are swirling together and we haven't had a chance to see them all play out in the social spaces of community creation.
You might think it's easy to know what Bowen Island is or wants. After all we are only 4200 people on a small-ish island. But back in 2014-16 it took us years of research to really look and see what we could find. And even then of course, we can't capture it all. Folks who live in Hood Point have a different experience than those who live on Cates Hill or out in Bluewater or down by the golf course. The environment, neighbourhood and histories of our little areas give a flavour and spin to our collective story. But I do believe that before we take a serious and comprehensive look at our community plan we need to do three things:
Participate in community much more than we are now. We need to REMAKE the soul of the place again. Being at some Fastpitch League games this summer reminded me of some of the best of what we continue to be. Singing in choirs, volunteering at the recycling depot, playing soccer, hanging out at the Pier and just watching people come and go all helps me to add a little and be fed a little by the soul of Bowen. What I don't think is helping me much is having my attention distorted by the conversations on social media. What I am missing is meeting the new folks to the Island. Mostly I get to do that by playing soccer, because our Football Club is a great place for new folks to get started.
Change the conversations we are having. Or at the very least start talking about the stuff that matters deeply. Yes we are worried about the impact of a park on traffic and water or how the community centre and muni hall isn't the performance space we really wanted. But we aren't talking about what matters and we aren't exploring that with curiosity and interest like we did when we were gathering stories from businesses and residents and visitors. Without diminishing the anxiety and pain people feel at the changes that are happening here, we need to get underneath these discussion and find out what what the soul of the place really looks like these days. And we need to hear from the people we never hear from online too, in a way that works for them. Entering the public square right now is not for everyone, because the online space can be withering and the face-to-face space needs to be reinvented to be invitational and deliberative rather than reactionary and exclusive. All of that prevents us from learning from the diversity of opinion and viewpoints here.
Make a very different plan. I don't have an answer this one. But I know that we need a simpler plan that captures what we want to work together to build and let's people come with creative ideas to help make that happen. Our community plan needs to be about 180 pages shorter than it currently is.
We have a local election coming up. I'm interested in who is running and what they think about this. As always I'm happy to help (I'm not running) and I CAN do stuff to help these three need-to-dos above. If you are a Bowen Islander perhaps you have ideas too. Share them here.