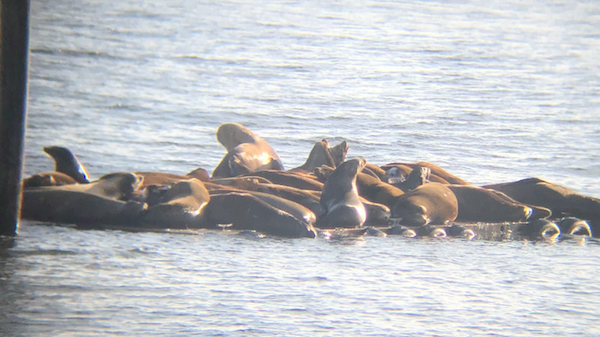 These sea lions are afraid to be in the ocean, because a small family of orcas are nearby, and they hunt sea-lions for food.
Years ago I was facilitating an Open Space meeting for people working in philanthropy, several of which were self-identified libertarians. They were unfamiliar with the process, and had the common misgivings about it seeming "unstructured." People often confuse an empty container with a lack of structure, but in truth, Open Space meetings are highly structured. They offer a form and a process to help a group self-organize around issues of importance to the participants themselves. The process invites a radical blending of passion for a subject and responsibility for doing something about it.
Witnessing the empty agenda wall and the circle of chairs, one of the libertarian participants complained that the lack of structure was making him nervous and he needed to be told what we were going to talk about, what the outcomes were going to be and what would be done on the day. I teased him a little about being uncomfortable with freedom, to which he responded "well yes, THIS kind of freedom."
That was interesting.
Harrison Owen has called this common experience "freedom shock" and it is what happens when people who are used to be told what to do suddenly get the freedom to take responsibility for their own actions. The way to deal with it is to keep asking people what they care about and what they would like to do about it. Fortunately, Open Space provides a mechanism for others who feel the same way to find each other, so that you are not alone, and can connect your ideas to other people's.
As the restrictions on our societies are lifted gradually, I am seeing examples of "freedom shock." Although many of us bristle at being contained and constrained, for many of us, the orderliness of structure and rules he's us to cope with uncertainty and fear. When those rules are loosened, the become principles, and it is up to each person to interpret those principles according to context and need. We go from being confined in our homes with only sanctioned reasons and times for leaving, to being allowed to get out into public while "maintaining social distance and being aware of others."
Everyone will interpret these new principles differently, and there is conflict and anxiety around whether one is interpreting the order more broadly that another person.
My friend Carolyn Camman observed this morning that we are comfortable when we can feel the boundary. That seems true for me too. When I know what is allowed and what isn't, I can relax into being in a small space. When the boundary is more permeable and less clear I can get anxious about what is allowed, what I am supposed to be doing and whether others are doing right. And in these times, the consequences of doing it wrong can be devastating, so there is no amount of risk and pressure in doing this.
Whether it's COVID or working with containers in facilitated sessions or workplaces, the halting anxiety of freedom shock is a natural reaction to loosening constraints. As you become a skillful complexity practitioner and realize that loosening constraints is one way to influence a system, be aware of this emotional rebound.
And on a personal level, remember that you can always shrink your own constraints inside a larger system if you need more comfort and security. The way we handle too much freedom is by choosing limitations that help us make order of all the possibilities. I wear a mask in public, and although I am allowed to be out and about more, I'm choosing to stay home as much as possible, still treating myself as an asymptomatic carrier of COVID, despite not knowing if I have had it. These personal heuristics allow me to be comfortable, confident and live by my principles. I'm glad things are opening up, but aware too that I have come to be comfortable functioning in a small bubble and a part of me is nervous at this moment.